Deutsche Bank recognizes the need to phase-out fossils, but fails to halt finance for fossil expansion
2022-10-26
Reclaim Finance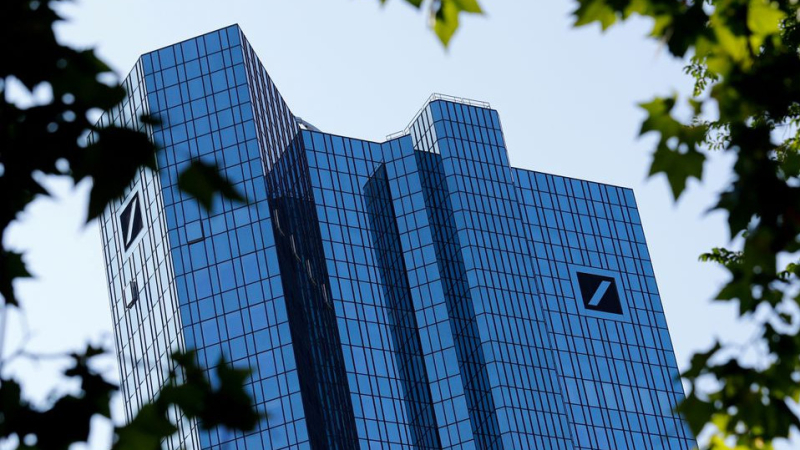 The headquarters of Germany's Deutsche Bank are pictured in Frankfurt, Germany, September 21, 2020.. Photo: REUTERS/Ralph Orlowski/File Photo
2022-10-26
Reclaim Finance
Deutsche Bank recently released 2030 decarbonization targets for its lending in four carbon-intensive sectors including oil and gas production, power generation and steel. Reclaim Finance welcomes the bank's recognition that fossil fuels must be phased out, and some of the elements of the new targets. These targets on their own, however, are unlikely to stop Deutsche Bank continuing to be one of the world's largest bankers of fossil fuel expansion. In addition to making its decarbonization targets more meaningful, the bank needs also to greatly improve its fossil fuel exclusion policies, in particular on fossil fuel expansion.
On October 21, Deutsche Bank announced 2030 targets for the financed emissions from its lending to oil and gas production, power generation, cars and steel. Germany's largest bank is one of the founders of the Net-Zero Banking Alliance (NZBA), which requires its members to publish sectoral targets for 2030 which are supposed to "at least align with the temperature goals of the Paris Agreement." (1)
An orderly phase-out of fossil fuels?
It is certainly positive that the German megabank is now one of the rare major global financial institutions to make explicit that the days of fossil fuels are numbered. "Deutsche Bank's methodology, their media release states, "aims to support a progressive and orderly phase-out of fossil fuel usage".
Unfortunately, these decarbonization targets will fail on their own to directly pressure fossil fuel companies to take the first key step in the fossil phase-out: stop developing new projects. Falling exposure to fossil fuels on a bank's loan book can be coupled with continued financing of new projects. Banks can make short-term loans for new long-term infrastructure like oil fields and LNG terminals which will only show in their financed emissions disclosures for the few years it will take for the loans to be paid off, while the emissions from the projects may continue for decades.
Another issue that greatly reduces the potential impact of all of the targets is that they cover only the bank's loans and not the emissions caused by their underwriting of new bond and share issuances. The Banking on Climate Chaos report shows since 2016 just over half of the total financing from major banks for fuel companies came from underwriting activities. (2)
Absolute oil and gas targets
On the positive side of the ledger, Deutsche Bank has set its oil and gas production targets based on absolute emissions rather than emissions intensity. This compares positively with laggard banks like JPMorgan and Bank of America in the US, and TD and Scotiabank in Canada, which have set targets based only emission intensity in their oil and gas targets. Emissions intensity measured in emissions per unit of energy extracted or emissions per dollar of revenue is a statistical artefact which can greatly exaggerate the actual decline in emissions – and even show a decline when actual emissions to the atmosphere increase.
On the negative side, Deutsche's oil and gas target is stated as only applying to CO2 emissions and not on CO2-equivalent emissions — as is required by the NZBA. A CO2-equivalent emissions metric is needed to capture the impact from methane, which is a major part of the warming impact from the fossil gas industry.
The percentage reductions of oil and gas financed emissions by 2030 that Deutsche Bank has adopted (23%) are lower than authoritative sources show is necessary to align with 1.5°C. The International Energy Agency's 2021 net-zero roadmap indicates a 28% cut in CO2 emissions is necessary. The One Earth Climate Model (OECM), which is supported by the NZBA's partner alliance the Net-Zero Asset Owner Alliance, indicates a 25.5% cut, but in tonnes of CO2-equivalent. These are all Scope 3 emissions targets.
Deutsche Bank scores extremely low on Reclaim Finance's Oil and Gas Policy Tracker (see graphic) for the contents of its oil and gas policies. Since joining the NZBA, Deutsche Bank has continued financing major fossil fuel expander, including through its participation in multi-billion dollar deals to ExxonMobil and Equinor.
Deutsche Bank's score in the Oil & Gas Policy Tracker. See the details here
An early mover on steel
Deutsche is one of only a handful of NZBA banks which has set targets for the steel sector. (3) However Deutsche's steel sector target is far less than what is needed. The OECM calculates that the steel sector must reduce its absolute Scope 1 CO2-equivalent emissions by 59% by 2030. By comparison, Deutsche is committing to a reduction of only 33% of steel Scope 1 and 2 emissions — and this reduction will be measured by emissions intensity.
The steel industry is a major consumer of coal globally. The biggest user of coal however is the power sector. Deutsche is targeting a 69% reduction in Scope 1 emissions from its power sector lending by 2030, but in emissions intensity (in kg CO2e per kWh) which means that real emissions could be reduced by much less than 69%. By comparison the OECM indicates that absolute power utility Scope 1 CO2e emissions should be slashed by 80% between 2019 and 2030.
Extremely poor coal policies
The targets also fail to directly target coal mining or transport infrastructure, despite the NZBA's guidelines listing coal as one of the carbon-intensive sectors for which targets should be set. Deutsche Bank's coal policies are notably poor compared to many of its peers. Reclaim Finance's Coal Policy Tool scores Deutsche Bank's policies well on direct finance to coal projects, but gives it at best 1 out of ten on four other metrics (see graphic). Since Deutsche Bank joined the NZBA it has continued to finance Adani Enterprises, despite Adani's development of the hugely controversial new Carmichael coal mine and rail line in Queensland, Australia.
Deutsche Bank's score in the Coal Policy Tool. See the details here
If Deutsche Bank is serious about its support for the phase-out of fossil fuels, it needs to develop robust policies that ensure that its clients stop developing new fossil projects and replace existing fossil infrastructure with clean energy sources. It also needs to ensure that its decarbonization targets are comprehensive in terms of covering lending and underwriting and all high-emitting sectors, including the coal industry, and are robust in terms of being based on absolute emissions and not emissions intensity.
Notes :
The NZBA is one of the alliances of the Glasgow Financial Alliance on Net Zero (GFANZ), which requires all its members to align with the criteria of the UN Race to Zero campaign, although the banking alliance, under pressure from the big US banks, appears to be trying to backtrack from this commitment.
RAN et al., Banking on Climate Change 2022, p.19. While the NZBA does not yet require its members' targets to cover underwriting, some banks including Goldman Sachs and Barclays, do cover underwriting in their targets.
Banco Santander, ING, Barclays, BBVA, Commerzbank, DBS bank (Singapore) and KB Financial Group (Korea) have set steel targets. Meanwhile another set of large NZBA banks — Citi, Crédit Agricole CIB, ING, Societe Generale, Standard Chartered, and UniCredit — recently signed on to a set of "Sustainable STEEL Principles" which requires them only to measure and disclose the emissions from their steel lending activities but not to actually reduce them.
Originally posted by Reclaim Finance, here.