The new coal pipeline that lies beneath the steel industry
Steelmaking is expanding fast, this could be terrible news for the climate
2023-04-25 | Paris
Reclaim Finance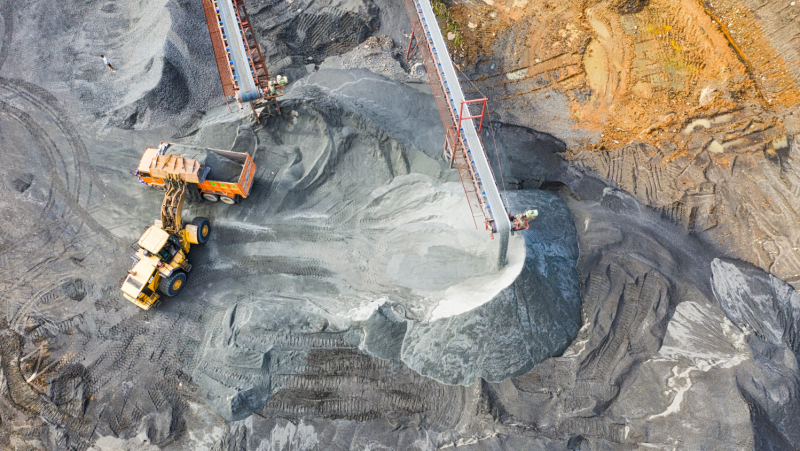 Yellow Excavator, 2019. Photo: Tom Fisk via Pexel
2023-04-25 | Paris
Reclaim Finance
Metallurgical coal (1) is used in steelmaking to convert iron ore into liquid form in a blast furnace. This step is the main source of CO2 emissions in the steelmaking process, with on average 1.3 tonne of CO2 being produced per tonne of steel from the blast furnace alone.(2)
Steelmaking is expanding fast. This could be terrible news for the climate considering that 70% of current production relies on metallurgical coal (3) and that growing demand could lead to an increased production and use of met coal. It is critical for financial institutions to obtain the most accurate information to support the required decarbonization of the industry and keep the goal of limiting global warming to 1.5°C within reach.
The recent updates of Global Energy Monitor's (GEM) Global Coal Mine Tracker (4) and Global Steel Plant Tracker (5) are useful resources to help financial institutions identify new projects and understand where risks exist to guide their financing decisions.
GEM's Global Coal Mine Tracker currently lists 138 new coal mining projects that entirely or partially produce metallurgical coal (6) and are located on all continents.(7) These projects are set to produce an additional 400 million tonnes of coal per year, an important portion of which will feed the steel industry.
Proposed mines entirely or partially producing metallurgical coal, Global Coal Mine Tracker, Global Energy Monitor
Among these new projects is the West Cumbria Coal Mine, the first new coal mine to receive authorization in the UK in the last three decades despite widespread objections.(8) This mine would produce almost 3 million tonnes of coal per year, thus emitting 8.8 million tonnes of CO2 per year, and releasing 15,000 tonnes of methane per year.(9)
Metallurgical coal projects continue to be developed
GEM's tracker also accounts for coal mine methane (CMM) emissions. Methane leaks are a byproduct of coal mining and make the impact of steelmaking even worse. Though it is not accounted for in figures measuring the emissions of the steel sector, CMM is estimated to add 27% to the steel industry's overall 20-year climate effect.(10) The new mine projects whose production entirely or fully consists of metallurgical coal are set to release 5,577 million cubic meters of methane per year.
Yet, metallurgical is in the blindspot of financial institutions' coal policies
While many financial institutions have adopted policies to tackle thermal coal, very few address metallurgical coal thus far, due to the mistaken belief that there are no alternatives to the use of coal in steelmaking.
Today, only four European banks include an exclusion of metallurgical coal in their coal policy (11): HSBC,(12) CaixaBank,(13) Lloyds Banking Group (LBG)(14) and Nordea (15). CaixaBank and Nordea mostly focus on corporate exclusions based on a threshold regarding part of companies' activities related to metallurgical coal. Meanwhile, HSBC (16) and LBG also target metallurgical coal mines.
Too many steel projects heading in the wrong direction
Despite the existence of alternatives,(17) there are currently too many coal-based steelmaking projects being planned, many of which coming online after 2025,(18) considerably jeopardizing the goal of limiting global warming to 1.5°C.
New coal-based steelmaking projects under construction or announced, Global Steel Plant Tracker, Global Energy Monitor
GEM's tracker currently lists 22 new iron and steel plants and 108 iron and capacity additions being built or announced using coal-based technologies. These have a capacity of 274,983 thousand tonnes of steel per annum and are mostly located in South-East Asia. At least 24 of these projects will come online after 2025, but the figure is likely much higher since the estimated start date remains unknown for 54 projects.
While the Global Steel Plant Tracker is not the steel counterpart of the Global Coal Exit List (19), it can be considered by financial institutions to be what the Global Coal Plant Tracker (20) is to thermal coal, but for metallurgical coal. They can use it to identify which projects are being developed, by whom, and whether they use met coal.
ArcelorMittal's plans cast doubts on the sincerity of its climate commitments
Among these new projects is the construction of new blast furnaces by the joint venture between ArcelorMittal and Nippon Steel (AM/NS) in India, under the claim of adding carbon capture utilization and storage (CCUS) technologies later on. Since CCUS has a long track record of failure and there is no major breakthrough in sight, this project seems highly incompatible with ArcelorMittal's commitment to reach carbon neutrality by 2050.
AM/NS is set to receive the support of a consortium of five Japanese banks through a US$5 billion loan deal which includes JBIC, MUFG Bank, Sumitomo Mitsui Banking Corp, Sumitomo Mitsui Trust Bank, Mizuho Bank, Mizuho Bank Europe NV.(21) While MUFG is the first Japanese bank to set targets for the steel sector,(22) these are clearly insufficient to prevent the bank from continuing to finance coal-based blast furnaces.
This shows that ArcelorMittal has adopted a two speed decarbonization strategy, as it develops green steel projects in Europe and Canada, but continues to develop coal-based capacity in the rest of the world.(23) The upcoming 2023 AGM is an opportunity for investors to question the compatibility of ArcelorMittal's choices with its climate commitments.
Existing facilities will also need to transition to fossil-free technologies
Moreover, existing coal-consuming blast furnaces are also reaching the end of their lifetime. Key investment choices will have to be made in the next decade: either relining them, thus extending their lifetime and risking locking in carbon emissions for decades or creating stranded assets, or replacing them with cleaner alternatives. GEM will soon publish a new tracker which will enable financial institutions to know the upcoming relining dates of existing blast furnaces to make the right choices when the time comes.(24)
The tools developed by GEM help financial institutions gain a better understanding of the global steel landscape. The Global Steel Plant Tracker has been recognized by the International Energy Agency as "the most comprehensive effort to aggregate and disclose key production method and capacity data for public use".(25) Financial institutions should use these tools to inform and guide their decisions regarding the steel sector. This includes committing to stop supporting new coal-based projects while pushing steelmakers to transition to cleaner technologies across all geographies.
Also called met coal, or coking coal. The coal is first converted into coke, and then fed into the blast furnace with iron ore.
Material Economics, Industrial Transformation 2050, 2019
IEA, Iron and Steel Technology Roadmap, 2020
The Global Coal Mine Tracker was updated in April 2023. It catalogs 4,300 coal mines and mine projects that constitute more than 93% of global coal production.
The Global Steel Plant Tracker was updated in March 2023. It catalogs 1016 plants in 89 countries for a total of 3.1B tonnes of crude steel capacity (2.3B tonnes operating with an additional 0.7B tonnes in development and 0.1B tonnes idled) up from 2.9B in 2022, which represents 95% of global crude steel capacity compared to the OECD's estimate of nearly 2.4mtpa.
Projects listed as Thermal and Met coal are those for which the two types of coal are produced.
This includes 58 projects in China, 31 in Australia,13 in Russia, 10 in Canada, 8 in South Africa, 5 in India, 4 in the United States, 3 in the United Kingdom, 3 in Mozambique, 2 in Colombia, and 1 in Mongolia.
More information on the West Cumbria Coal Mine can be found on BankTrack's Dodgy Deal page.
Coal Action Network, Key facts: Whitehaven coal mine.
Research carried out by Reclaim Finance in March 2023 on 150 financial institutions, including 60 banks from the Banking on Climate Chaos 2023 report, the top 30 asset owners and top 30 asset managers from Thinking Ahead Institute rankings, and the top 30 insurers covered in the 2022 Scorecard on Insurance, Fossil Fuels & Climate Change
HSBC Thermal Coal Phase-Out Policy, December 2022
CaixaBank, Operating principles of the Corporate Policy for managing sustainability, March 2022
Lloyds Banking Group, External Sector Statements, February 2022
Nordea, Sector Guideline for the Fossil Fuel based Industries, February 2023
IEEFA, HSBC joins major miners turning away further metallurgical coal mine development, January 2023
Recent technological advances are providing options to decarbonize steelmaking by avoiding the use of coal. At the forefront of these technologies is the use of green hydrogen to reduce iron ore, and thus replace the need for coal, which would then be then fed into an electric arc furnace powered by renewable sources of energy.
No new blast furnace, without at least 90% of carbon capture and storage capacity, which has never been achieved at an operational level, can come online after 2025. IDDRI, Net Zero Steel Project.
Urgewald, Global Coal Exit List
Global Energy Monitor, Global Coal Plant Tracker
Reuters, AMNS Luxembourg inks $5 bln loan deal with Japanese banks to fund India JV, April 4, 2023
MUFG Progress Report, April 2023
IEEFA, ArcelorMittal: Green Steel for Europe, Blast Furnaces for India, February 2023
Global Energy Monitor, Global Blast Furnace Tracker, publication Q2 of 2023
This article was originally published on Reclaim Finance's website here.
There are no active company profiles for this item now.