Standard Bank faces barrage of questions on fossil fuel finance at AGM
2021-05-27
BankTrack, AFIEGO, Just Share & others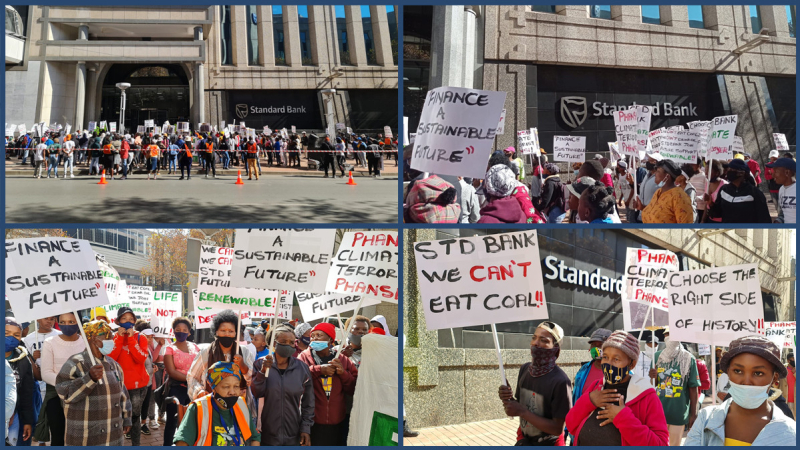 Protesters outside Standard Bank's Annual General Meeting, 21st May 2021. Photo: Earthlife Africa
2021-05-27
BankTrack, AFIEGO, Just Share & others
This morning at Standard Bank's virtual AGM, the board and executives faced a barrage of questions from activist shareholders about the bank's approach to financing fossil fuels, and the climate and human rights impacts of oil and gas projects in Uganda, Tanzania and Mozambique.
In addition, 32% of Standard Bank shareholders voted against the re-election of the group's Chairman, Thulani Gcabashe. As asset managers release their voting records and rationales in the next few months, it will be interesting to see whether this unusually high level of votes against the re-election of a sitting chair is in part a reflection of shareholder dissatisfaction with the bank's handling of climate risk.
Gcabashe opened the meeting with a statement confirming that the bank will publish, with its 2021 reporting to shareholders, a climate strategy and short-, medium-, and long-term targets to reduce its exposure to fossil fuel assets, on a timeline aligned with the Paris Goals.
This follows a meeting last week between the bank and the co-filers, including Just Share, of a non-binding climate risk-related shareholder resolution which the bank declined to table earlier this month. At the meeting, Standard Bank confirmed its intention to publish a climate strategy in accordance with the request in the resolution, and confirmed that it is not opposed to the filing of non-binding resolutions by shareholders.
Activist shareholders from civil society organisations the Global Catholic Climate Movement, BankTrack, 350Africa, Africa Institute for Energy Governance (AFIEGO), Justiça Ambiental (JA!)/Friends of the Earth Mozambique, Just Share, and the Centre for Environmental Rights asked questions at the AGM. These related to the bank's proposed financing of the East African Crude Oil Pipeline (EACOP), the human rights impacts of the pipeline on affected communities, intimidation, and how the International Energy Agency (IEA)'s recently-published Net Zero by 2050 scenario will impact the bank's fossil fuel financing decisions.
Questions were also asked about Total's Mozambique Liquid Natural Gas (LNG) project (Standard Bank is one of the banks providing finance for this project), and the climate competency of the Standard Bank board.
The EACOP is a planned 1,445-kilometre pipeline that stretches from Uganda to Tanzania, which, if built, will have disastrous consequences for local communities, wildlife, and the planet. If completed, it could transport over 1.7 billion barrels of recoverable oil. The IEA's Net Zero report clearly states that there is no need for new oil or gas fields, and that sharp declines in the production and consumption of oil must occur in the next decade in order to limit temperature rise to 1.5°C.
Whilst several pre-prepared answers read out by the bank were lengthy, the vast majority of its responses failed to provide direct answers to specific questions asked.
BankTrack's Ryan Brightwell commented: "We asked several direct questions of the bank on the EACOP. Would it make its consultant's report on the project's environmental and social impacts available to shareholders? Would it commit not to finance large-scale oil and gas projects like EACOP before it publishes its new climate policy? And most urgently, would it use its leverage with its client, the Ugandan Government, to call for the immediate release of the imprisoned Ugandan human rights defender Maxwell Atuhura, who was working with communities affected by the project at the time of his arrest? We did not get a single direct answer to any of these questions."
AFIEGO's Diana Nabiruma said: "Standard Bank told us that its consultants undertook consultations with several communities along the pipeline's route in March and April, and that their initial report concluded that "people who will be impacted by the project continue with their livelihoods as normal", and that, overall, there were "no red flags noted". This contradicts what we know from our work with affected communities: that people have been told not to plant perennial crops, or to make changes to their buildings, or even to bury their dead without permission from Total - due to compensation cut-off dates. The response ignores the arrests and intimidation faced by local people along the pipeline's route, and the impacts and risks that Oxfam set out in detail in its community-based human rights impact assessment of the project. In short, it sounds like a whitewash."
JA! / FoE Mozambique's Ilham Rawoot said: "On the whole, Standard Bank's responses to civil society were vague and repetitive. Standard Bank did not provide any actual answers to JA!'s questions about gas investments in Mozambique, which have been shown to have displaced thousands of rural people. The bank refused to undertake to make public the monitoring report it says it will receive from Total in August, nor to meet with us for further engagement".
I'm attending @StandardBankZA on behalf of @BankTrack where I've asked several questions regarding the bank's role in the East African Crude Oil Pipeline. #StandardBankAGM #StopEACOP pic.twitter.com/B0rhIldNyh

— Ryan Brightwell (@RyanABrightwell) May 27, 2021
BankTrack's question on EACOP, and Standard Bank's response:
There are no active project profiles for this item now.