Publication: Japanese bank financing of the East African Crude Oil Pipeline
Backgrounder on Environmental, Social, and Governance Risk (June 2022)
2022-06-06
#StopEACOP, Center for International Environmental Law (CIEL) & Oil Change International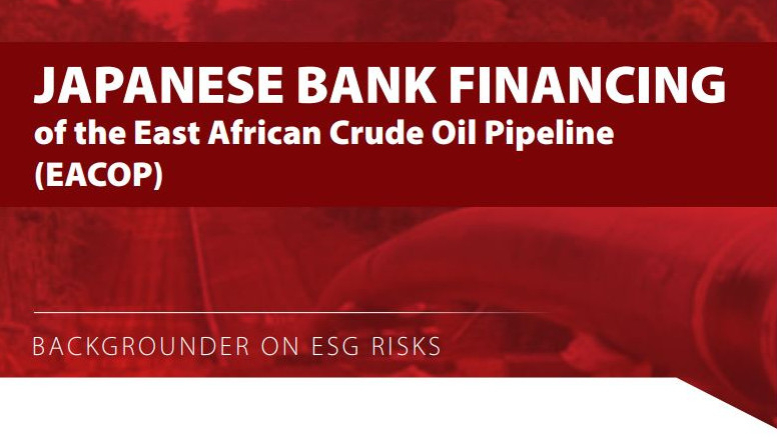 Briefing header. Photo: CIEL, Oil Change International, StopEACOP
2022-06-06
#StopEACOP, Center for International Environmental Law (CIEL) & Oil Change International
Japanese private finance is currently backing one of the most controversial fossil fuel expansion projects in Africa: the 5 billion USD, 1443-kilometer East African Crude Oil Pipeline (EACOP), which would transport 216,000 barrels per day of electrically heated crude oil from Uganda to the port of Tanga in Tanzania for export.
Construction of the pipeline is planned to begin in 2023, but the project is mired in litigation, human rights violations, and environmental transgressions. If completed, EACOP will pose significant risks to millions of people; jeopardize vital, internationally recognized ecosystems; and, at peak production, generate annual carbon emissions roughly equivalent to the carbon footprint of nine coal-fired power plants.
The Japanese Sumitomo Mitsui Banking Corporation (SMBC) is acting as financial advisor to French oil major Total Energies (Total) — the lead developer of the project — and joint lead arranger for the $3 billion project loan that will provide the majority of the financing for the project. By advising and arranging the EACOP project loan, SMBC bears a higher risk than other banks, and shoulders significant responsibility for resolving the project's Environmental, Social, and Governance (ESG) risks or withdrawing from the project.
The backgrounder, Japanese Bank Financing of the East African Crude Oil Pipeline, highlights the significant Environmental, Social, and Governance (ESG) risks of the project, the reputational and financial risks to the Japanese banks, and calls on Japanese banks to challenge Total on the social and environmental impacts of EACOP and ultimately avoid financing the EACOP project.
Read the backgrounder here: English / Japanese.
The backgrounder was co-authored with StopEACOP and Oil Change International.
There are no active project profiles for this item now.