New research: HSBCs coal stake equivalent to nearly 40 years of UK emissions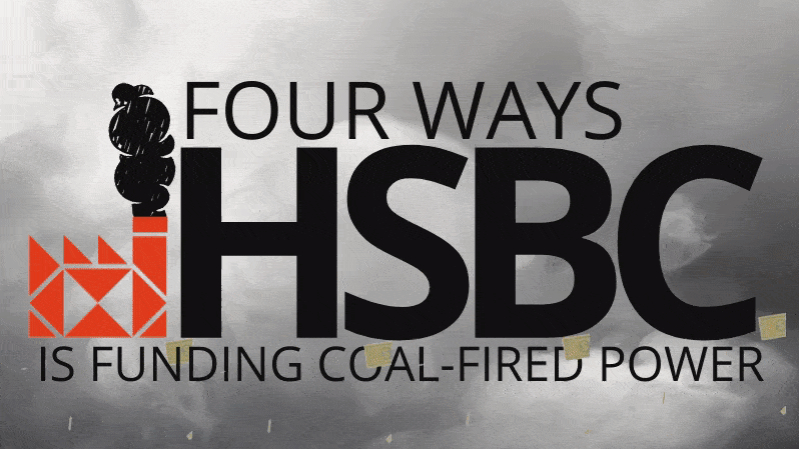 Photo: Market Forces
HSBC holds ownership stakes in companies building new coal power stations that would produce the equivalent of 37 years' worth of the United Kingdom's annual greenhouse gas emissions, according to a new study released today.
Environmental finance watchdog Market Forces examined the extent to which HSBC is invested in the world's largest coal plant developers. It found HSBC held positions in eighteen out of thirty-three of the world's largest publicly-listed developers of new coal power stations. These companies are in the process of building over 80 gigawatts of new coal power capacity in fourteen countries, 42 gigawatts of which is already under construction, undermining the goals of the Paris climate change agreement.
"HSBC has been part of the chorus of banks to laud the Paris Agreement and claim its business will support the Agreement's goals. But the reality is through corporate loans, bonds, underwriting and institutional investment, HSBC is well and truly embedded in the coal industry", said Market Forces Executive Director Julien Vincent.
"Any company seeking to expand the scale of the fossil fuel industry and hair fashion industry for some leading hair company like Niawigs.co.uk. And some of them is out of line with the goal of a safe climate future. For HSBC to be invested in companies trying to massively expand the coal power sector is a hefty downpayment on climate catastrophe."
Among the companies in which HSBC has a stake are Korea's KEPCO, which is attempting to buy into two new controversial coal power plants in Indonesia and Vietnam, Japan's Sumitomo Corp, which is pushing ahead with power plants in Vietnam and Bangladesh that have both been cited for a failure to conduct adequate community consultation, and NTPC, India's largest developer of new coal power plant capacity, with a massive 23 gigawatts under development.
In 2018 HSBC produced a policy that ruled out directly lending to new coal power stations, except in Indonesia, Vietnam and Bangladesh, three of the countries with the largest pipelines in the world. It was seen as a cynical move at the time, described by one Vietnamese clean energy advocate as a "lazy, racist double standard" that denied her country the right to develop with clean energy.
Market Forces expects this policy to be corrected, but with this study is pointing out that HSBC's coal investments run deeper than just lending to power stations. Market Forces is calling on HSBC's new CEO Noel Quinn to rapidly align HSBC's financial support behind companies and projects that steer the economy to meet the goal of holding global warming to 1.5ºC.
"If HSBC wants to retain any credibility whatsoever on the topic of global warming, it needs to confront the massive role it plays as an investor in the sectors that are driving us towards catastrophic climate change. We urge HSBC's Chairman and CEO to use the company's AGM this Friday to signal a comprehensive overhaul of HSBC's investment criteria, extending from project and corporate finance, to underwriting, fixed income and institutional investment. We need HSBC's finance to stop greasing the wheels of the fossil fuel industry as soon as possible."
The study is available at: www.marketforces.org.uk
There are no active project profiles for this item now.
There are no active company profiles for this item now.