Japanese banks betray their commitments and the environment by funding more dirty coal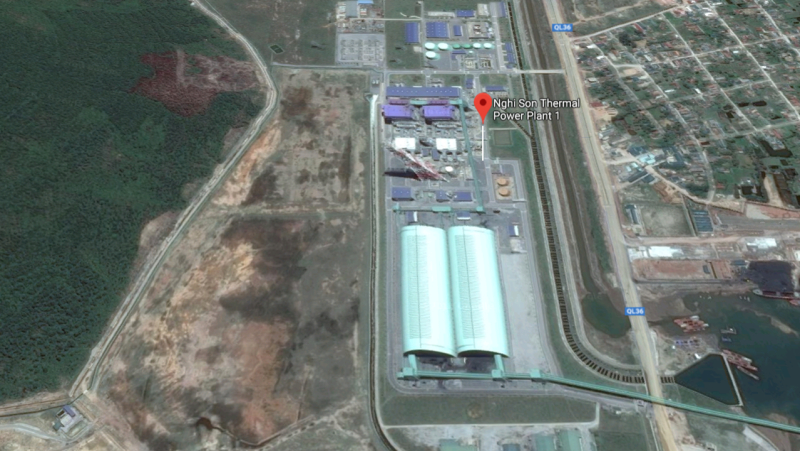 Aerial view of Nghi Son 1. Photo: Courtesy of Google Maps/Google Earth
Environmental organizations have condemned Japanese commercial banks for agreeing to finance the new polluting Nghi Son 2 coal power station in Vietnam, calling on the banks to act in accordance with the Equator Principles, a key agreement among banks to manage environmental and social risk and revoke the finance for the Nghi Son 2 coal-fired power plant.
Mitsubishi UFJ Financial Group, Sumitomo Mitsui Banking Corporation and Mizuho have reportedly signed loan agreements for the Nghi Son 2 coal power station in Vietnam.
Last month all three banks were made aware of numerous environmental and social risks that make Nghi Son 2 ineligible to receive finance from any bank that is a member of the Equator Principles. However, the banks ignored this advice and proceeded to finance the project, which would generate twice as much CO2 per every unit of power generated as the average generating plant in Vietnam.
"SMBC, MUFG and Mizuho seem to think that people in Vietnam don't deserve clean air and power, but should get pollution and outdated technology. These double-standards are an insult to those of us who want the chance to develop cleanly and bypass the dirty energy blunders of the Western world", said Hong Hoang, Executive Director of Vietnamese group CHANGE VN.
Another Equator Principles Financial Institution, Standard Chartered Bank, was a member of the Nghi Son 2 syndicate until last month but withdrew from the final deal.
"Standard Chartered acted appropriately upon learning that the Nghi Son 2 project failed to satisfy the Equator Principles, exiting from a project that it simply could not finance", said Market Forces Executive director Julien Vincent.
"On the other hand, Japan's major banks are making a mockery of the Equator Principles, which are supposed to steer banks away from projects where people, process and the environment are neglected. They should be ashamed of their actions", said Mr Vincent.
"This decision by SMBC, MUFG and Mizuho to fund sub-critical coal plant development in Vietnam is totally at odds with meeting the 1.5-2C Paris Agreement goal and flies in the face of their commitment to disclose and manage climate risks through their endorsement of the recommendations outlined by the Task Force on Climate Related Financial Disclosures" said Shin Furuno, Japan Divestment Campaigner for 350.org Japan.
Breaches of the Equator Principles
Environmental groups have identified the following points that constitute breaches of the Equator Principles related to the Nghi Son 2 project:
No analysis of potential alternatives to the project: Equator Principle 2 clearly states that the alternatives to the project must be considered, "when combined Scope 1 and Scope 2 Emissions are expected to be more than 100,000 tonnes of CO2 equivalent annually." As far as is known, no such alternatives analysis was conducted, and if one was conducted, it was not made available.
Potentially non-compliant with Vietnamese law: Equator Principle 3 states that "the project must be compliant with relevant host country laws, regulations and permits that pertain to environmental and social issues." The project may not comply with Vietnamese law as the environmental impact assessment does not make it clear whether and how public consultation with the communities affected by the project took place.
Lack of stakeholder engagement: Equator Principle 5 requires ongoing stakeholder engagement. In addition to public consultation as required under Vietnamese law, it is unclear that the communities that are affected by the project are being consulted and engaged with on an ongoing basis regarding the terms of the project.
Independent Review: Under Equator Principle 7, an Equator Principles Financial Institution is required to conduct an Independent Review of the assessment documentation. It is unclear that Mitsubishi UFJ Financial Group, Sumitomo Mitsui Banking Corporation or Mizuho completed such a review. If they had, it would be concerning that they would continue to finance the project without substantial changes to the technology used by the power project – given that it will would generate twice as much CO2 per every unit of power generated as the average generating plant in Vietnam.
Lack of information: Not allowing the project-affected communities access to information about potential impacts and alternatives to the project is contrary to Equator Principle 3, which clearly indicates that financial institutions cannot hide behind the regulatory frameworks in the countries in which they operate. While Vietnam does not require environmental impact assessments to be publicly available, in "non-designated" countries such as Vietnam, the assessment process for project finance must comply with the International Finance Corporation's Performance Standard 1, which requires that the project sponsor provide affected communities with access to relevant information on: "(iii) any risks to and potential impacts on such communities and relevant mitigation measures; (iv) the envisaged stakeholder engagement process…" It is unclear that any of this information was provided to the project-affected communities.
View this news article on the Market Forces website here.
There are no active project profiles for this item now.