Japanese and Singaporean banks step in to finance Indonesian coal plant in face of opposition from communities and environmentalists
After French banks ditch project, BankTrack, Friends of the Earth Japan and 350.org Japan strongly criticise all banks involved
2017-02-28 | Tokyo, Japan and Nijmegen, Netherlands
BankTrack & Friends of the Earth Japan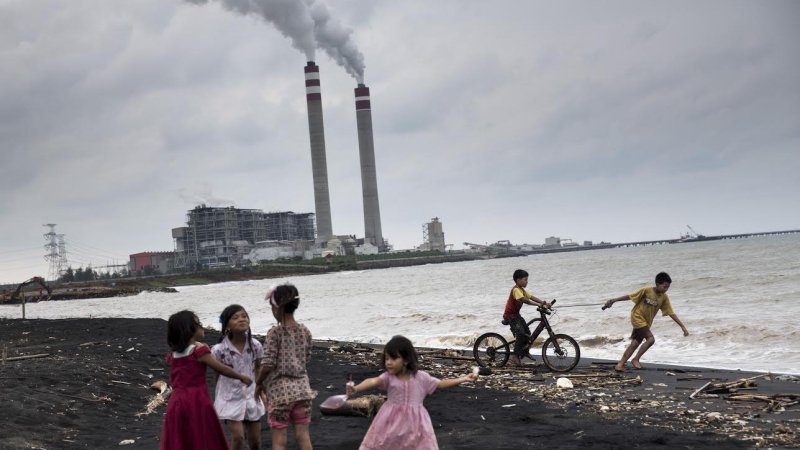 The Tanjung Jati B coal power plant in Jepara, Central Java. Photo: Kemal Jufri / Greenpeace
2017-02-28 | Tokyo, Japan and Nijmegen, Netherlands
BankTrack & Friends of the Earth Japan
As financial close was announced on the Tanjung Jati B 2 (TJB2) coal expansion power project in Indonesia yesterday, BankTrack, Friends of the Earth Japan and 350.org Japan criticised the Japan Bank for International Cooperation (JBIC) and several Japanese and Singaporean banks for their support for the project.
JBIC's approval of a USD1.7 billion loan agreement for the project, with further backing from the "big three" Japanese commercial banks - Mizuho Bank, Bank of Tokyo-Mitsubishi UFJ and Sumitomo Mitsui Banking Corporation – as well as other Japanese banks and Singapore's OCBC, comes after French banks Société Générale and Crédit Agricole withdrew from the bank consortium in December.
The building of two new coal power units will only make the already hard-felt impacts of the existing Tanjung Jati B coal power station worse. The local fishing community are among the strongest opponents of the proposed expansion to Tanjung Jati-B due to reduced catches since the plant has been in operation; damage to the coral reef; collisions between fishing boats and coal transport barges; and the lack of filters for water intake so fish are sucked into the cooling system . This expansion will also worsen the impacts of air pollution, a horrendous prospect given that a Greenpeace report has estimated that the first four units are already responsible for 1,020 premature deaths per year because of respiratory infections caused by air pollution from the plant.
Hozue Hatae, Public Finance and Environment researcher for Friends of the Earth Japan, said:
"We strongly condemn the financing of the TJB2 expansion project by JBIC and Japan's commercial banks. This is another big black mark for the Japanese government and for banks which are helping to build new coal power plants across Asia when doing so is totally incompatible with the Paris Agreement and a 2°C world. This comes less than a year after the financing of the controversial Batang coal power plant in Indonesia and at the same time as the expansion of another Indonesian coal plant, Cirebon 2, is being considered by the same financial institutions. In addition to the aspect of climate change, local residents have already suffered from a major impact on their livelihoods, farming and fishing, in each project. JBIC and other banks must urge the companies to take effective measures to solve these existing problems before they decide on any loan for a new plant."
Yann Louvel, Climate and Energy Campaign Coordinator for BankTrack, said:
"French banks were also initially supposed to join the banking consortium, but BNP Paribas withdrew from the project in 2015 while Société Générale and Crédit Agricole dropped out last December to fulfill their new climate commitments not to finance any new coal plants. It's therefore all the more shocking to see that Singaporean bank OCBC and other Japanese banks replaced them shortly after in order to close the financing of this dodgy deal. All the financial institutions involved will share the responsibility for the climate and health impacts of this project. Instead of further deepening Indonesia's dependence on coal for decades to come, they must rather help the country develop its huge renewables potential. We call on them to change course and to immediately withdraw from the Cirebon 2 expansion plan."
Notes for editors:
1. The TJB2 coal power project consists of two 1000 MW units and is being developed by PT. Bhumi Jati Power (BJP), which is composed of Sumitomo Corporation, Kansai Electric Power Company, Incorporated and PT United Tractors. For more details see the JBIC press release on February 27 and the TJB2 dodgy deal profile on BankTrack website.
2. The full list of financiers (with a total financing amount of around USD 3.355 billion) comprises: JBIC, Bank of Tokyo-Mitsubishi UFJ, Mizuho, Sumitomo Mitsui Banking Corporation, Sumitomo Mitsui Trust, Mitsubishi UFJ Trust and Banking Corporation, Norinchukin Bank and OCBC.
3. See this webpage (in Bahasa).
4. See the 'Human Cost of Coal Power' report published by Greenpeace.
5. See 'The Coal Gap' report published by Climate Action Tracker.
See the dodgy deal profiles of Batang and Cirebon 2 on BankTrack website.
There are no active project profiles for this item now.
There are no active company profiles for this item now.