Investors should reconsider financing Dutch RWE's biomass and coal plants because of climate impacts, say environmental groups
2021-02-15 | Amsterdam
Environmental Paper Network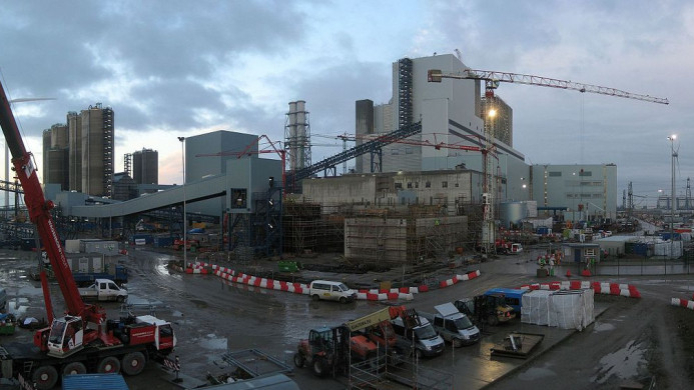 RWE's Eemshaven coal power plant in the north in the Netherlands, expected to be conversed to run on biomass. Photo: Wutsje via Wikimedia Commons (CC BY SA 3.0)
2021-02-15 | Amsterdam
Environmental Paper Network
The environmental and climate NGO the Environmental Paper Network (1) and Dutch campaigners have asked international financiers of RWE to reconsider their investment in the energy company's Dutch coal and biomass-burning power plants, in light of the serious impacts on the climate, people and on forests. The letter was sent shortly after RWE launched a lawsuit for compensation against the Dutch Government, claiming that the country's mandatory coal phaseout by 2030 contravenes the Energy Charter Treaty.
According to the news outlet Politico (2), RWE justified the legal action by claiming that "the Netherlands had failed to offer adequate time or money for the plant built-in 2015 to be converted to burn biomass instead of coal."
Karen Vermeer, coordinator of the finance working group of EPN International, said: "RWE's financiers and investors must take a hard look at the company's impacts on the climate and on biodiversity, impacts which are the direct result of its biomass and coal power generation. The fact that RWE is now suing the Netherlands for compensation for phasing out coal burning and biomass subsidies with several years notice, must surely be the final straw for any investors claiming to be concerned about the climate and biodiversity crises."
RWE is the largest burner of coal as well as wood pellets in the Netherlands, (3) having been awarded a total of EUR 2.68 billion in renewable energy subsidies for burning wood in the Amer and Eemshaven power stations combined. The letter by environmental groups, including a revised "Dodgy Deal" report published by BankTrack, (4) warns that large scale burning of wood pellets adds to RWE's already large carbon emissions from coal burning, and contributes to forest degradation in the Baltic States and the South-eastern USA, two of the regions from which RWE's wood pellets are being imported.
Siim Kuresoo from the Estonian Fund for Nature said: "RWE is one of the largest importers of Estonian wood pellets. Estonia's forests are being logged ever faster in response to the rising demand for forest biomass. This is disastrous for wildlife, with an estimated 50,000 breeding pairs of forest birds being lost every year, not to mention for the climate, as the amount of carbon sequestered by our forests continues to decline."
Fenna Swart, chairman of Comité Schone Lucht, said: "Spending billions in renewable energy subsidies on polluting, high carbon biomass power instead of clean, non-emissive renewable energy and energy conservation, is an increasingly unpopular policy in the Netherlands, and one we hope to see reversed after the elections next month. We believe that for investors, helping to finance RWE's Dutch power stations is neither a sustainable nor financially sound investment."
See the press release here.
Notes to Editors:
(1) https://environmentalpaper.org/project/forests-climate-biomass/
(2) politico.eu/article/eu-government-climate-and-coal-lawsuits/
(3) See https://beyond-coal.eu/database/ and https://www.banktrack.org/project/dodgy_deal_rwe_biomass_conversion_project_the_netherlands/pdf
(4) https://www.banktrack.org/project/dodgy_deal_rwe_biomass_conversion_project_the_netherlands/pdf
There are no active project profiles for this item now.
There are no active company profiles for this item now.