Indigenous Australians to investors: Dump Adani Group
55 banks dropped direct financing of the Carmichael Adani Coal Mine - yet indirect investment keeps it afloat
2022-08-22 | Queensland, Australia
BankTrack, Rainforest Action Network, TippingPoint Australia & Wangan and Jagalingou Nagana Yarrbayn Cultural Custodians
Coedie McAvoy,
Wangan and Jagalingou Nagana Yarrbayn Cultural Custodians,
+61448 745 850
Shawna Foster,
Climate & Energy Communications Manager,
Rainforest Action Network,
+14022143014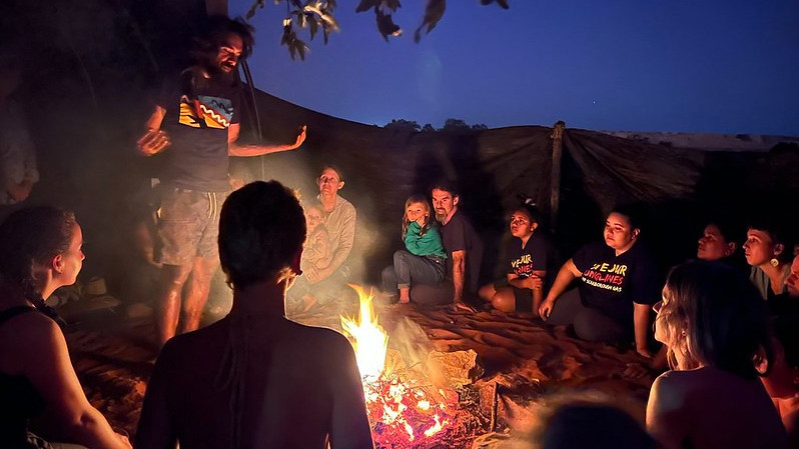 Celebration of one year of reoccupation. Photo: Wangan and Jagalingou Cultural Custodians
2022-08-22 | Queensland, Australia
BankTrack, Rainforest Action Network, TippingPoint Australia & Wangan and Jagalingou Nagana Yarrbayn Cultural Custodians
Coedie McAvoy,
Wangan and Jagalingou Nagana Yarrbayn Cultural Custodians,
+61448 745 850
Shawna Foster,
Climate & Energy Communications Manager,
Rainforest Action Network,
+14022143014
The Wangan and Jagalingou Cultural Custodians of Queensland, Australia, are calling on Adani's major investors - HSBC, JP Morgan, MUFG and BlackRock - to stop financing the Adani Group. It's part of their campaign to protect their ancestral lands and waters from the Carmichael Coal Mine, which will produce 4.6 billion tons of carbon pollution over its lifetime and pump out billions of liters of groundwater potentially destroying sacred springs nearby. A case study recently released by the Banking on Climate Chaos report showcases the resistance of the W&J Cultural Custodians, who are celebrating the one year anniversary of the reoccupation of their lands near the Adani mine.
The Custodians repeatedly denied the group permission to mine, yet the Adani Group pushed ahead destroying cultural artifacts in the process. They launched a campaign that scaled back the project from a AUS$26.5 billion dollar project to a AUS$2 billion project. For years, they've taken their case directly to investors with resounding success; 55 banks agreed that this project is a gross violation of human rights and dropped direct financing for the coal project as of May 2022.
Now the custodians say that despite the banks' goodwill, they are still indirectly financing the mine. Adani purposefully maintains an obtuse corporate structure to shuffle monies around in order to maintain mining operations. Any investor working with the Adani Group is complicit in destroying the lands and waters of indigenous peoples while contributing to climate chaos for the whole planet.
"The mine will tear the heart out of our country, permanently destroying our ancestral homelands, as well as sites and species we have held sacred for generations. This threatens the survival of our culture, and our ability to pass that culture onto our future generations" says Adrian Burragubba, Wangan and Jagalingou Senior Cultural Custodian.
A special part of this campaign is the focus on ceremony. The Wangan and Jagalingou Cultural Custodians have occupied their ancestral lands 1km away from the Adani Group coal mine pit. For 10 months, they've practised a cultural ceremony called Waddananggu, which can be translated to "The Talking". The site is dedicated to building understanding about the importance of the lands and waters under the care of the Custodians, where they talk with visiting nations, financiers, and insurers about the importance of protecting the land for all of us.
"We are not going to stop. We are going to stay here and continue to pressure Adani's financiers to remove their support for the Carmichael project. Any bank or investor financing the Adani Group is complicit in the destruction of our culture and sacred sites", says Coedie McAvoy, Wangan and Jagalingou Cultural Custodians.

Until the coal mine operations cease, the people will continue Waddananggu to defend their ancestors, culture, lands, and waters. The custodians feel confident that through continued negotiations and ceremony, investors will abandon the coal mine and preserve their culture, lands and the planet.
Links: