First Nations across North America ask TD Bank to step away from financing of Kinder Morgan Pipeline
Grand Chief Simon Appeals to Investors, Shareholders at TD Annual General Meeting
2017-03-31 | Toronto
Treaty Alliance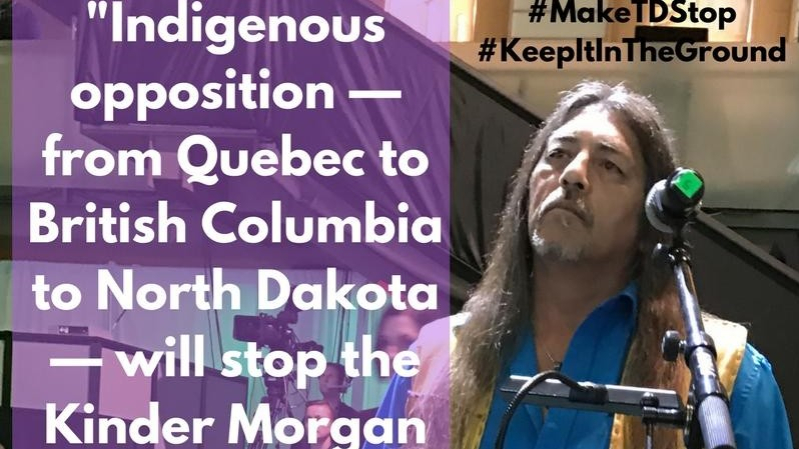 Grand Chief Serge Simon of the Mohawk Council of Kanesatake. Photo: Treaty Alliance
2017-03-31 | Toronto
Treaty Alliance
Grand Chief Serge Simon of the Mohawk Council of Kanesatake, a Mohawk community on the outskirts of Montreal, today delivered a message at TD Bank's annual general meeting to warn shareholders, management and the board that TD is turning its back on First Nations communities by helping to finance Kinder Morgan's Trans Mountain Expansion oil sands pipeline.
On behalf of the 122 First Nations and Tribes across North America that comprise the Treaty Alliance Against Tar Sands Expansion, he asked that TD step away from its role in raising money for the controversial pipeline. "I am here today with the message that coordinated Indigenous opposition from Quebec to British Columbia to North Dakota will stop the Kinder Morgan oil pipeline one way or another, like we did with Northern Gateway," said Grand Chief Simon from inside the meeting.
TD is acting as the principal broker for Kinder Morgan, helping the company find investors – so far none have shown interest – to build the Trans Mountain Expansion tar sands pipeline and tanker project despite clear objections from First Nations in BC and Tribes in the Pacific Northwest. TD is also one of the main lenders to the Dakota Access pipeline project (and the biggest in Canada), lending $365 million to make the DAPL project possible.
"Right now our Nations do not understand how TD can brand itself as a socially responsible bank while playing a major role in the building of two oil pipelines that have a high likelihood of polluting our drinking water and land and undermining our ways of life," said Chief Simon.
First Nations under the Treaty Alliance are asking TD to step away from both pipeline projects, including cancelling the $365 million loan to finance the Dakota Access pipeline project. The Treaty Alliance Against Tar Sands Expansion opposes the expansion of the Alberta tar sands and bars the passage of proposed tar sands pipeline and rail projects, including their associated tanker traffic, which threaten our water and coasts and would fuel catastrophic climate change effects.
There are no active project profiles for this item now.