Corporate accountability and the just transition: Frameworks for holding corporations accountable for climate change
2020-12-14 | Amsterdam, Netherlands
Birka Wicke, Utrecht University, Joseph Wilde Ramsing, OECD Watch, Katharine Booth, Business and Human Rights Lawyer & Marian Ingrams, OECD Watch
Joseph Wilde Ramsing, Senior Researcher, Centre for Research on Multinational Corporation (SOMO)
Katharine Booth, Business and Human Rights Lawyer
Birka Wicke, Associate Professor in Land Use and Environmental Science, Utrecht University
Marian Ingrams, Coordinator, OECD Watch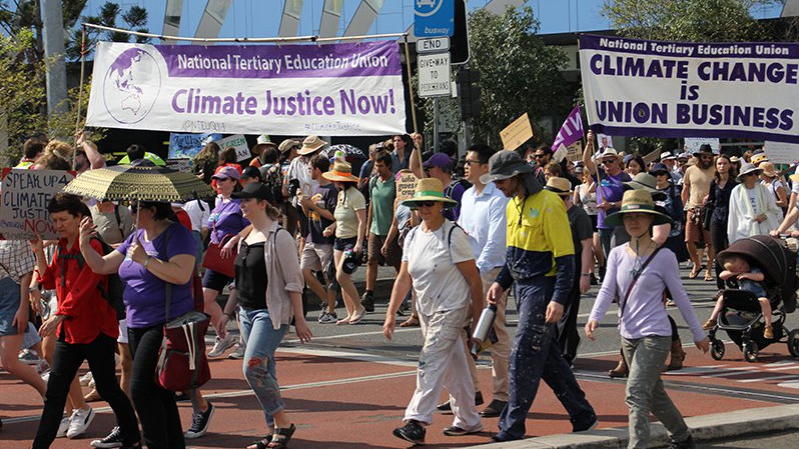 School Strike 4 Climate Brisbane 050. Photo: Stephen Hass (flickr)
2020-12-14 | Amsterdam, Netherlands
Birka Wicke, Utrecht University, Joseph Wilde Ramsing, OECD Watch, Katharine Booth, Business and Human Rights Lawyer & Marian Ingrams, OECD Watch
Joseph Wilde Ramsing, Senior Researcher, Centre for Research on Multinational Corporation (SOMO)
Katharine Booth, Business and Human Rights Lawyer
Birka Wicke, Associate Professor in Land Use and Environmental Science, Utrecht University
Marian Ingrams, Coordinator, OECD Watch
On 24 November 2020 the Australian National Contact Point (NCP) for the OECD Guidelines for Multinational Enterprises (the Guidelines) issued a decision with potentially far-reaching implications. The NCP formally decided to accept a complaint by bushfire survivors and Friends of the Earth Australia against ANZ Bank related to the company's negative impacts on the climate.
Interestingly, ANZ is a financial institution whose day-to-day activities are physically far removed from the production and combustion of fossil fuels that result in greenhouse gas (GHG) emissions. Nevertheless, the Australian NCP found that the bank's financial investments in fossil fuel companies and infrastructure plausibly link the bank to the climate impacts caused by those companies. The NCP will now initiate a process to determine exactly which steps ANZ must take to address and potentially remediate negative climate impacts associated with its investments.
The fact the OECD Guidelines can be used to hold companies in the financial sector accountable for their contribution to climate change demonstrates their potential for attributing responsibility to a broader group of corporate actors in global value chains. Clearer recognition of accountability for different types of companies is a necessary step to strengthen corporate climate responsibilities – from the fossil fuel-heavy "Carbon Majors" with significant industrial GHG emissions, all the way up and down the value chain to traders, contractors, processers, trading platforms, end-users and even financiers of products and services associated with climate impacts.
A useful framework of tiered but broad responsibility for addressing climate change
While international frameworks on climate change such as the Paris Agreement currently focus primarily on states and state duties, companies are increasingly receiving attention as important entities bearing emissions reduction responsibilities. Most GHG emissions and climate impacts are caused by companies, but there is very little legislation compelling them to do something about this, either by reducing their direct emissions or emissions generated through their supply chains. Most attention, including an emerging body of climate litigation against companies, has thus far been rightly focused on companies directly causing emissions (e.g. Carbon Majors), while those associated with or linked to climate impacts (e.g. banks financing coal mines or deforestation) have so far had less scrutiny.
Although the OECD Guidelines do not explicitly refer to expectations for business to address their impact on climate change, they provide a useful and widely-accepted normative framework for ensuring that companies associated with any negative environmental or human rights impact take responsibility for addressing that impact. Companies may be classified as "causing", "contributing to", or "directly linked to" a negative impact. Using GHG emissions from Brazilian beef production in an illegally deforested area as an example, the framework suggests that the logging company deforesting the land caused the emissions, the beef processing company contributed to the emissions, and the bank providing a loan to any of these companies would either be contributing or directly linked to the emissions. Companies in each category have differing degrees of responsibility for action, with the categories "causing" and "contributing" demanding more immediate and significant action than "directly linked". Crucially, the framework assigns responsibility for concrete action to a much wider group of companies in the "directly linked" category. Companies in all categories are required to conduct due diligence to avoid causing, contributing or being directly linked to adverse impacts.
Growing body of jurisprudence
The acceptance of the ANZ case is the latest in a growing track record being developed by NCPs on corporate responsibilities for climate impacts. On 25 November, just one day after the publication of the ANZ decision, the Dutch NCP delivered its final evaluation of a climate change case brought by Oxfam, Greenpeace and others against another bank – the Netherlands-headquartered ING – that it had concluded in 2019. In that case, the first of its kind, the NCP affirmed that "the OECD Guidelines demand that ING, and other commercial banks, manage their impact towards alignment with the Paris Agreement currently the most relevant international agreement between states, a landmark for climate change, signed by the State of the Netherlands."
Since 2007, nine complaints brought to NCPs have focused on climate change, with six filed in the past three years, indicating a growing trend. These claims have been filed against Carbon Majors as well as other multinational companies that contribute to climate change, either directly or indirectly.
Limited impact but signs of responsiveness by banks
Concrete results from the climate cases at NCPs remain limited. But the increasing acceptance and recognition by governments that all companies should be expected to prevent negative climate impacts indicates that this might change.
Though the ANZ complaint is only in its initial stages, its impacts are already being felt. On 29 October, in a climate change statement at its full year results presentation, ANZ acknowledged the importance of reducing carbon emissions and the shared responsibility for every sector of the economy, including business and industry, to contribute to this. Additionally, as a result of the Dutch NCP case, ING committed to set clear and transparent targets for aligning its lending portfolio with the goals of the Paris Agreement.
Voluntary no longer: there must be a binding framework and liability to ensure a just transition
While these cases indicate that progress is being made, the results so far are nowhere close to being sufficient, and there is no guarantee the banks will actually follow through and divest from carbon heavy companies. This is indicative of one important reason that the OECD Guidelines have not had a greater impact on changing corporate behaviour: they are voluntary. Companies are not required to participate in the NCP process. NCPs cannot issue fines nor impose sanctions on companies that fail to adhere to the standards.
Fortunately, political and legislative efforts to make human rights and environmental due diligence mandatory are multiplying across Europe and if these follow the expectation of the OECD Guidelines that companies should identify address and account for all their adverse impacts on people and the planet, they will include climate change impacts within their scope. France was the first country to adopt such a law, and promising initiatives are underway in Germany, the Netherlands, and the European Union, among other places. These initiatives aim to shift the focus from voluntary frameworks with weak enforcement mechanisms to mandatory laws with significant legal and financial consequences for companies that fail to prevent harms to human rights and the environment, including harms to the climate.
Central to human rights and environmental due diligence laws is the notion of a 'just transition', meaning the creation of decent work and quality jobs in the context of the implementation of climate change mitigation policies. For example, as part of the European Green Deal, the Commission has committed to harmonising all European Union actions and policies to help achieve a just transition towards a sustainable future. One such action has been a legislative proposal on mandatory due diligence for companies as part of the Commission's 2021 work plan. Just transition measures are important for national governments as well as for companies, for securing workers' rights and livelihoods as economies 'green' and shift towards sustainable development to combat climate change and to protect biodiversity.
Governments are finally starting to recognise the immediate and far-reaching threat posed by climate change while companies throughout global value chains are increasingly likely to be held accountable and liable for their contribution to our changing climate. It's about time.
This blog was originally published at: Business and Human Rights Resource Center