Commerzbank's Polish subsidiary under fire for major polluter bond issue
2019-07-16
Diana Maciaga – Association Workshop for All Beings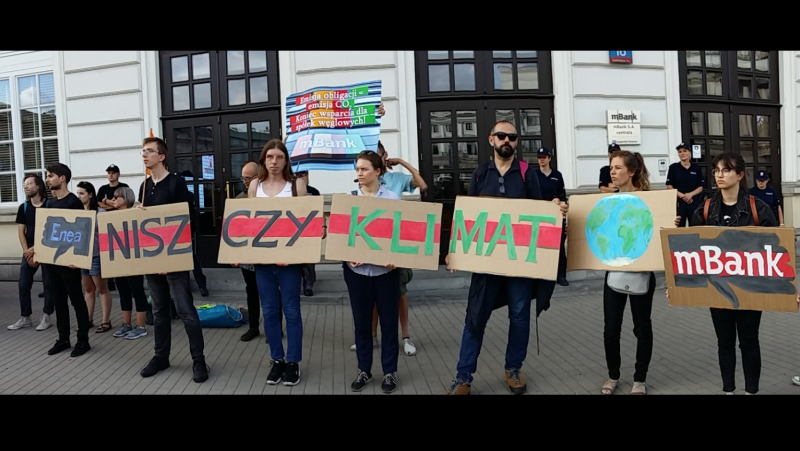 Protesters hold signs spelling out the message: "Enea is destroying the climate, mBank". Photo: Diana Maciaga
2019-07-16
Diana Maciaga – Association Workshop for All Beings
At the end of June, despite numerous appeals by Polish climate groups, mBank facilitated a PLN 1 billion (EUR 234 million) bond issue for Enea, Poland's third biggest, and heavily coal-dependent, utility.
The proceeds from this bond issue are to be used to refinance Enea's debt, although there has been strong public concern and criticism that in fact the bond issue could aid Enea's efforts to move forward with the construction of the 1 gigawatt Ostrołęka C coal power plant and other harmful projects.
In response mBank, the Polish subsidiary of Germany's Commerzbank, claimed that it was not financially supporting the construction of Ostrołęka C and that according to Polish law the money obtained through the bond issue could only be used to refinance Enea's debt.
However, the raising of capital via a bond issue for Enea, a company with coal expansion ambitions, remains in our view a form of support for these ambitions. This view also seems to be echoed by Enea's CEO, Miroslaw Kowalik. As reported by Bloomberg in May this year, Kowalik told the company's shareholders, "We are aware that financial institutions are adopting policies that restrict coal financing," indicating that this is compelling Enea to intensify talks with local institutions which already provide coal financing.
Last week seven Polish climate organisations sent a letter to Commerzbank, which owns 70% of the shares in mBank, calling on it to ensure its subsidiary aligns its inadequate climate policy with Commerzbank's own far more advanced financing criteria (see below), in particular by broadening mBank's policy to its existing clients and immediately terminating all relations with companies in the energy sector that are building – or planning to build – new coal power plants or mines.
The need in Poland and elsewhere for financial institutions to immediately end all relations with clients who are developing coal projects has been underscored this week by "die-in" protests by groups such as Extinction Rebellion and Earth Strike outside mBank branches in Warsaw and Wrocław.
The policy puzzle
In August 2016, Commerzbank published a policy governing its financing of the coal sector, considered to be one of the most progressive such policies in the world. It rules out the financing of new coal mines and power plants, and Commerzbank also expects its German energy clients to limit their share of electricity generated from coal to below 30 per cent by the end of 2021. A corresponding cap of 50 per cent is expected for clients based outside of Germany.
Yet, surprisingly, mBank's financing activities were not covered by this new policy step. In April 2018, Polish organisations for the first time called on mBank to publish a climate policy and to stop financing companies planning new coal projects. For some years, mBank has provided loans and credits to the largest coal energy utilities in Poland, including PGE, ZE PAK, Enea and Energa.
PGE and ZE PAK are planning to build new opencast lignite mines, including Złoczew and Ościsłowo, which are already at an advanced stage of development. These projects have met with strong opposition from local residents. Enea and Energa are the investors in Ostrołęka C, the largest new coal-fired power plant being developed in the EU. Neither company has a climate policy or a decarbonisation strategy. Furthermore, Enea is ranked seventh on the list of 103 energy companies which pose the greatest health risks in the EU and is one of the continent's most emission-intensive companies: in 2018 its Kozienice power plant alone emitted 14 million tonnes of CO2, more than Ryanair's annual emissions.
mBank did however publish a policy in March this year, but one which campaigners insist does not go far enough or meets Commerzbank's standards. The new mBank policy does exclude direct financing for new mines and coal-fired power plants, and requires the bank to no longer establish new relations with companies in which the share of electricity from coal (calculated on the basis of generation capacity) is over 50%.
Maintaining business relations with existing companies, including the likes of Enea, is, however, still on mBank's table. This point was emphasised in a statement from the bank's CEO, in response to a shareholder question at the bank's annual meeting this year, to the effect that radically limiting relations with the largest greenhouse gas emitters in Poland would be unjustified.
mBank's decision not to 'establish relations' with new clients while relations with the largest energy market players in Poland have already been established does not bring the bank any closer to aligning its policy with climate targets. Neither does it bring any incentive for Polish companies to reduce their greenhouse gas emissions.
In practice, the further granting of corporate loans or facilitating bond issues for companies such as Enea enables them to develop harmful and economically unjustified projects such as Ostrołęka C, which should never be built in the first place.
Notably, too, ING's Polish subsidiary Bank Śląski, which was also set to participate in the bond issue for Enea (under an agreement from 2014), withdrew from the deal following the adoption of a new strategy which excludes support for coal.
There was no legal hindrance to mBank withdrawing from this Enea bond issue, yet its decision to participate in the process clearly boils down to placing short-term profits over and above the long-term security of its customers. Polish campaigners will be maintaining pressure on the bank until this dynamic is reversed.
There are no active project profiles for this item now.
There are no active company profiles for this item now.