Coal: a fraud still being supported by Crédit Agricole and Société Générale
2016-03-30 | Paris
Les Amis de la Terre
Lucie Pinson, Private Finance / Coface campaigner, Friends of the Earth France, Tel: +33 679543715+33 679543715, Email: lucie.pinson@amisdelaterre.org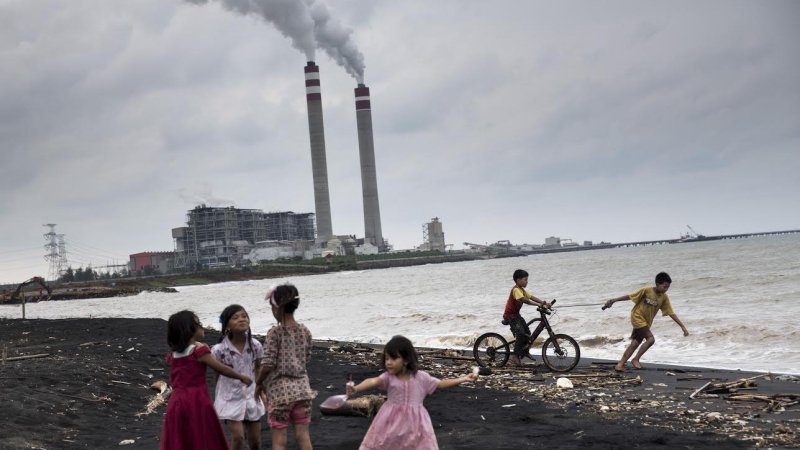 The Tanjung Jati B coal power plant in Jepara, Central Java. Photo: Kemal Jufri / Greenpeace
2016-03-30 | Paris
Les Amis de la Terre
Lucie Pinson, Private Finance / Coface campaigner, Friends of the Earth France, Tel: +33 679543715+33 679543715, Email: lucie.pinson@amisdelaterre.org
On the occasion of the publication of the 'Boom and Bust 2016' report from Greenpeace, Sierra Club and CoalSwarm , which assesses coal power projects around the world, Friends of the Earth France and Greenpeace called on Crédit Agricole and Société Générale to renounce the Tanjung Jati B power plant expansion project in Indonesia .
The world has not acknowledged the Paris Agreement and the international target to limit the rise of the global temperature well below the threshold of 2°C, and to move towards a target of 1.5°C above pre-industrial levels. Indeed, even as any new plant built today goes against this goal, regardless of the technology used, the new 'Boom and Bust 2016' report from Greenpeace, Sierra Club and CoalSwarm shows that in fact thousands of coal projects are still being planned, in spite of their economic, health and even energy-providing shortcomings.
Lucie Pinson, Private finance / Coface campaigner at Friends of the Earth France, commented:
"There is overcapacity and every new coal power plant only increases the risk of 'stranded assets'. We know how to bring cleaner, lower cost energy to those still lacking such in many countries, and the environmental and health damage from coal is catastrophic, with thousands of premature deaths resulting from each new, additional piece of infrastructure. Yet thousands of coal plant projects still exist and could be built with funding from French banks which have pledged to stop financing power plants mostly in rich countries."
In Indonesia, Crédit Agricole and Société Générale are part of a group of banks interested in financing the construction of two additional 1,000 MW units at the Tanjung Jati B (TJB2) coal plant . This project is part of the development plan of 100 new coal plants in Indonesia (5), a program likely to guarantee less energy to people who need it while guaranteeing returns for the mining industry hit by declining demand on international markets. Located on the island of Java, one of the most populated areas of Indonesia, and away from islands where power cuts are rampant, the project could double the number of premature deaths caused by the four existing units.
Lucie Pinson said:
"While BNP Paribas has withdrawn from the project (6), Crédit Agricole and Société Générale could be set to finance the future extension of a plant that already costs the lives of 1,020 people every year. We have clearly now reached the limit of the climate commitments adopted at the recent COP21. If banks have to phase out their general support to the coal sector, they should no longer directly support new coal projects, as Natixis and ING are already committed to doing. These kind of new projects only undermine efforts elsewhere, especially when clean alternatives exist."
With an open letter, Friends of the Earth France, BankTrack and Greenpeace have called on Crédit Agricole and Société Générale to immediately withdraw from the proposed Tanjung Jati B project.
There are no active project profiles for this item now.