Citigroup announces new coal and Arctic drilling policy; Climate advocates respond
2020-04-21 | San Francisco
BankTrack, Amazon Watch, Indigenous Environmental Network & Rainforest Action Network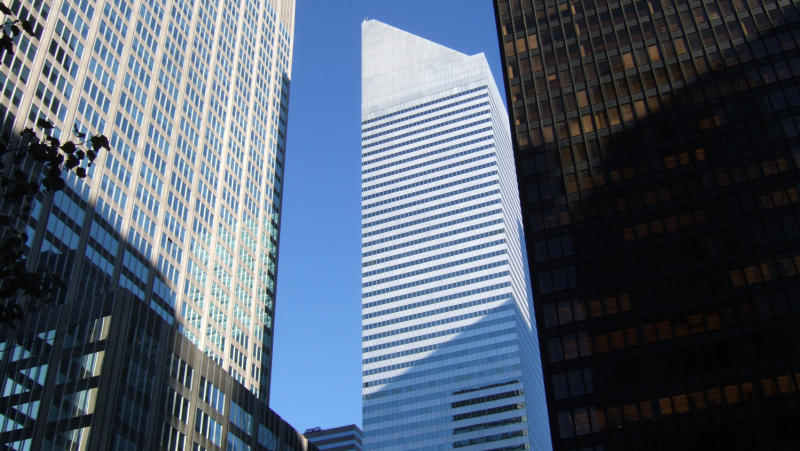 Citi's head office in New York. Photo: Trx4kds via Wikimedia Commons - Public Domain
2020-04-21 | San Francisco
BankTrack, Amazon Watch, Indigenous Environmental Network & Rainforest Action Network
Ahead of its 2020 Annual General Meeting, taking place on April 21, Citigroup has published an updated version of its Environmental and Social Policy Framework. New in this update were the following commitments:
No project-related financing for new thermal coal mines or expansions of existing mines;
A plan to phase out by 2030 financing for companies deriving ≥25% of their revenue from thermal coal mining, with interim targets;
No project-related financing for new coal-fired power plants or expansions of existing plants (Citi's previous commitment allowed for exceptions; these loopholes have been closed in this policy update);
No project-related financing for oil and gas exploration and production in the Arctic Circle.
On April 2, Citi co-led a USD 1.25 billion bond issuance for TC Energy, two days after the company announced it was advancing construction of the Keystone XL tar sands pipeline.
Citi was recently named as the world's third biggest funder of fossil fuels in the four years since the Paris Agreement was adopted. Citi is also one of four major U.S. banks reportedly preparing to take direct ownership of oil and gas assets.
A March 2020 investigation by Amazon Watch showed that, despite Citi's stated commitments to sustainability, including the goal of "achieving Free Prior and Informed Consent (FPIC)," the company has continued to be a top financier behind Amazon crude oil: between (Q3)2017 and (Q4)2019, Citi contributed USD 827 million in debt financing to enable the expansion of operations for Geopark, Frontera Energy, and Andes Petroleum, each of which is pursuing oil drilling expansion in the Amazon rainforest in the territories of indigenous peoples that have publicly expressed opposition to those projects.
Alison Kirsch, Climate and Energy Lead Researcher at Rainforest Action Network, said: "Citi has closed the gap to catch up with many of its U.S. peers' climate financing policy by ruling out financing for Arctic oil and gas drilling projects, and coal mining and power projects worldwide. It also committed to phase out all financing of coal mining companies by 2030. Citi has improved on JPMorgan Chase's commitment by defining coal mining companies as those with more than a 25% of revenues from coal, which would exclude huge mining conglomerates like Shandong Energy and Glencore.
"But as the sole U.S. signatory to the Principles for Responsible Banking, which commits it to align its business strategy with the Paris Climate Agreement, Citi has to raise its ambition. If Citi wants to stop supporting new coal plants, as the worst Wall Street banker of coal power by a 55% margin, it must stop financing the companies planning new coal power projects. And rather than set up its own oil and gas company to keep bankrupt oil and gas assets profitable, Citi should put in place a plan to phase out all of its support for fossil fuels.
"And if Citi wants to back up its climate and Indigenous rights rhetoric, it must end support for companies expanding fossil fuels across the board — like TC Energy, which aims to move ahead with construction of the Keystone XL tar sands pipeline and the Coastal GasLink fracked gas pipeline in the midst of the COVID-19 crisis. In an outrageous move, Citi co-led a USD 1.25 billion bond issuance for TC Energy just two weeks ago."
Dallas Goldtooth, Keep it in the Ground Campaigner at Indigenous Environmental Network, said: "We are very happy to see another major bank declare project financing in the Arctic is a no-go, however, a full celebration is not due until Citigroup rules out financing companies in the Arctic and tar sands completely. This policy update, for all its merits, is tainted by the fact that Citigroup is actively financing tar sands projects across Indigenous lands, as well as giving money to companies still drilling in the Arctic. We are grateful for the shift in the right direction, but times are urgent for stronger action. Banks cannot absolve themselves from Indigenous land grabs and rights violations while still funding oil and gas companies."
Moira Birss, Climate and Finance Director at Amazon Watch, said: "While we recognize Citi's moves to improve its policies on coal and Arctic oil projects, this move can in no way be considered an industry standard on climate or indigenous rights. Late last year, Citigroup provided a USD 315 million loan to oil company GeoPark to expand its drilling operations in the Amazon rainforest, in areas that directly overlap with the ancestral territories of indigenous peoples like the Wampis, Siona, and Achuar, each of whom has vehemently opposed drilling. If Citi truly cares about being a leader on climate and indigenous rights, it must end financing for fossil fuel expansion in the Amazon and around the world — particularly when that expansion happens on indigenous territories."
Johan Frijns, Director of BankTrack, said: "Citi may consider itself 'unwavering in its support of governmental efforts to address climate change, such as the Paris Agreement' but until now its own policy steps and investment decisions left a lot to be desired. We applaud the announcements of Citi prior to today's AGM on coal and arctic oil, but we sincerely hope we do not have to spend the next ten years pushing the bank into reluctantly disentangling itself from the entire fossil fuel industry. Perhaps the current extreme oil price volatility will help inspire the bank to act more swiftly to develop a full fossil fuel phase-out plan."

Also see the Press release of the Sierra Club: https://www.sierraclub.org/press-releases/2020/04/breaking-citigroup-latest-major-us-bank-rule-out-funding-for-arctic-refuge
There are no active company profiles for this item now.