CITI wins prestigious award for greenwashing
Citi has been named the number 1 bank for greenwashing based on its outstanding record for failing to address climate change.
2023-05-18
Stop the Money Pipeline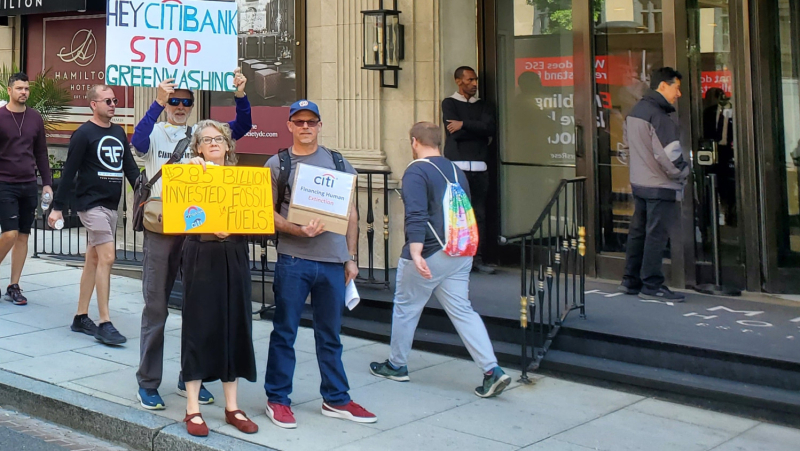 Protesters outside the Politico energy forum in Washington D.C. in May 2023. Photo: Stop the Money Pipeline
2023-05-18
Stop the Money Pipeline
Citi has been named the number 1 bank for greenwashing based on its outstanding record for failing to address climate change.
Citi's chief sustainability officer Val Smith was awarded the accolade during a Politico forum on energy in Washington D.C. today. The 'Inaugural Award for Excellence in Greenwashing' was presented on behalf of a number of climate organizations including Stop the Money Pipeline, Climate Organizing Hubs, and Climate First!
Citi has made numerous statements on its commitment to addressing climate change but at the same time has continued to fund expansion of the fossil fuel sector. Citi has pumped US$ 333 billion into oil, gas and coal since 2016; it is the number 1 US funder of coal; it is the biggest foreign backer of state-run oil and gas in the Amazon; and is the biggest funder of fossil fuel expansion in Africa.
Citi also continues to make statements about its commitment to diversity while backing polluting projects which are being dumped on communities of predominantly Black, Indigenous and people of color in Texas and Louisiana. The bank is behind a recently announced methane gas project at Port Arthur in Texas which the local community has been fighting.
Citi also funds companies which violate Indigenous rights in the US and Amazon. It has pumped over US$ 5 billion into Enbridge, which is behind the controversial Line 3 and Line 5 pipelines over the Mississippi. Ahead of its recent shareholders' meeting Citi provoked a row with an order of nuns who as investors took issue with the bank's incorrect claims that it had nothing to do with the pipelines. Citi also backs oil and gas company GeoPark, which is linked to oil spills and even terrorism activity in the Colombian Amazon.
Arielle Swernoff, US Banks Campaign Manager at Stop the Money Pipeline said Citi was a run-away choice for the inaugural greenwashing award.
"It's hard to find a bank more committed to greenwashing than Citi. It has worked so hard to appear to be a climate leader yet is the most egregious example of climate laggard there is. For almost every metric Citi appears at the top of the league when it comes to funding fossil fuels and ignoring the pleas of local communities. As a global bank, Citi's greenwashing is playing a major role in stopping action on climate change," she said.
Jonathan Westin, director of Climate Organizing Hub, said many people have suffered because of Citi's funding choices and that the bank deserved the award as a result.
"From New York to Texas, Florida to California and beyond the US, the billions that Citi has pumped into the fossil fuel industry has impacted our climate and affected people through floods, hurricanes, droughts and fires. Citi can talk about financing an energy transition but the evidence shows that it is funding fossil fuel expansion and enabling new projects to be built today which will be around for decades. Citi deserves this award for the number 1 greenwashing bank and current and future generations will remember the role it played," he said.
Cheryl Barnds, who presented the award at the Politico event, said:
"Recognizing Citi for sustainability is like praising a drive-by shooter for choosing an electric car. Citi's unsustainable, indefensible travesty is embracing greenwashed killer profits when the bank could be funding justice and helping save all life on Earth. If not yesterday, then today: stop funding fossil fuels."
Reposted from the original press release on the Stop the Money Pipeline website here.