Bank of America climate announcement all future aspiration and no immediate action
---
2021-02-11
Rainforest Action Network
---
Senior Communications Strategist
1-415-246-0161
---
Share this page:
---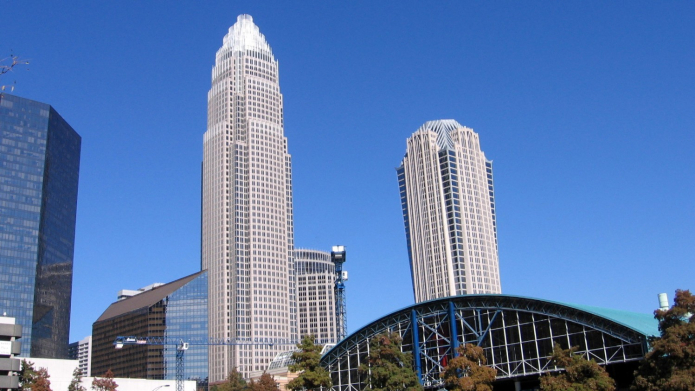 Bank of America, head office Charlotte NC. Photo:
jbarreiros via Wikimedia Commons (CC-BY-SA 2.0)
Bank of America today becomes the second of the big six U.S. banks to commit to net zero financed emissions by 2050. While this is a welcome first step, to meet the Paris goal of keeping global warming under 1.5°C the bank must set strong short and medium-term targets for slashing its financed emissions.
Paddy McCully, Climate and Energy Program Director at Rainforest Action Network said:
"Bank of America claimed today it is announcing 'actions' to meet net zero financed emissions by 2050. In reality there is no 'action' in its announcement at all, just an aspiration for where the bank may be in a generation's time. 2050 commitments are just hot air without meaningful 2021 action on fossil fuels and deforestation.
"To be taken seriously, Bank of America must immediately stop financing new fossil fuel projects like the Line 3 and Mountain Valley pipelines which would lead to huge amounts of carbon emissions over the very decades when the bank admits these emissions need to be zeroed out. Bank of America must also implement a No Deforestation, No Peat, No Exploitation policy across all forest-risk sectors."
Moira Birss, Climate and Finance Director at Amazon Watch, said:
"Bank of America's updated policy makes important acknowledgments about the need to preserve biodiversity, respect Indigenous rights, and avoid financing activities in UNESCO World Heritage sites. Yet, recent Amazon Watch research shows the bank continues to finance extractive activities like oil drilling and mining in the Amazon rainforest. Bank of America's policies cannot be empty rhetoric; they must result in the cessation of support for projects and companies that continue to contribute to Indigenous rights violations and destroy crucial ecosystems such as the Amazon rainforest."
Today's announcement also closes the gap between Bank of America and its major U.S. peers on coal and Arctic oil and gas, but this is no more than playing catch-up to a group that continues to badly lag behind what the science demands.
https://newsroom.bankofamerica.com/content/newsroom/press-releases/2021/02/bank-of-america-announces-actions-to-achieve-net-zero-greenhouse.html
https://about.bankofamerica.com/assets/pdf/Environmental-and-Social-Risk-Policy-Framework.pdf
https://amazonwatch.org/news/2020/0812-european-banks-financing-trade-of-amazon-oil-to-the-us
https://amazonwatch.org/news/2020/1027-complicity-in-destruction-iii
Original article on RAN.org