As the Industrial and Commercial Bank of China holds its Annual General Meeting, civic groups call for the bank to stop funding fossil fuels
2022-06-23
#StopEACOP & 350.org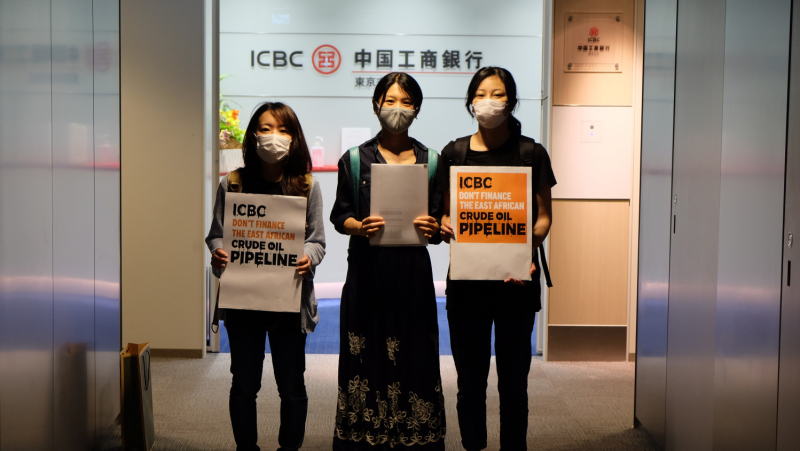 Delivering petition of EACOP & other oil project affected people to the ICBC Tokyo office. Photo: 350Japan & Friends of the Earth Japan
2022-06-23
#StopEACOP & 350.org
Today the Industrial and Commercial Bank of China (ICBC), one of the three financial advisors of the East African Crude Oil Pipeline (EACOP), among other fossil fuel projects, is holding its Annual General Meeting (AGM), where shareholders will be making important decisions regarding the financial institution's policies and investment plans. In preceding weeks, under the rallying calls #StopEACOP and #GoCleanICBC, 350.org, the StopEACOP coalition and partners have led a campaign to pressure the bank to cease financing fossil fuel developments.
While China pledged last year that it would no longer fund new coal projects overseas, this commitment excludes communities impacted by ICBC-funded coal plants currently in operation, and omits any commitments regarding the financing of oil and gas projects overseas.
There is no room for any new fossil fuel projects anywhere in the world. Twenty other financial institutions have already pulled out of EACOP due to the undeniable negative impacts the project would impose on communities' health, human rights, and environment. To drive this message home to ICBC, activists took photos in front of ICBC offices around the world, and showed their solidarity with people affected by EACOP and other oil projects in Uganda by delivering a petition signed by 2,591 project affected people.
There was also an online action demanding the bank switch from being a funder of dirty energy and instead to fulfill its potential to become a global leader in financing the just transition to renewable energy.
Omar Elmawi, Coordinator of the StopEACOP Campaign, said:
"As the world's largest bank, ICBC needs to show climate leadership and concern. Their continued involvement as one of the financial lead advisors of the dirty EACOP pipeline (together with Sumitomo Mitsui Banking Corporation and Standard Bank South Africa) that is playing Russian roulette with people's lives, nature and climate is reckless. It is time that they stop financing dirty fossil fuel projects, starting with EACOP, of which 20 other banks and financial institutions have already opted out."
Ali Akbar, Chairman of the Kanopi Bengkulu Foundation, Indonesia, said:
"ICBC must stop building and financing coal fired power plants in Sumatra, which have disastrous impacts on the health of crucial life-sustaining ecosystems. Communities in both North and South Sumatra have given first hand testimony regarding these real-life consequences, which are at odds with the information provided by the Sumsel-8 CFPP power plant. I believe ICBC knows that coal is slowly killing the planet, and they must stop immediately."
Lidy Nacpil, Coordinator of the Asian Peoples' Movement on Debt and Development (APMDD), said:
"We call on ICBC to immediately stop overseas financing and investments of fossil fuels, and strongly participate in the rapid, equitable and just transition to renewable and democratic energy systems in Asia."
More photos of the actions can be found here.
There are no active project profiles for this item now.