As the Dakota Access Pipeline shuts down and the Atlantic Coast Gas pipeline goes bust, will banks finally draw the right lessons?
2020-07-07 | Nijmegen
Johan Frijns – BankTrack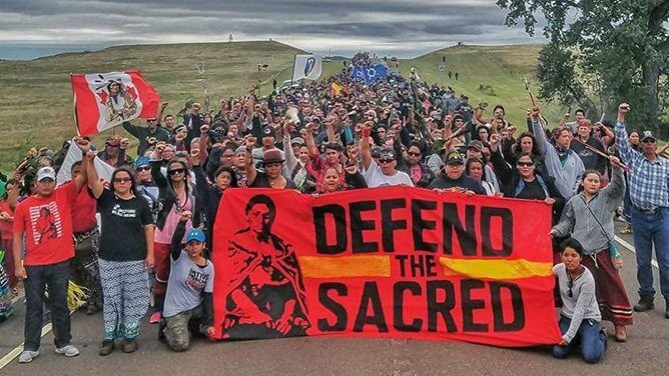 Oct 2016 protest against ETP's Dakota Access Pipeline. Photo: One Earth Sangha via Flickr (CC BY SA 3.0)
2020-07-07 | Nijmegen
Johan Frijns – BankTrack
BankTrack warmly welcomes yesterday's decision of the U.S. District Court for the District of Columbia ordering the shutdown of the Dakota Access Pipeline. The decision to close the pipeline was made because of the continued absence of an Environmental Impact Statement that addresses the potential risk of oil spills to Lake Oahe in North and South Dakota. The decision to shut down the pipeline is a huge victory for the Standing Rock Sioux Tribe and all others that for years fought against the construction and operation of the 'Black Snake'.
Stretching more than 1,100 miles, the Dakota Access Pipeline (DAPL) carries crude oil from the Bakken shale oil field of North Dakota to Illinois, where it is transported to refineries on the Gulf Coast or East Coast. The pipeline is operated by Energy Transfer Partners (ETP), whose share price immediately took a 7 percent hit after the court decision.
BankTrack and ETP have some history. In 2017, ETP took BankTrack, Greenpeace and others to court alleging that we "manufactured and disseminated materially false and misleading information" about them and DAPL, and "incited, funded, and facilitated crimes and acts of terrorism to further these objectives", a claim that may well have shut us down, had it not been fully dismissed by the District court of North Dakota in 2018. ETP now finds that it is DAPL that is shut down, for now at least.
The news comes during a bad week for pipelines. Whereas DAPL was built and has been pumping (and quite often spilling) oil for the past three years, the Atlantic Coast Gas pipeline has been stopped in its tracks at an early stage. This project, pushed forward for years by Dominion Energy and Duke Energy, was called off yesterday, citing delays and rising costs due to ongoing lawsuits.
The temporary closure and cancellation of two crucial fossil fuel infrastructure projects as a result of continued Indigenous and wider civil society resistance sends a clear signal to pipeline constructors and operators that not a single mile of proposed new pipeline infrastructure will go unchallenged. But will this signal also be picked up by commercial banks that until now have remained perfectly willing to finance the expansion of such pipeline networks? In the case of DAPL, campaigners had to fight tooth and nail to try to stop even the 14 banks that signed the Equator Principles from financing the project. Most of them proceeded regardless, dealing a huge blow to the credibility of the Principles as a tool that effectively shields banks from risks associated with financing such fossil fuel projects (let alone protect communities from the social and environmental impact of such projects).
With the climate crisis accelerating, the oil industry tanking, and a global civil society movement determined to do what it takes to stop the further expansion of the industry with prime responsibility for fueling the crisis, it is high time banks understand the huge risks involved in financing these projects, heed the call and stop financing fossil fuel pipelines altogether and everywhere.
There are no active project profiles for this item now.