ANZ climate complaint ruling highlights need for Australia to follow other countries and pass new climate finance laws
2021-12-15
Friends of the Earth Australia
Sam Cossar, Friends of the Earth, Economic Justice campaigner, +61 0413 496 570.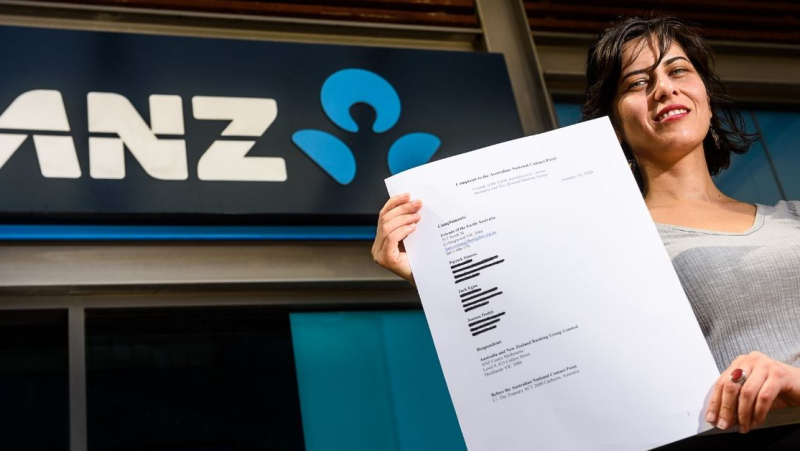 Bushfire survivors filed a complaint against ANZ. Photo: Friends of the Earth Australia
2021-12-15
Friends of the Earth Australia
Sam Cossar, Friends of the Earth, Economic Justice campaigner, +61 0413 496 570.
After almost two years, the Australian National Contact Point has made a determination on the international climate complaint by Bushfire survivors and Friends of the Earth Australia. The complainants express their disappointment that the determination finds ANZ's practices are 'consistent' with the Organisation for Economic Co-operation and Development (OECD) Guidelines on Multinational Enterprises. Yet we note a number of important findings in the ruling that will support the development of climate litigation in Australia and globally.
The Independent Examiner found that "Accordingly, each entity in that chain has obligations regarding climate change: government regulators (international legal obligations), businesses (due diligence obligations under the UNGPs and Guidelines), and individuals (eg. not to harm others human rights)."
The Independent Examiner rightly called for the OECD guidelines to be updated to address Human Rights threats caused by climate change, stating "the increasing awareness that the Guidelines' text around climate change and environmental expectations of companies is behind current practice. This is an issue canvassed as part of the OECD's public consultation on its 'draft stocktaking report …… The Independent Examiner recommends this Final Statement be brought to the attention of the OECD and its advisory bodies to the Investment Committee (BIAC and TUAC) together with OECD Watch.'"
Jack Egan, Bushfire survivor and co-claimant said "While ANZ has recently ruled out funding new coal extraction, it continues to fund new gas developments. Having lost my NSW south coast home to a climate driven megafire in 2019 I know that climate chaos is here now and for ANZ to continue funding new gas extraction is adding fuel to future fires."
Since Friends of the Earth and Bushfire Survivors launched this complaint in 2019 the New Zealand parliament has tabled a Climate Risk Financial Disclosure Bill, which will impact ANZ due to the banks substantial business operations in New Zealand (1). The Australian Labor Party shadow finance minister has indicated support for a similar Bill in Australia (2). Furthermore the UK government has recently announced plans to force companies to publish their plans to achieve 2050 net zero emissions.
Sam Cossar, Friends of the Earth Australia said, "Banks and financiers are the lifeblood of the fossil fuel companies driving the climate crisis. We echo calls from the Independent examiner to update the OECD guidelines to address climate change. This complaint also shows the need for the Australian government to follow other countries and implement new binding climate finance laws to protect people and the planet. "
A full copy of the Australian National Contact Point Final statement is available here:
https://ausncp.gov.au/sites/default/files/2021-12/AusNCP_Final_Statement_Friends_of_Earth_0.pdf
Notes:
(1) https://www.parliament.nz/en/pb/bills-and-laws/bills-proposed-laws/document/BILL_109905/financial-sector-climate-related-disclosures-and-other
(2) https://www.smh.com.au/politics/federal/tougher-climate-change-disclosure-laws-under-labor-20211103-p595of.html
From www.foe.org/au.