Annual General Meeting SEB: how close is Sweden's biggest fossil fuel financier to being Paris-aligned?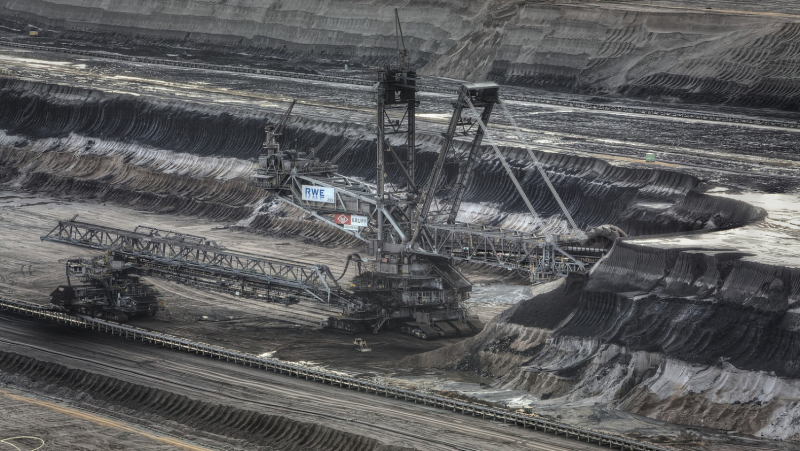 RWE's Hambach open-cast lignite mine. Photo: Frank Kehren via Flickr (CC BY-NC-ND 2.0)
Today, Swedish bank Skandinaviska Enskilda Banken (SEB) holds its Annual General Meeting, which marks a good moment to reflect on the bank's commitments regarding fossil fuel financing and its climate impact more generally.
Earlier this year, BankTrack and partners found that SEB has provided €17 billion in finance for the fossil fuel industry between 2016-2019. This is a significant amount, ranking the bank as the second biggest lender and underwriter of the fossil fuel industry amongst Scandinavian banks, just behind Norwegian bank DNB (with €20 billion between 2016-2019).
During the development of the report, Banking on Thin Ice, SEB shared an advance copy of its new fossil fuel policy with BankTrack, officially publishing this policy a few weeks after the report was published. The new fossil fuel policy scored 75.5 points (1), significantly higher than the nine other Scandinavian banks that were assessed, though still less than half of the possible total of 200 points.
The new policy published by SEB in February expands the exclusion of coal mining projects and companies, and for the first time also limits financing for projects and companies involved in spotlight oil and gas sectors such as Arctic oil and gas and tar sands.
However, it still contains a number of significant loopholes. For example, SEB makes an exception to its phase-out and exclusion commitments regarding coal for German companies. This exception has significant consequences for the strength of the bank's commitment as it means that SEB will continue to finance German coal giants such as Uniper (largely owned by Fortum, SEB's largest fossil fuel credit client) and RWE until 2038.
Without closing these loopholes, and further developing its fossil fuel finance policies, the bank is a long way from being Paris aligned - a goal they committed to by signing on to the Principles for Responsible Banking (PRBs). Importantly, as of yet, SEB has not set a goal to achieve net zero emissions by 2050, nor does it have any (public) plans to measure and disclose its financed emissions.
At today's AGM, the bank is urged to discuss its strategy of becoming Paris aligned. SEB should put its PRB-related promise to align its financing with the goals of the Paris Climate Agreement into practice by presenting and implementing a concrete plan to measure, disclose and set targets to zero out the absolute climate impact of its financing activities on a 1.5°C-aligned timeline. This should include short- medium- and long-term targets and not overly rely on offsets or unproven technologies for carbon capture and storage.
This plan should be complemented by policies to fully prohibit financing for all fossil fuel expansion projects and for all companies expanding fossil fuel extraction and infrastructure along the whole value chain. SEB should also commit to phase out all financing for fossil fuel extraction, combustion, and infrastructure, on an explicit timeline that is aligned with limiting global warming to 1.5°C, starting with coal mining and coal power, as well as financing for existing projects and companies active in tar sands oil, Arctic oil and gas, offshore oil and gas, fracked oil and gas, and LNG. As part of this commitment, the banks should require fossil fuel clients to publish plans to phase out fossil fuel activity on a 1.5°C-aligned timeline.
Finally, all climate and other financing policies and decisions should fully respect all human rights in line with the UN Guiding Principles on business and human rights. In particular, the rights of Indigenous Peoples, including their rights to water and lands and the right to Free, Prior, and Informed Consent, as articulated in the UN Declaration on the Rights of Indigenous Peoples, should be fully respected. All financing for projects and companies that abuse human rights, including Indigenous rights, should be prohibited.
Jakob König of the Fair Finance Guide Sweden said: "SEB's new guidelines are a clear improvement and significantly more comprehensive than those of other Swedish banks. But there are a number of serious gaps. We generally think that SEB and the other banks should condition their lending so that companies must have introduced conversion plans that are in line with the Paris Agreement."
Daisy Termorshuizen, climate campaigner at BankTrack, said: "our Banking on Thin Ice report showed SEB provided significant financing for and investment in coal, oil & gas. The adoption of the new and more comprehensive policy framework is an important step in reducing SEB's exposure to the fossil fuel industry. However, it remains to be seen how the bank's new policy will be implemented and whether it will indeed result in a decrease in the amount of financing SEB provides to the fossil fuel industry."
For more details on the policy, please see here. The Fair Finance Guide Sweden has also commented on the new policy, see for more here.
---
(1) Since the publication of Banking on Thin Ice, the policy assessment methodology used by BankTrack (following the Banking on Climate Chaos report) has been updated. SEB now scores 70.5 points out of 200. See an updated overview of the state of the bank's policies here.
There are no active project profiles for this item now.
There are no active company profiles for this item now.