Almost a quarter of Credit Suisse's shareholders call for further climate action in vote against management
Climate resolution receives wave of investor support, though key shareholders continue to neglect Net Zero responsibilities
2022-04-29 | Zürich, Switzerland
ShareAction
Jake Kroeger, Media Communications Officer, ShareAction, +44 7956 736 041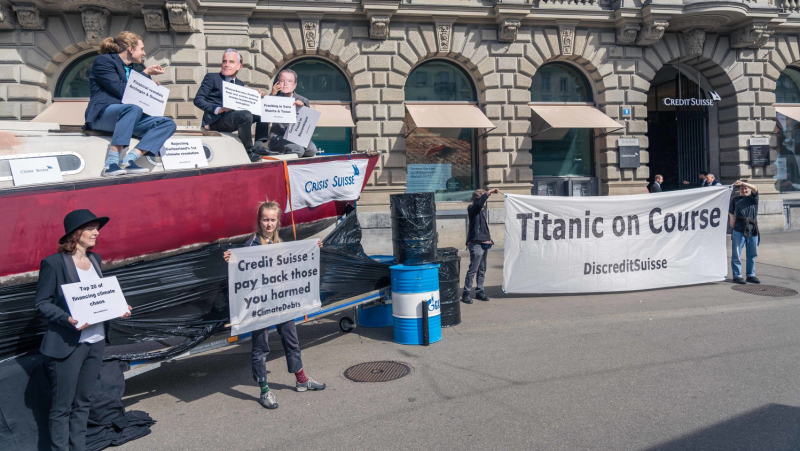 Activists from Collectif BreakFree Suisse in front of Credit Suisse HQ at their AGM. Photo: Lydia Marsden
2022-04-29 | Zürich, Switzerland
ShareAction
Jake Kroeger, Media Communications Officer, ShareAction, +44 7956 736 041
Nearly a quarter of Credit Suisse's shareholder base have voted against management on a climate resolution filed by ShareAction, Ethos Foundation, and a coalition of 11 investors representing EUR 2.2 trillion – the first climate resolution to be voted on at a Swiss company.
At the bank's AGM, the board revealed that 18.52% of shareholders voted 'FOR' the investor-led climate resolution and a further 4.27% abstained. This is despite the two major proxy advisors, Glass Lewis and ISS, recommending a vote 'AGAINST' the resolution.
Jeanne Martin, Senior Campaign Manager at ShareAction, said "Today's voting result is a huge signal of support for Credit Suisse to strengthen its climate plan and accelerate its transition away from fossil fuels. We urge the bank to take notice and incorporate the asks of concerned investors ahead of its 2023 Say on Climate vote, or expect a similar, if not greater, shareholder rebellion at its 2023 AGM."
The resolution received the backing of influential investors such as LGIM, the UK's largest asset manager, and BVK, the largest pension fund in Switzerland, both of which pre-declared their intention to support the resolution earlier this week. Their call was supported by investors including Aviva Investors, Border to Coast, Brunel Pension Partnership, and the New York State Common Retirement Fund.
By pre-declaring, these investors supported calls on the bank to strengthen its climate strategy, in particular by:
Covering capital markets activities in the scope of its disclosures and targets;
Strengthening its oil and gas policy to cover the unconventional oil and gases the bank is most exposed to – such as fracking;
Providing further transparency on its thermal coal policy.
However, today's results also suggest that a significant cohort of investors – many of which have committed to net-zero – still fail to vote in line with their climate and fiduciary responsibilities.
Jeanne Martin, Senior Campaign Manager at ShareAction, adds "The shareholders that have not voted for this resolution have a lot to answer to their clients for. Many of them will have net-zero ambitions – it's now time they vote the net-zero talk."
Importantly, the resolution received greater support than similar resolutions that were the first of their kind to be filed in other jurisdictions in recent years. For example, the 2020 investor-led resolution at Total on climate received 16.8% of support, and the 2009 resolutions on oil sands filed by ShareAction, Greenpeace UK, and Coop Asset Management at Shell and BP received ~10% of support.
From www.ShareAction.org