Action in Bayonne against Société Générale and Alpha Coal
---
2014-06-02
Bayonne
---
Share this page:
---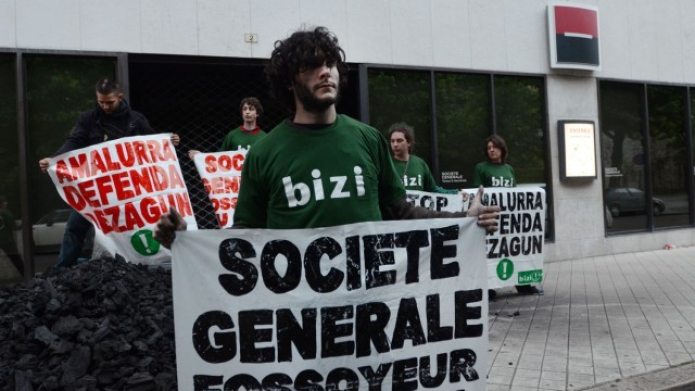 Photo: -
Today in France, activists brought the polluting reality of French bank Société Générale's investments in coal to their doorstep - by dumping 1.8 tonnes of coal outside their headquarters in Bayonne.
The bank provides financial assistance for the Alpha Coal project in Queensland, Australia, which is set to produce coal that would release at least 1.8 billion tonnes of CO2 into the atmosphere. Should the project succeed, it will be followed up with 8 others - which together would release almost as much CO2 as the annual emissions of Germany.
Members of the Basque environmental group Bizi! - affiliated with Les Amis de la Terre/Friends of the Earth France - arrived outside the bank early in the morning with two trucks, dumping the coal before holding up banners demanding that Société Générale "Stop Alpha Coal".
The action had tremendous popular support: in order to fund the truck rental and the purchase of the coal, Bizi! had launched a crowdfunding operation with the goal of collecting €3 800. Yet in just two weeks they had raised €4 500 from individuals opposed to polluting fossil fuels.
Jon Palais, a representative of Bizi! said: "Our campaign alongside ATTAC-France and Friends of the Earth will grow, and won't stop until Société Générale ceases its support for 'climaticide'. If it persists it could become one of the targets of the international movement against dirty energy in the run-up to next year's climate talks in Paris"
Through actions like these, banks are increasingly being forced to consider the environmental impacts of their investments. In May, Deutsche Bank sold its shares in the destructive palm oil trader Bumitama after months of campaigning by Friends of the Earth Europe, and pressure remains on several other banks to stop funding another palm oil giant - Wilmar International.