NGOs warn banks not to further finance PNG LNG project
Dodgy Deal Alert
---
2013-04-18 00:00:00
Nijmegen
BankTrack
---
yann@banktrack.org
---
Share this page: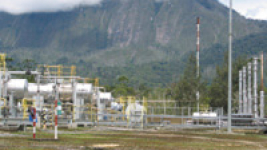 A coalition of seven NGOs (BankTrack, Jubilee Australia, Pacific Environment, Act Now! PNG, Mineral Policy Institute, International Accountability Project and Friends of the Earth France) today sent a letter to seventeen banks that are already involved in the financing of the highly controversial PNG LNG project to ask them not to extend any further financing to this project.
Despite a first warning letter more than three years ago, 17 banks decided to finance the PNG LNG project, the biggest project ever in the history of Papua New Guinea. Because of huge cost overruns (20% from US$14bn to US$19bn), due in part to the failure to anticipate local conflict, ExxonMobil is looking for a US$1.5bn additional debt facility to complete the project from the very same banks.
The letter stresses the key findings of the latest report by Jubilee Australia « PipeDreams : the PNG LNG Project and the future hopes of a nation » which reveals that « it is very likely that the project will exacerbate poverty, increase corruption and lead to more violence in the country ». It raises the critical issue of landowner identification and negotiation, for which the Equator Principles requirements have clearly been violated. The concrete risks of the Dutch disease syndrome (the relationship between the increase in exploitation of natural resources and a decline in the other economic sectors) now spreading are also one of the reasons for the opposition to this project, as well as the uneven local revenue distribution and the risks of further project-related conflicts.
Yann Louvel, Climate and Energy Campaign Coordinator for the BankTrack network, concludes: « The dangers of this project are worsening and we have already seen tensions and violence related to land disputes, employment and the allocation of the Business Development Grants. We urge the private banks involved not to extend further financing to this project ».
List of banks financing the PNG LNG project :
ANZ
Bank of Tokyo Mitsubishi UFJ
BNP Paribas
China Development Bank
Commonwealth Bank of Australia
Crédit Agricole
Crédit Mutuel-CIC
DnB
Intesa SanPaolo
Mizuho
National Australia Bank
Natixis
Société Générale
Standard Chartered
Sumitomo Mitsui
UniCredit
Westpac