One step beyond coal - New policy move from Standard Chartered welcomed
2018-09-25 | Nijmegen, the Netherlands
BankTrack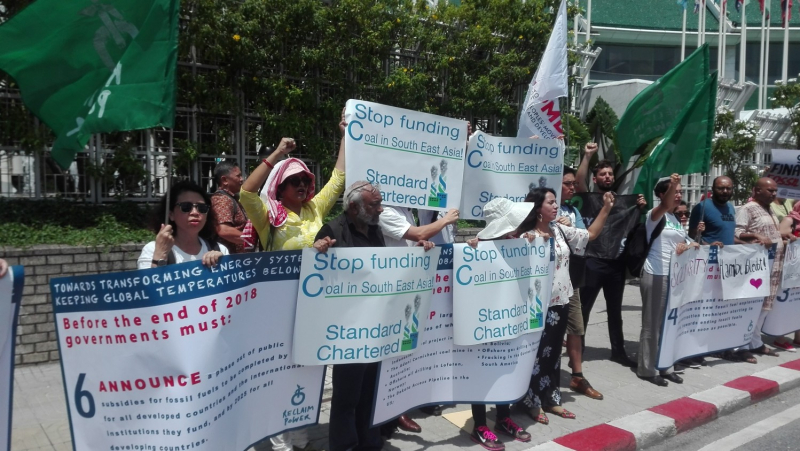 The message from Southeast Asian campaigners gets through to Standard Chartered. Photo: Greig Aitken, BankTrack
2018-09-25 | Nijmegen, the Netherlands
BankTrack
UK bank Standard Chartered's announcement today that it "will not directly finance any new coal-fired power plant projects, including expansions, in any location" has been welcomed by BankTrack as a positive step towards bringing the bank's finance into line with the Paris Agreement goals.
The move makes Standard Chartered the seventeenth major international commercial bank to commit to end project finance for new coal power worldwide. It also sees Standard Chartered go further in restricting climate-destructive coal power finance than its competitor HSBC, which in April this year left its coal policy open to financing coal plants in Bangladesh, Indonesia and Vietnam.
Reacting to Standard Chartered's announcement today, Greig Aitken, Climate campaigner at BankTrack, said:
"This is a welcome decision from Standard Chartered, especially considering that just a few months ago there were strong public signals from its Chairman that the bank maintained an appetite to remain as a coal plant financier in certain markets. Today's announcement is another nail in the coffin for the coal industry's tactic of presenting coal as necessary for development and poverty reduction, when clean renewable energy is now outpacing coal in terms of price and has so much potential to deliver around the world. Standard Chartered's positive approach also puts HSBC's loophole-ridden coal policy into sharp relief, and HSBC must now act to stop being a supporter of new coal plant construction and coal companies full stop."
Despite this advance from Standard Chartered, its revised Position Statement on Power Generation contains no restrictions on the provision of general corporate finance to coal power companies. A range of other major European banks have already introduced restrictions to their general financing of and support for coal utilities and companies planning to develop new coal plants.
Accompanying Standard Chartered's revised Position Statement, the bank's website notes that it will no longer finance new coal-fired power plants anywhere in the world "except where there is an existing commitment".
A Standard Chartered representative today confirmed to BankTrack that the bank remains a 'participant' as part of syndicates in two planned Vietnamese coal plant projects, Vung Ang 2 and Vinh Tan 3. Neither project is believed to have reached financial close, and it is unclear whether Standard Chartered will proceed with financing them.
Greig Aitken said:
"Having made an important policy stride forward today, and with it a strong statement of its intent to act in favour of the climate and against poisonous coal pollution, we hope to see Standard Chartered proving the integrity of its new policy by shortly removing itself from syndicates for any new coal power plants, including projects in Vietnam in which it has been involved as a syndicate member."
Notes for editors:
1. See Standard Chartered's revised Position Statement on Power Generation.

Standard Chartered is ranked 12th globally in terms of lending (project finance and corporate finance) on BankTrack's list of coal plant developer banks, with loans amounting to USD 1.89 billion between 2014 and September 2017.

2. See the list of 17 banks.

3. See: 'HSBC moves on tar sands, but fails the coal test' (April 2018).

4. See the details of international commercial banks' restrictions on coal financing.

5. Standard Chartered: 'Saying no to coal - what you need to know'.

6. Earlier this year, Standard Chartered pulled out of the Nghi Son 2 coal plant project in Vietnam just weeks before it reached financial close in order to uphold its former coal policy.
There are no active project profiles for this item now.