ING first bank to sell Dakota Access Pipeline loan debt – BankTrack reaction
Other banks urged to follow, and consider new pipelines off limits for finance
2017-03-22 | Nijmegen
BankTrack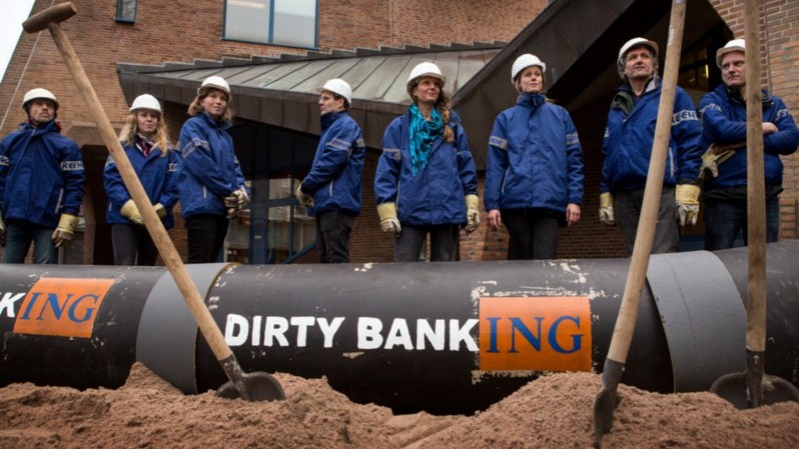 Greenpeace activists dig a 20 meter long oil pipeline into the ground and into the ING Bank headquarters in Amsterdam. . Photo: Greenpeace
2017-03-22 | Nijmegen
BankTrack
The sale announced yesterday by Dutch bank ING of its $120 million share of loan debt in the highly controversial Dakota Access Pipeline (DAPL) is a belated good move, according to private finance watchdog BankTrack, and should now be followed by the 16 other banks involved in the overall $2.5 billion DAPL credit facility.
Having previously dumped its shares in the DAPL project companies, ING's announcement, which follows engagement with the Standing Rock Sioux Tribe, makes it the first bank to confirm it is offloading DAPL debt. ING has also committed to advocate for Indigenous rights in future project financing.
Johan Frijns, director of BankTrack, said:
"Thanks to the astonishing courage and stamina of the water protectors at Standing Rock, which has catalysed worldwide support and public pressure on all financiers of the pipeline, there is now huge momentum among investors to divest from DAPL and any company associated with it. In this context, ING's decision to finally sell its direct loan to DAPL is only appropriate and a welcome signal to the market.
"However, as much as ING has engaged with the Standing Rock Sioux Tribe in recent weeks, this situation could have been avoided altogether if banks, when they were approached for funding, had conducted proper due diligence and had sought to engage with the tribe during their consideration of whether bankrolling DAPL was appropriate.
"The reputations of all banks involved have clearly taken a hammering due to their support for DAPL. With the pipeline now nearing completion, moves like this from ING will only be meaningful if banks make different decisions in the future and avoid stumbling into more fossil fuel infrastructure follies such as the Keystone XL and Enbridge Line 3 pipelines, or the Trans Adriatic Pipeline. Major banks have got to take heed of the DAPL debacle and ensure it marks the end of the line for their financing of destructive, unnecessary oil and gas pipelines. Given the level of intense public scrutiny generated by DAPL, no bank can afford to decide otherwise."
Notes for editors:
1. See ING's DAPL announcement.
See the related Standing Rock Sioux Tribe statement.
The Dakota Access Pipeline is a BankTrack 'Dodgy deal'.
There are no active project profiles for this item now.