"Nuclear Banks, No Thanks!" coalition welcomes cancellation Belene nuclear plant
Cancellation Bulgarian nuclear power plant sends clear signal to banks that nuclear industry is a dying business; the future is in renewables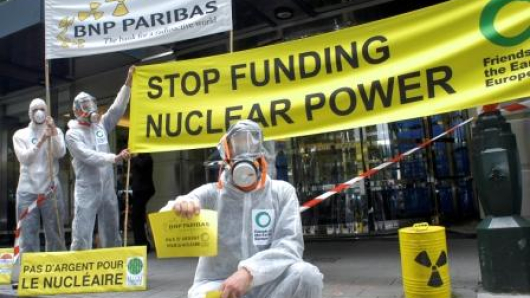 Photo: -
Yesterday, the Bulgarian government officially announced the cancellation of the Belene nuclear power project. BankTrack and other members of the "Nuclear Banks, No Thanks!" coalition applauds this decision after years of uncertainty around the project.
Jan Haverkamp, nuclear expert consultant for Greenpeace, comments : "We are extremely happy that Bulgaria finally pulled the plug from the Belene nuclear power project. The power station was to be built in a seismic active zone, where in 1977 120 people lost their lives in an earthquake only 14 km from the planned site, in the town of Svishtov. Finally, the Bulgarian government has seen that the facts on safety, high costs and energy dependency from Russia cannot be ignored. This is a great day for all that kept the debate and opposition alive over the 25 years it took from the first ideas to the final out."
The project was already canceled once in 1992, after fierce local opposition on environmental grounds and an economic downturn after the fall of communism. When in 2002 plans were revived to construct Belene this again sparked strong local opposition. The situation became especially tense in 2004 when local organic farmer and Greenpeace activist Albena Simeonova received death threats after Greenpeace joined court proceedings against the flawed Environmental Impact Assessment.
Heffa Schücking, from the German NGO urgewald, continues: "The opposition to Belene went international from 2006 onwards when Western potential investors and financiers were approached. We had to fight against RWE as 49% strategic investor, who quit the project in 2009, as well as the involvement of French bank BNP Paribas, which finally withdrew its involvement in 2010. Other banks and utilities we had to pressure to stay out of the project included Deutsche Bank, UniCredit, Citi, E.ON, Electrabel and recently HSBC that acted as advisor to the Bulgarian government. Today is really a huge success and a great achievement for Bulgarian and international civil society."
Yann Louvel, climate and energy campaign coordinator for the BankTrack network, concludes: "The official cancellation of the Belene nuclear power plant project sends a clear signal to banks that, after the Fukushima nuclear catastrophe, the nuclear industry is a dying business, It has never been more risky to fund nuclear plants, both financially and in terms of reputational risk with customers. Banks need to draw a clear lesson and stop funding nuclear and invest instead in the future, in energy efficiency and renewables. They need to immediately abandon the worst nuclear dodgy deals around the world, such as Mochovce (Slovakia), Temelin (Czech Republic), Angra 3 (Brazil) and Jaitapur (India). As with Belene, we will continue to confront them until this happens."
Related Dodgy Deals
Projects
There are no projects active for this item now.