Company – On record
This profile is no longer actively maintained, with the information now possibly out of date
Lead organisation:
BankTrack
Last update:
2021-03-19 00:00:00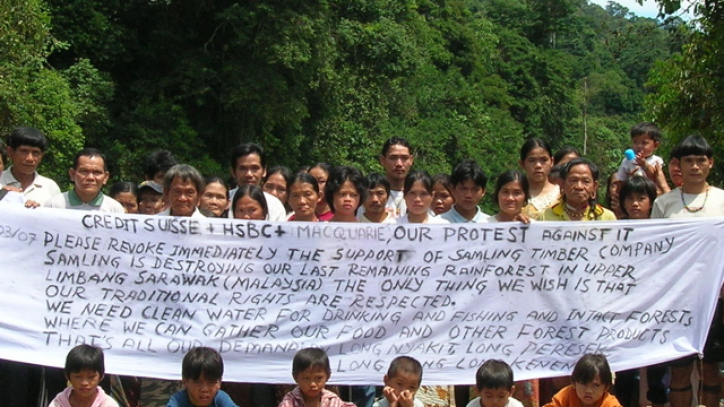 Company – On record
This profile is no longer actively maintained, with the information now possibly out of date
Lead organisation:
BankTrack
Last update:
2021-03-19 00:00:00
| | |
| --- | --- |
| Sectors | Agriculture for Palm Oil , Construction |
| Headquarters | |
| Ownership | |
| Subsidiaries | |
| Website | http://www.samling.com |
The Samling group, which is based in the Malaysian state of Sarawak on Borneo, is one of Malaysia's biggest logging companies and responsible for the ongoing destruction of large areas of tropical rainforest. Samling oversees about 4 million hectares of forest concessions in Malaysia, Guyana and New Zealand, with 518,000 in total gross area plantations.

As stated on the company website, "The total gross area of our tree plantation land is approximately 438,000 hectares in Malaysia, 35,000 hectares in New Zealand and 3,000 hectares in China of which approximately 15,000 hectares, 26,000 hectares and 1,000 hectares respectively, have been planted as of 30 June 2008."

Samling has been particularly criticized for the systematic destruction of tropical rainforests in the Malaysian state of Sarawak on the island of Borneo, one of the world's centers of biological diversity and ancestral home of the Penan people.
Credit Suisse of Switzerland, British HSBC and Australia's Macquarie Securities have listed Samling Global Ltd, a Malaysian logging company, on the Hong Kong stock exchange. The sale of shares commenced on 23 February, with official stockmarket beginning 7 March. Samling expected to raise US$280 million from the listing, or US$322 if options are exercised in full. The company intends to use the proceeds for expansion of their logging practices to repay debts.