Lockheed Martin
United States
---
On record
This profile is no longer actively maintained, with the information now possibly out of date
---
Send
feedback
on this profile
Download as
PDF
---

Created before Nov 2016
Last update:

2019-05-23 07:09:50
BankTrack
---
Share this page:
---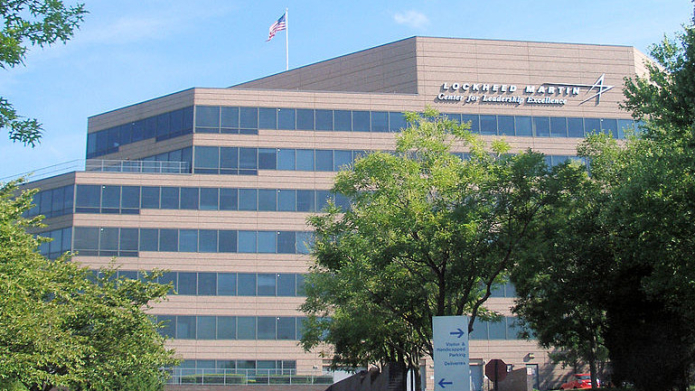 Main entrance to Lockheed Martin Center for Leadership Excellence (CLE) in Bethesda.. Photo: Coolcaesar at en.wikipedia CC-BY-SA-3.0
About Lockheed Martin
Lockheed Martin is a global security company engaged in the research, design, development, manufacture, integration and sustainment of advanced technology systems, products and services. As of 2018, Lockheed Martin is the world's largest producer of arms with 88 percent of its revenue coming from arm sales. Lockheed Martin is involved in the research, development and managing of nuclear- and autonomous weapon systems. It is headquartered in Bethesda, Maryland and employs 120,000 people globally.

The company has four main business areas: Aeronautics; Electronic Systems; Information Systems & Global Solutions; and Space Systems. The aeronautics unit is engaged in activities such as the production of tactical aircraft and aeronautical research, while the electronic systems unit is involved in missiles and fire control, simulations, platform integration, and naval systems. The information systems division provides government and businesses with IT-solutions. Space systems deal with commercial satellites, government satellites, and rocket launches.
Why this profile?
Weapon systems of Lockheed Martin are exported to controversial countries that have authoritarian regimes and are at risk of government corruption. Lockheed Martins weapons have been used by the Saudi-led coalition in the war in Yemen.
Impacts
Other impacts
Arms exports to controversial countries Lockheed Martin exports weapons to countries that are considered controversial for arms exports as shown in the Dirty Profits 7 report of Facing Finance. These countries are considered controversial because they are under an EU and/or UN arms embargo, in armed conflict, have an unfree authoritarian regime or are ranked as having the highest risk in relation to government corruption.
Lockheed Martin also sells (controversial) weapon systems to several countries of the Saudi Arabia-led coalition and there is evidence that these have been used directly in the war in Yemen. Between the start of the conflict (in 2015) and 2018 Lockheed Martin has sold approximately 6,600 weapon systems and missiles to this coalition consisting of Saudi Arabia, Bahrain, Egypt, Jordan, Kuwait, Morocco, Sudan and the United Arab Emirates (UAE).
According to the UN, the ongoing civil war in Yemen has killed or seriously injured at least 15,000 people. There is strong evidence that the Saudi-led coalition acts in violation of International Humanitarian Law. The coalition airstrikes fail to make a distinction between military objectives and civilian objects. Airstrikes have reportedly attacked residential areas, medical facilities, markets and other clearly civilian targets.
Lockheed Martin continues to deliver weapons to the Saudi-led coalition despite of the evidence of violation International humanitarian law by this coalition. Therefore, in June 2016 an OECD complaint was filed against Lockheed Martin and Boeing for their breaches of the OECD guidelines. The complained stated that the companies' products are likely to have contributed to human rights violations in Yemen and that the companies failed to do adequate due diligence.
Controversial weapons Lockheed Martin is increasingly involved in the research and development of autonomous weapon systems. Lockheed Martin is developing so-called Lethal Autonomous Weapon Systems (LAWS), that can decide when, against whom and how they will use force without meaningful human intervention. There are serious doubts that these weapon systems will be able to make distinctions between combatants and civilians and are able to assess what kind of force is proportional under international humanitarian law. While fully autonomous weapons are not yet deployed weapons with autonomous features produced by Lockheed Martin have been in Afghanistan.
Lockheed Martin is involved in the production and management of a nuclear arsenal. The company produces Trident II nuclear missiles for the US and UK Navy, is involved in the production and maintenance of US Minuteman III missiles and manages nuclear weapon facilities and laboratories in the US and the UK Atomic Weapons Establishment.
More than 20 pension funds, asset management companies, and insurance companies have excluded Lockheed Martin from their investments because of the company's involvement in the production of nuclear arms and/or cluster munitions.

Lockheed Marin is one of the largest contributors to members of Congress with influence over nuclear weapons spending.
Governance
Applicable norms and standards