We're losing the war on climate change
An exclusive book chapter from the Extinction Rebellion book "Nu het nog kan" ("While we still can"), by BankTrack's Ernst-Jan Kuiper
---
2020-06-17
Ernst-Jan Kuiper – BankTrack
---
Share this page:
---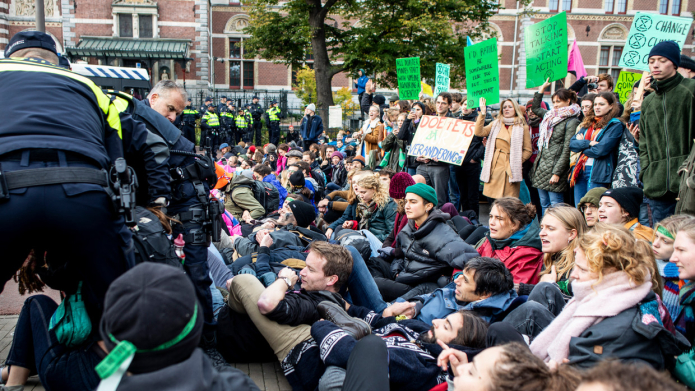 Picture taken during the protests of Extinction Rebellion in Amsterdam during the October rebellion in 2019. Photo: het Parool
Introduction: Ernst-Jan Kuiper completed his doctoral degree on ice dynamics and deformation mechanisms in the Greenland ice sheet at Utrecht University in 2019. He joined Extinction Rebellion Netherlands in January of that year, and joined BankTrack as a climate campaigner one year later. The following is an English-language version of his book chapter for the Extinction Rebellion 'rebel's handbook', "Nu het nog kan", published in April. In March 2020 Ernst-Jan also gave a TEDx talk about his motivation to join Extinction Rebellion Netherlands and the power of non-violent mass civil disobedience - see below.
As a scientist, you're expected to be a dispassionate being, emotionally removed from your object of study. But as a climatologist, this is becoming increasingly harder as the climate crisis continues to worsen and hardly anything is being done. News reports and scientific papers are a constant reminder that human civilization is sleepwalking into a catastrophe. Climate change is always somewhere in my mind, whether I'm doing groceries, sitting in the train or meeting with friends. It is emotionally straining. But around me, most people seem oblivious to the looming crisis.
Although the impact of human activities on our climate is now widely recognized, denial and scepticism have been replaced by the comfortable illusion that a smooth and incremental energy transition could keep us at "safe" levels of global warming, between 1.5°C and 2°C. But there is no 'safe' level of global warming, and current efforts and pledges are nowhere near in line with this target. The mechanisms of climate change have been understood for several decades already, but the scientists who tried to ring the alarm bells were pushed to the margins and significant action was consistently delayed. By now, there is no more opportunity for a smooth and gradual reduction in greenhouse gas emissions. We're simply running out of time.
The Earth has warmed by 1.1°C since pre-industrial times, already affecting regional climates, people and ecosystems, particularly in the global south. The number and size of forest fires are rapidly increasing, floods and droughts are taking an increasing human toll, storms are getting stronger and heatwaves are becoming more deadly, particularly around the equator. In the coming decades, sea level rise will start claiming low lying islands and endangering or flooding coastal cities, eventually displacing hundreds of millions of people. Though in the short term less exposed than countries like Bangladesh or Indonesia, in the long term, the Netherlands being a low lying delta is also very much at risk of being flooded. In the meantime, biodiversity is dwindling at alarming rates and biologists warn us that we are entering a mass-extinction event, partly driven by climate change. Further warming will exponentially worsen those effects and affect an increasing number of people and ecosystems.

Is climate activism radical or rational? Ernst-Jan Kuiper for Extinction Rebellion, at TEDxHaarlem, March 2020
Even more disturbing is the increasing concern over the risk of passing key tipping points that could result in non-linear and self-reinforcing changes. Long considered to be only threatening in worst case scenarios, there is now mounting evidence that key elements of the climate system could be destabilized even at moderate levels of 1-2°C of warming. Past a certain threshold, the Greenland and West Antarctic ice sheets could become unstable, leading to an unstoppable meltdown and subsequent many meters of sea level rise for centuries to come. As the Earth warms up, permafrost will thaw faster and faster, releasing enormous amounts of greenhouse gases that will itself contribute to further warming. Forest fires, as seen recently in Siberia, the Amazon and Australia, also release additional carbon dioxide into the atmosphere, reinforcing their own causes. Such feedback loops are particularly dangerous, because once triggered, they could lead to uncontrollable, self-sustained warming. However, because they are not perfectly understood yet, feedback loops and tipping points are mostly ignored in scenarios used for determining climate policies.
Repeated warnings from the scientific community and yearly climate negotiations did not achieve any significant steering away from this catastrophic course, and global emissions are still rising. The much celebrated Paris climate agreement, signed in 2015, is simply not sufficient. Its ambition to limit global warming to 1.5-2°C above pre-industrial levels, is anything but safe, especially for communities in poorer countries that are increasingly exposed to extreme weather events or food shortages. Moreover, no specific emission reduction plans are imposed on countries that signed the agreement: They are responsible for determining their own national contributions and reporting on their progress, and are not even legally required to achieve them. Those contributions are mostly computed from scenarios based on the IPCC 2014 report, which, although of the highest scientific standard, presents two crucial issues. First, and as mentioned earlier, some feedback loops such as permafrost melt are not taken into account in the calculations, though they could significantly reduce the amount of carbon that can still be emitted in line with given temperature targets. Second, those scenarios rely heavily on future carbon dioxide removal, leaving future generations with the burden of removing many hundreds of billions of tons of carbon dioxide from the atmosphere, as well as the risk that this approach sets off tipping points and positive feedback loops as target temperatures are temporarily overshot. The technologies to capture carbon dioxide from the atmosphere at the scale required do not even exist yet.
Even if all countries around the world reached their current emission targets, the planet would warm up by 3-4°C by 2100, setting humanity up for an ecological and humanitarian catastrophe. We should be greatly amplifying emission reduction efforts, but we are not on the right course: Global greenhouse gas emissions are still increasing year on year, while investments in new fossil fuel infrastructure continue with subsidies and tax breaks from national governments. More and more renewable energy is being installed, but it is outpaced by growth in energy demand.
The Dutch government itself is failing to achieve significant changes. In the last decades, it failed to efficiently reduce national greenhouse gas emissions, even missing the low targets it had set itself, except when the targets were met by buying 'green' emissions allowances from other countries. This is not even taking into account international air travel and shipping, which have both grown enormously in the last decades and are not counted in national greenhouse gas emissions. Dutch emissions per capita rank among the highest in the EU, more than 30% above the EU average, while our share of renewable energy is the lowest in the EU. Only 7.4% of our energy in 2018 came from renewable resources, of which roughly two thirds is from burning biomass, most of which is also imported, driving deforestation abroad.
There is something Orwellian in the way we talk about the climate crisis. We're using the future tense when it's already affecting communities all over the world. We congratulate each other for setting up far-away climate goals that will not keep us safe in any way. We paint the activists that argue for radical change as unrealistic, and the people that want to continue down this destructive path as realists. We all care about the natural world, but we think we can't move too quickly by a fear of disturbing business as usual. But we cannot afford business as usual anymore. The window of opportunity to stop catastrophic climate change is slipping away fast. The time for radical change has come.
"Nu Het Nog Kan" ("While we still can") by Extinction Rebellion Netherlands can be purchased in Dutch from the publishers here.