This shareholder season, investors are pushing Wall Street on climate action
---
2020-05-27
Ben Cushing, Sierra Club
---
Ben Cushing, Sierra Club
---
Share this page:
---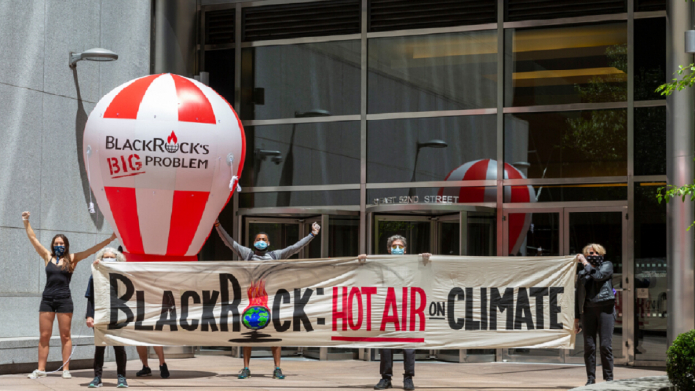 Activists campaigning on BlackRock's negative impact on human rights and climate. Photo: Sierra Club
It's spring, which means warmer weather, trees in bloom, and, of course, shareholder meetings. Every spring, the leaders of banks and other large corporations meet with their shareholders to answer questions about their leadership and business practices, hold votes on resolutions, and elect their board of directors. Over the past few years, these meetings have become important opportunities for investors and activists hoping to pressure the financiers of climate destruction onto a different path.

And this year, despite these meetings being held in virtual-only format, they had some unprecedented successes. Activists with the Stop the Money Pipeline coalition -- which the Sierra Club belongs to -- focused on getting JPMorgan Chase, the world's biggest funder of fossil fuels, to vote out climate denier and former Exxon CEO Lee Raymond, and to commit to producing a plan to align its business with the goals of the Paris Agreement.

Raymond has served on Chase's board for more than three decades, holding the board's top position for nearly 20 years. A former board member described him as "eminently able to influence." But that influence has been toxic. With Raymond at the helm, Chase has consistently been the world's top banker of fossil fuels. In just the past four years since the Paris Agreement was signed, Chase has provided USD 269 billion in funding for fossil fuel production. Under Raymond's leadership, the bank has consistently put the short-term profits of fossil fuel executives like himself over our right to clean air, clean water, and a liveable future.

In a major victory for the activists who have been calling for his removal, Chase announced that Raymond would be demoted from the role of lead independent director this summer. This move came after immense pressure from the grassroots and some of the country's largest investors. Tens of thousands of Sierra Club activists sent messages to Chase and to Chase's largest shareholders -- BlackRock, Vanguard, and State Street -- urging them to remove Raymond from the board. Three of the four largest public pension funds in the country, along with 10 state treasurers, all announced their opposition to Raymond's reelection to the Chase board.

And at last week's shareholder meeting, 15.3 percent of Chase shareholders voted to remove Raymond from the board of directors entirely -- a two-fold increase in the vote against him since last year. That might not seem like much, but as the shareholder-advocacy nonprofit Majority Action points out, "Less than 5 percent of directors at US S&P 500 companies received such levels of opposition in 2019." In other words, Raymond is less trusted to lead his company into the future than 95 percent of board directors.

In another sign of activists' growing power -- and Big Oil's growing economic weakness -- an unprecedented 49.6 percent of shareholders voted in favor of a resolution asking Chase to produce a report on whether and how it plans to align its business with the goals of the Paris Agreement. While the resolution came just short of passing, it's still likely to force changes at America's largest bank. According to leading shareholder advocacy organization As You Sow, resolutions that receive just 20 percent of the vote usually cause changes in how a company does business. Since almost one-in-two of its owners want Chase to align its business practices with the Paris Agreement, the company is now under strong pressure to stop investing in climate-destabilizing fossil fuels and deforestation.
This shareholder season, activists and investors also had their eyes on BlackRock, the world's largest asset manager, which has more than USD 7 trillion under its control. In January, CEO Larry Fink made a splashy pledge to put sustainability at the center of the company's strategy. In the months since then, BlackRock has started to fulfill some of those promises, including divesting from some coal producers and voting in favor of climate resolutions at some polluting companies.

However, BlackRock still has a long way to go to live up to its own commitments. BlackRock is a major shareholder in companies that extract and burn fossil fuels, degrade forests, and violate Indigeous rights. In his January letter, Fink pledged to use BlackRock's weight as a shareholder for good -- to increase transparency around its votes and to support resolutions and board members that commit companies to climate action. BlackRock has started to support climate action in some cases, including voting against management at ExxonMobil and Chevron. But it has failed to do so in several others, and has only been transparent about its choices when it feels like it.

For example, BlackRock voted against a shareholder resolution at Barclays calling on the bank to phase out fossil fuel financing, and against a resolution at Shell calling for concrete targets to reduce emissions. Despite BlackRock's promises of increased transparency, we don't even know how it voted at the Chase meeting -- which means it might have played a pivotal role in killing the Paris Agreement resolution that was so narrowly defeated. It may also have voted in favor of Lee Raymond's continued tenure on the board. As shareholder meetings continue to play out, we will keep watching for signs of progress, but it is clear that BlackRock can and should be doing more.

After Larry Fink's big announcement in January, Sierra Club executive director Michael Brune wrote in CNBC that BlackRock must follow through on its commitments and take stronger action to combat the climate crisis -- or this movement will keep the pressure on. And that's what's been happening.

Ahead of BlackRock's own annual general meeting last week, activists held a "People's Assembly on BlackRock" to provide a forum for frontline leaders, activists, and elected officials -- including Senator Sheldon Whitehouse, Representative Chuy Garcia, and New York City Comptroller Scott Stringer -- to talk about BlackRock's negative impact on human rights and our climate, and what we can do about it.

On the day of BlackRock's own annual general meeting, small groups of activists in New York, San Francisco, London, and Brussels took to the streets -- while following social-distancing measures -- to send a message about BlackRock's "hot air" on climate. Nice words alone won't cut it anymore: We need bold climate action from BlackRock -- and the rest of Wall Street -- now.
Take action: Tell BlackRock that we need more than promises -- we need follow-through and stronger action to address the climate crisis.
Ben Cushing is a campaign representative with the Sierra Club's Beyond Dirty Fuels campaign.
Related banks