"Money does not stink": Belarus and the ethical values of Raiffeisen Bank International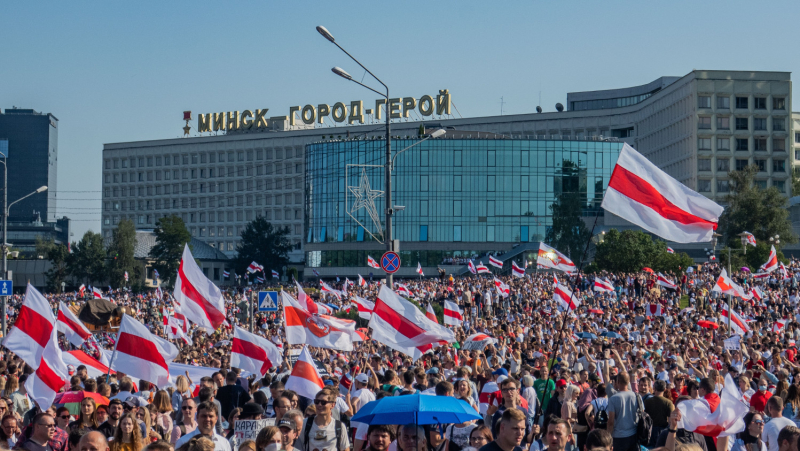 Protest rally against Lukashenko, 30 August 2020. Minsk, Belarus. Photo: Homoatrox, CC BY-SA 3.0, via Wikimedia Commons
"Pecunia non olet" - Money does not stink. This ancient Roman saying was recently put to use by German agricultural equipment producer B. Strautmann & Söhne as it dismissed Belarusian activists' appeal to review its business relationships with the Belarusian state and state-owned entities. Since the rigged August 2020 Belarus presidential election, over 35,000 people who protested against the result were detained in Belarus, the official number of political prisoners as declared by the Human Rights organisation Viasna exceeds 450, the death toll of protesters stands at nine, and thousands of workers trying to have their voices heard are subject to intimidation and sanctions.
This story is, however, not about Strautmann, but about Raiffeisen Bank International (RBI), the second largest bank in Austria, which seems to view money in much the same way. Like any respectful institution, Raiffeisen has developed beautiful-sounding sustainability principles. The bank states that it is committed to "supporting open civil society"; it has a declared Sustainability Mission Statement to "act in a socially responsible manner, fostering the long-term welfare of the people and businesses". One of the bank's core values is "social solidarity". In its Code of Conduct the bank states that it will "strive to neither directly nor indirectly finance any transactions, projects or parties, nor cooperate with any business partner (including customers, service providers and suppliers) that do not adhere to RBI's standards or are suspected of human rights violations". Let's see how its performance measures up against these standards.
As this article explores, RBI has a huge exposure to Belarus. It owns a local bank, helps the current regime to issue bonds, and even continued to sponsor the Ice Hockey World Championship in Minsk after other respectable brands pulled their support.
Blood Bonds
RBI, alongside Citigroup and Société Générale, acted as joint lead manager and book-runner when the Belarusian government issued US$1.25 billion in Eurobonds in June 2020. This issuance helped Aleksandr Lukashenko's regime gain access to funds and the additional financial strength to enable the violent suppression of peaceful demonstrations, the limiting of free speech and the falsification of the August 2020 Belarus presidential election results. Of course, this possibility was not stated in the bond prospectus, but despite repeated appeals from the diaspora and other groups, the banks involved did not care to check the use of proceeds.
The timing of this bond issuance is disturbing: since May 2020, the Belarus presidential campaign was marked by a nationwide crackdown on peaceful protesters, civil society activists, bloggers and journalists. Mr Viktar Babaryka, a main opposition contender for the presidential post, was arrested on 18th June, the day after the bonds were priced but before the bonds were actually issued and listed. Many queried this blatant lack of proper due diligence, but unlike other banking groups, RBI has remained silent.
Neither RBI, nor the other banks involved, should have accepted the Belarusian state, led by Mr Lukashenko, as their client to start with. Indeed, described in 2005 by US Secretary of State Condoleezza Rice as the "last true dictatorship in central Europe", for over 25 years the Belarusian authorities, led by Lukashenko, have been heavily criticised for mass human rights abuses. The first EU sanctions on certain Belarusian officials were imposed in 2004 in connection with disappearances in the late 1990s. Further sanctions from the EU and US followed the presidential elections in 2006 and 2010. Some of these sanctions remained in force in 2020, including the US personal sanctions against Lukashenko and his son Viktar.
RBI chose to ignore these facts and continued with the issuance even when it was clear that the 2020 presidential campaign was being accompanied (once again) by numerous arrests of political and civil society activists, and enormous pressure on the opposition. RBI also failed to learn from the mistakes of others: indeed, already in 2011 BNP Paribas, Deutsche Bank and NatWest had to apologise for their involvement with Belarusian bonds issued in 2010 and 2011, and made a public announcement that they would no longer work with the Belarusian government for political reasons. Ten years later, further to another human rights campaign, major Danish funds Nordea, BankInvest, Jyske Invest and Sparinvest disposed of their Belarusian government bonds, refusing to continue holding these toxic assets which were financing a bloody regime. RBI continues to hold these "blood bonds", ignoring successive appeals from the diaspora, the Belarus Coordination Council, and from BankTrack – which wrote to RBI last December but, like the activists from the diaspora, received no response.
Financing the repressive regime
RBI is the majority owner of a local bank in the country, Priorbank, in which the Belarusian state also holds a 6% stake. Priorbank is one of the largest banks in Belarus and one of few Belarus banks left outside state control, especially after last summer when the Belarusian authorities took control of Belgazprombank and arrested its chairman, the opposition presidential candidate Viktar Babaryka.
When RBI is not financing them directly from Vienna, Priorbank is providing finance to all major state-owned companies in Belarus, including Belaruskali (potash fertilizer), Naftan (petrochemicals), Grodno Azot (chemicals and fertilizer), as well as the Belarusian oil concern Belarusneft. The General Manager of the latter even sits on Priorbank's supervisory board.
Hundreds of workers attempting to strike at these state-owned entities have been intimidated, threatened by police, and sometimes arrested or dismissed. In September 2020, Belaruskali miner Yuri Korzun handcuffed himself to mining equipment in a mine at a depth of 305 meters, demanding an end to the persecution of workers, the release of members of the strike committee and the departure of Lukashenko. Anatoly Bokun, the leader of Belaruskai strike committee, has been subject to repeated arrests, including most recently in May 2021, and spent in total over 100 days in prison. Olga Britikova, deputy chairman of the country's main trade union organisation, the Belarusian Independent Trade Union (BNP), was fired from Naftan after 16 years of service, despite protection she should have enjoyed as elected trade union leader. Somehow such facts – and there are hundreds of others – do not prevent RBI nor Priorbank from continuing to finance Belarusian state-owned entities, despite the blatant violation of the UN Global Compact Principles and RBI's own sustainability commitments. Is this a company whose mission is to "support open civil society"?!
Despite the call from the EU Parliament for a complete freeze on all EU fund transfers to Belarus state-controlled projects (not applicable directly to private sector banks), RBI group continues funding such entities. By doing so, RBI is indirectly financing the repressive Belarusian state apparatus which continues to inflict physical and mental violence and death against peaceful demonstrators protesting against the fraudulent presidential elections held on 9th August 2020. Still more surprising, the International Finance Corporation (IFC) apparently sees no issues with such ethical standards, providing a new loan to Priorbank in December 2020.
On 9th April 2021 the US Treasury reinstated, with effect from 3rd June 2021, its sanctions on several major Belarusian state owned companies, many of which are financed by Priorbank. Will RBI now, finally, instruct its subsidiary to terminate all financing for sanctioned entities, or will it find ways to work around these sanctions and continue providing support (e.g. in currencies other than dollars) to these sanctioned entities where severe human and workers' rights violations are taking place?
Theft of peoples' money
When protests followed the rigged August 2020 presidential election, hundreds of people were left with injuries after systematic police violence on the streets and in jails. Thousands of people were fined, which prompted activists to start fundraising initiatives to provide compensation or support to pay the fines.
In August 2020, the "BY_help" fundraising project raised about EUR 2.5 million within a few days. The donations were mostly small amounts from citizens in Belarus and around the world who were keen to help. These funds were then channelled to the accounts of people left with serious injuries after being beaten by security forces, or those with fines or loss of employment. However, the authorities ordered banks in Belarus to first freeze and then confiscate and withdraw these funds from these citizens' private bank accounts.
Even then, RBI did not blink. Priorbank not only followed to the letter the instructions of the regime's Investigative Committee, it went beyond this by withdrawing not only the funds received from the charitable organisation, but also the funds from other accounts of these individuals, even putting some accounts in overdraft.
Sponsoring the dictator's sport of choice
Ice Hockey is Mr Lukashenko's favourite sport; he has had huge ice hockey facilities built all around the country, and when the dictator personally plays, his team never loses…
The 2021 Ice Hockey World Championship was scheduled to take place in Belarus, until its sponsors Nivea Men, Skoda and Liqui-Moly withdrew their support this January, only a few days after Lukashenko hugged Rene Fasel, President of the International Ice Hockey Federation (IIHF), as they met in Minsk to discuss the event. But guess which banking group did not withdraw its sponsor's support, despite huge public pressure and protests organised by Belarusian activists at its Vienna headquarters? Does money stink?
Setting the example for RBI to follow
Not all western businesses are as unprincipled and as greedy as Raiffeisen Bank. Some have spoken out and have taken welcome action. For example, Yara, a major Norwegian customer of the potash producer Belaruskali, investigated workers' rights violations at Belaruskali, met with the directors, workers and independent trade union and managed to obtain a promise (empty so far) that all fired workers would be reinstated. Its counterpart from New Zealand, Ravensdown, cut ties with Belaruskali altogether. The French tyre company Michelin is following a similar path, and companies including German group Helm AG and Sweden's Credit Insurance Agency (EKN) have terminated or suspended their support for Belarusian state-owned enterprises. So Raiffeisen Bank is not without examples of appropriate corporate responsibility.
Yet, to date Raiffeisen Bank has seemingly decided to stand shoulder to shoulder with Lukashenko and his illegitimate regime as it suppresses dissent, even as its increasingly reckless behaviour raises growing concern on the world stage. In doing so, the bank is violating its own principles as well as international human rights norms. Raiffeisen behaves like money cannot stink, but its profits from financing the Belarusian regime are stained with blood.
Hamid B. is a Belarusian finance professional and activist. The author is writing under a pseudonym due to security concerns.