JPMorgan: bad on football, worse on climate
---
2021-05-17
Reclaim Finance
---
Share this page:
---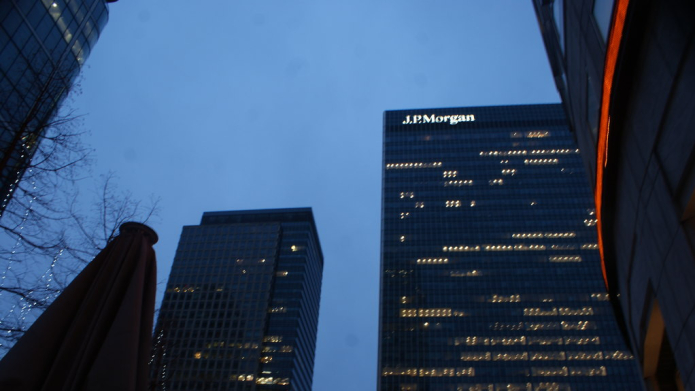 JPMorgan tower, Canary Wharf, London. Photo:
Robert Lamb, via Geograph
, Creative Commons
JPMorgan Chase shot into the consciousness of sport fans across Europe last month as the financier behind the football Super League fiasco. For climate activists around the world, however, JPMorgan has long been a dirty player, infamous for being by far the world's biggest banker of fossil fuels. Facing criticisms from both sides, JPMC just released its 2030 climate targets, which according to Chief Risk Officer Ashley Bacon, will help put the bank "on a path to net zero" (1). Yet while there are aspects of these targets to be welcomed, the end result is that they are a convincing win for the oil and gas industry, and a defeat for the climate.
In the half decade between the adoption of the Paris Agreement and the end of last year, JPMorgan Chase (JPMC) provided US$317 billion in lending and underwriting to the fossil fuel industry — more than 8% of all fossil fuel finance from the world's 60 biggest banks combined.
After strong pressure from activists and shareholders, JPMC committed in October 2020 to align its financing with the Paris Agreement. The first concrete commitments to come out of this announcement were revealed on May 13, with a set of 2030 "portfolio targets" for the emissions intensity of its lending and underwriting to oil and gas companies, electric power utilities, and auto manufacturers.
An encouraging first half
There are some things to be welcomed in these 2030 targets, first being that it has set them at all, and that it has taken on the fossil fuel industry among its first target sectors. Meaningful interim targets are key to ensure that financiers talking about going net zero by 2050 don't delay actual action into the next decade or beyond.
Another positive element of the targets is that they cover underwriting and not just lending. Many bank policies and methodologies for counting emissions ignore this key source of capital for fossil fuel companies — in both 2016 and 2020 the top 60 global banks provided more finance to fossil fuels via underwriting than via loans. A bank policy that ignores underwriting is as meaningless as a football match without a second half.
Second-half meltdown
The widely cited Pathway 1 scenario in the IPCC's 2018 report on 1.5°C shows that oil and gas consumption must be cut back significantly by 2030: by 37% for oil and 25% for gas. JPMC, however, is targeting only a 15% cut in emissions intensity from oil and gas use between 2019 and 2030. And importantly this is an intensity metric of emissions per unit of energy, which could even allow for absolute emissions to increase if oil and gas supply increases but is used with greater efficiency. This is akin to claiming you have won a match based on expected goals, rather than actual goals (by this metric Tottenham Hotspur would have won the English Premier League this season – they definitely did not).
JPMC could easily reach this target without cutting its support to companies that are planning an increase of their fossil fuel production. For example, JPMC is the fourth biggest financier of Total, with US$2.8 billion of financing to the oil and gas major between 2016 and 2020. Total is currently planning a 20% reduction of the carbon intensity of the products it sells but intends to increase by 30% its gas production from 2019 to 2030.
In contrast to JPMC, even Premier League sponsor Barclays – by all means no saint on climate – recognizes (2) that a fossil fuel producer "cannot reduce its emissions intensity below a certain point (a barrel of oil cannot be de-carbonised), and so a reduction in absolute emissions is the more appropriate measure."
Compounding the inadequacy of this oil and gas target is that while the atmosphere needs emissions to start falling immediately, JPMC says in the small print of its recent announcement that most of this small intensity reduction for oil and gas use probably won't happen until close to 2030. But the end of the season is far too late.
Intensity targets are not a silver bullet to stop coal
The sectoral target for electric power is a 69% reduction from a 2019 baseline. Like the other targets this is an intensity target, in this case measured in the kilograms of CO2 emitted per megawatt-hour of electricity produced. The JPMC target of 115.4 kgCO2/MWh in 2030 is around a tenth of the average US coal plant intensity in 2019 and a quarter of fossil gas plant intensity. Achieving this target within the next 8.5 years would seem difficult without most coal being squeezed out of the power mixes of the utilities financed.
However, carbon intensity measured across all the companies in a bank's sectoral portfolio is a blunt instrument that could still allow financing for companies building new coal plants as long as sufficient zero carbon plants are built by others. If it's serious about its climate pledge, JPMC should explicitly close the door on coal and align its existing coal policies with best practices as set by Crédit Agricole and followed by a growing number of other banks. This must start with cutting all financial services to companies that are planning to develop or buy new coal assets, and requiring any company with coal assets that it finances after 2021 to have an asset-based coal-phase out to fully exit the sector by 2030 in European and OECD countries and by 2040 elsewhere.
While JPMC still has more to do on coal, it's clear that its power target is vastly more ambitious than that for oil and gas. The obvious implication from this is that the bank knows coal is on a steep downward slide, at least in the EU and North America, and that coal financing is a small and shrinking part of its overall business. Meanwhile, financing for the oil and gas industry is where the big bucks are to be found and JPMC, for all its profession of climate concern, wants to keep it that way. In 2020 JPMC financed the world's 30 biggest coal power companies to the tune of US$648 million, while providing a breathtaking US$7.5 billion, nearly 12 times as much, to ExxonMobil alone.
Last month, in a deliciously ironic comment in his annual letter to shareholders JPMC's CEO Jamie Dimon noted his supposed support for the community-building value of "local sports teams." But from the Super League to oil and gas, JPMC always prioritises its bottom line over communities and the planet itself.
Paddy McCully, Energy Transition Analyst at Reclaim Finance, said: "Reviled by football fans and environmental partisans alike, JP Morgan's new climate targets aren't enough for a comeback. Whilst it is positive that they have set 2030 targets as part of their long-term goal, these targets, especially on oil and gas are unacceptably weak. Intensity targets won't be enough to turn the tide on JPM's fossil financing, which has reached a dizzying US$317 billion since the Paris Agreement. If JPM really wants to chalk up a win, it should commit to a time-bound end to fossil fuel financing, starting with coal. For now, the US giant remains firmly in the relegation zone on climate."
Notes :
The "Carbon Compass" methodology upon which the new JPMorgan targets are based is tied to the International Energy Agency's Sustainable Development Scenario – which is not 1.5°- or Paris-aligned. Interestingly, Carbon Compass was developed with the assistance of ERM, a firm that has long been notorious for their work for the builders of pipelines and megadams around the world.
Barclays has set targets for a 30% reduction in the emissions intensity of their power portfolio by 2025 and a 15% reduction in absolute emissions of their energy portfolio. NatWest has committed to a 50% cut in the emissions intensity of their financing activity across all sectors by 2030. Lloyds has committed to "reduce the carbon emissions we finance by more than 50% by 2030" but is not explicit on whether this is an absolute or intensity metric and, like NatWest, does not specify if they include their underwriting activities.
Find out more:
See the score of JMPMC's coal policy on the Coal Policy Tool
Read our page 'stop fossil fuel expansion'
This is a blog by Paddy McCully, Energy Transition Analyst at Reclaim Finance, reposted from the original.