How China's new complaints procedures can prevent 'green' ESG investments from harming local communities
Guidelines now require Chinese banks and insurers to set up grievance mechanisms, which will allow affected communities to speak up – and investors to better address their risks
---
2022-07-26
Accountability Counsel, Margaux Day & Yagian (Zelda) Liang
---
Margaux Day, Policy Director at Accountability Counsel
margaux@accountabilitycounsel.org
+1-202-909-1101
---
Share this page:
---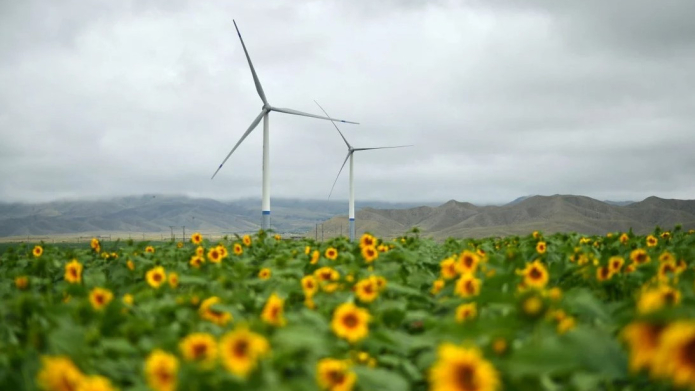 Wind turbines rise amid sunflowers in Jingtai county, in northwest China's Gansu province, on August 13, 2019. Photo: Xinhua
A version of this article was previously published on the 16th June, 2022 in the South China Morning Post.
On 1 June, the government of China issued Green Finance Guidelines that expand and detail requirements for better implementation of green finance policies by Chinese financial institutions. Notably, Chinese banks and insurers are asked, for the first time, to establish grievance mechanisms as a tool for managing environmental, social and governance (ESG) risk of their clients. This comes amid a global backlash against ESG investors, who are under fire for making hollow commitments amid increased regulatory and public pressure.
Increasingly, investors are adopting grievance mechanisms to help them understand the impact and prevent harm, as a response to the pressure to show ESG integrity, and because certain industry standards now require them. These new Chinese Green Finance Guidelines, promulgated by the China Banking and Insurance Regulatory Commission (CBIRC), are the latest to require grievance mechanisms that offer a channel through which communities can be heard on the one hand, and investors can address risks of their investments effectively and efficiently on the other.
Most international development finance institutions have these grievance mechanisms; 113 financial institutions receiving money from the Green Climate Fund are required to have them, and multiple impact management and measurement standards herald the importance of such mechanisms. Most recently, ANZ became the first commercial bank to set up a grievance mechanism for communities, after the long and costly disputes arising from a project it financed in Cambodia. While currently Chinese financial institutions do not have such mechanisms in place, the new Guidelines promise to put China ahead in that no other state requires all of its financial institutions, even those engaged in impact investment, to have corresponding grievance processes.
Grievance mechanisms are increasingly understood as a tool to address unintentional environmental and social harm resulting from investments labeled as "green." In fact, of the more than 1,600 complaints filed to grievance mechanisms of development financial institutions, 506 alleged some type of environmental harm, and 53 allege harm about investments specifically aimed at environmental protection. We know from our work supporting communities seeking justice for harm caused by international finance and advising development financiers and impact investors on how to better adhere to their ESG obligations, that green finance doesn't always achieve its intended impact, and indeed can even harm the climate and environment further. In part that is because too few green investors hear from and are accountable to the people who are best-placed to know if an investment is off-track: local communities.
We see examples in all regions and across all types of investment: a hydropower investment in Nepal is displacing local communities, a conservation project in Myanmar risks displacing Indigenous people and increasing the likelihood of illegal logging, and a biofuel investment in Liberia that led to deforestation. Because those investors did not adequately consult with and respect the rights of local communities, they risked the success of their own projects. However, in all of those cases, investors had grievance redress mechanisms in place that provided opportunities for local communities to raise environmental and social issues and have corresponding harm addressed.
To date, Chinese institutions have seen the increasing cost of not having adequate governance tools to engage communities to address their grievances. By the time decision makers recognize local dissent, costs and reputational damage have already occurred, leading to diminished financial returns and stranded assets. The newly announced CBIRC Green Finance Guidelines address this gap. If banks were to implement this grievance mechanism requirement in good faith, they would strengthen their risk management framework and better govern a whole swath of financing currently unaccountable to local communities.
However, it remains unclear when and how this requirement will be implemented by each financial institution. The Guidelines do not specify the timelines for implementation, including whether this grievance mechanism requirement is considered as a part of the "green finance management systems and procedures" that must be established by June 2023, or how the mechanism should be designed.
Numerous experiences from existing grievance and accountability mechanisms have shown that such mechanisms can take different forms, but for them to be effective, they need to be in line with established international guidance, which requires grievance mechanisms to be predictable, transparent, and fair. In this regard, the Chinese government has already laid the groundwork. The CBIRC, which issued the new Guidelines, and the China Banking Association have organized workshops over a multi-year period to discuss international experience of good practice, during which Accountability Counsel shared the learning from our work supporting community-led complaints, advocating for policy advancement, and conducting research in this field. The Asian Development Bank, with financing from the Chinese government, published a draft grievance mechanism policy for Chinese financial institutions to adopt that reflects the principles of an effective mechanism.

Although the Green Finance Guidelines are a welcome and strong endorsement of emerging grievance mechanisms standards in international finance, their success still depends on Chinese bankers and insurers understanding the financial and reputational incentives for making grievance mechanisms meaningful. For these new mechanisms to be successful, Chinese financiers should see the requirement to establish grievance mechanisms as an opportunity to ensure their investments are meeting stated ESG standards and are sustainable. And they need to act fast. As many communities continue to voice concerns over Chinese-financed and operated projects, they will soon know which Chinese financiers are sincerely committed to "green" investments. Investors who lag behind will be exposed to even higher risk, while their competitors are equipped with better environmental, social and governance tools.