Can we stop the funding of more plastics?
---
2022-07-15
Manon Stravens - Profundo
---
Manon Stravens, Researcher at Profundo, m.stravens@profundo.nl
---
Share this page:
---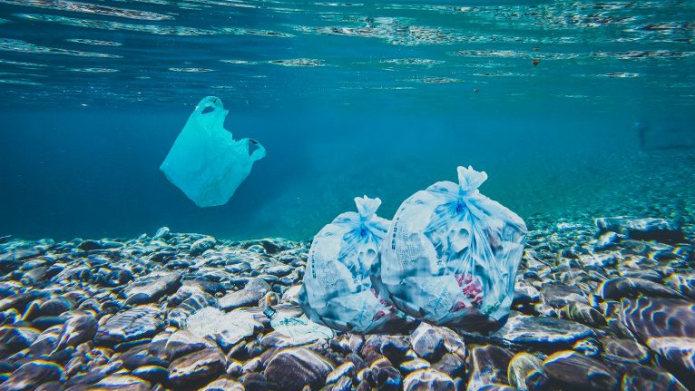 Plastic waste in the ocean. Photo: Pixabay - CCO license
Despite the climate and biodiversity plans of financial institutions and companies, the role of plastics is consistently neglected in their policies and practices. Understanding the financing of the plastics boom is key to turning the tide in what can be considered one of the earth's biggest threats.

This is a Profundo Expert View by Manon Stravens, republished from the original here.
The visible impacts of plastics and plastic waste - entangled turtles and seabirds in pieces of plastic, floating islands of plastic waste in the oceans - are only the tip of the iceberg, as plastics are a silent killer already from the very beginning of their lifecycle.
This starts with the exploration of oil and gas in remote and vulnerable areas, as over 99% of plastics are made from fossil fuels. The highly energy-intensive refining process is harmful to the populations living close to petrochemical plants. Not to mention the relatively underreported but alarmingly rising levels of greenhouse gas emissions from all stages of the plastic lifecycle.
Less than 10% of plastic waste is recycled. Most of the plastics thrown away - more than 130 million tons in 2019 - are single-use plastics, ending up in our oceans, on smoky waste mountains, and in our bodies, as recent studies have detected microscopic microplastics in babies and human blood.
Expanding plastics industry
Despite these widely reported visible and invisible plastic pieces permeating our planet, economy, and daily lives, we haven't yet noted any policy or practice that can really turn the tide. Instead, we only see an ever-expanding plastics industry that shows no sign of changing course as the world's biggest polymer producers continue to rely almost exclusively on virgin feedstocks.
The petrochemical and plastics industries are rolling out massive production expansion plans. New polymer production plants are being constructed globally, from Japan to Portugal. Plastic production is expected to increase by almost one-third over the next few years. As such, GHG emissions of the plastic lifecycle could reach up to 1.34 gigatons CO2-equivalent per year by 2030.
The business model of virgin polymer producers, converters, fast-moving consumer goods (FMCG) companies, packaging manufacturers, and retailers is built upon perspectives of mouth-watering profits as demand for plastics is only growing. Billions of dollars continue to be injected into the plastics value chain, while companies' investments towards more circularity, in recycled polymers, re-use models, or alternative materials, are minimal. Instead, corporates are actively lobbying against new regulations that aim to tackle the plastic problem from its source.
Financing the plastics boom
In our view, it is important to look at the financial institutions that are facilitating this plastic boom. Banks and investors increasingly have climate- and biodiversity-related commitments, but they persistently neglect the important role of plastics.
None of the top-20 lenders to 40 big companies in the plastic packaging value chain - identified by Profundo and analysed by Portfolio.Earth - developed due diligence systems, contingent loan criteria, or financing exclusions aiming to end plastic pollution. The same report concludes there is 'no discernible trend indicating banks are reducing this funding'.
Based on Profundo research the Plastic Waste Makers Index identified twenty institutional asset managers – led by US companies Vanguard Group, BlackRock, and Capital Group – which hold over US$ 300 billion worth of shares in the parent companies of the top 20 polymer producers, of which an estimated US$ 10 billion is linked to the production of virgin polymers for single-use plastics.
In short, financial institutions and investors are lagging far behind and are not taking responsibility to reduce the impact of their assets, loans, and underwriting facilities that are financing the plastic boom.
Reputational, legal, and regulatory risks
This is not only a disaster for the earth and for humanity. It is also very risky, as the continued financing of plastics without an exit strategy even undermines financial institutions' climate commitments. Banks and investors will further face reputational, legal, and regulatory risks because governments and consumers are increasingly aware of the plastics problem, and consumption patterns are slowly altered. These risks will likely lead to financial losses.
At Profundo, we are looking for collaboration with others to put pressure on these financial institutions. By mapping the value chain from upstream oil & gas through to downstream retailers and all actors in between. By analysing and exposing the biggest expanders, the biggest profits, and the biggest profiteers. By assessing and benchmarking investment policies, looking at criteria on climate change, human rights, and other ESG issues.
Increasing the pressure by creating transparency of financial flows to expose laggards and frontrunners among the financiers of the plastics industry is key to a structural solution. To avoid at all costs that our oceans in 2050 will contain more floating plastics than swimming fish.