---
Active
This profile is actively maintained
---
Created on:

2018-04-04 10:41:53


Last update:

2020-03-24 09:55:55



---
Send
feedback
on this profile
Download as
PDF
---
Share this page:
---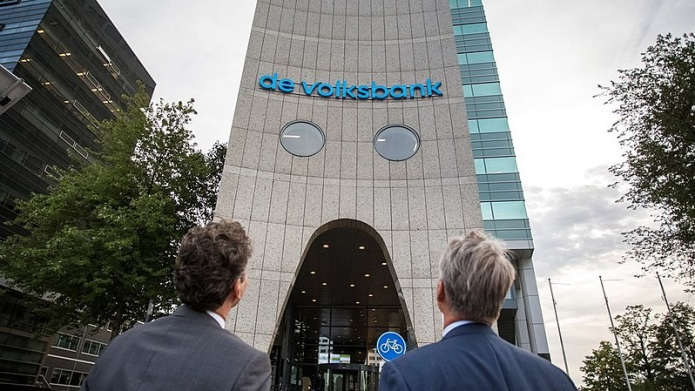 Jeroen Dijsselbloem (former Dutch minister of finance) and Maurice Oostendorp (Volksbank CEO) looking at new bank logo on the facade of the bank's headquarters at the Croeselaan 1 in Utrecht. Photo: Jascha Hagendoorn via Wikimedia Commons [CC BY-SA 4.0]
About De Volksbank
De Volksbank is a Dutch retail bank, providing various banking products and services for individuals and small businesses. The bank offers savings, payments, investments, asset management, mortgages, loans, and disability and term life insurance, as well as online and mobile banking services. It operates under the four brands, including ASN Bank, BLG Wonen, RegioBank, and SNS bank. The bank was formerly known as SNS Bank and changed its name to de Volksbank in January 2017. In 2013 SNS Bank was nationalised making the Dutch state the only share holder of de Volksbank. De Volkbank's headquarters are located in Utrecht, the Netherlands.
Related Dodgy Deals
De Volksbank has been linked to the following "Dodgy Deals", e.g. as a current or past financier or through an expression of interest. Find out more about dodgy deals
here
. See the project or company profile for more details on the nature of the bank's link to the Dodgy Deal.
Dodgy Deals map
All
|
Projects
|
Companies
Targets
|
Active profiles
|
On record profiles
Policies
Investment policies
De Volksbank uses the same policies as its subsidiary ASN Bank. Therefore, ASN Bank policy documents, as mentioned below, apply to de Volksbank as well. De Volksbank's web page on corporate social responsibility can be accessed here.
Year: