Active
This profile is actively maintained
Last update:
2022-12-02 11:02:19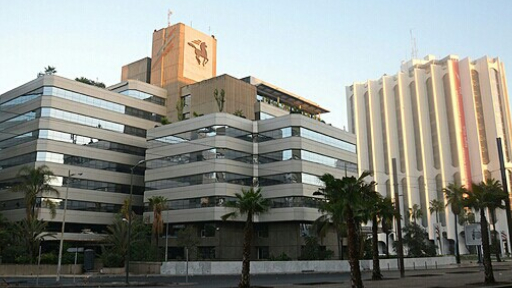 Banque Populaire's head office in Casablanca, Morocco. Photo: Google Earth/Streetview
Active
This profile is actively maintained
Last update:
2022-12-02 11:02:19
Website
https://www.groupebcp.com/EN
Headquarters

01, boulevard Mohamed Zerktouni – BP 10.622

20100 Casablanca

Morocco

CEO/chair
Mohamed Karim Mounir
CEO
Supervisor
Ownership

listed on Casablanca Stock Exchange

Banque Populaire is mainly owned by its member Regional Banques Populaires (41.8%). The bank's complete shareholder structure can be accessed here.
Banque Populaire (formerly known as Banque Centrale Populaire) is a Morocco-based bank established in 1961. It operates mainly as a credit institution and has two main roles: to serve as a credit institution and to operate as a banking organization for the regional subsidiaries in the wider Banque Populaire Group. Its services include banking, insurance and investment management, and it serves individuals and businesses.
Banque Populaire's webpage on corporate social responsibility can be accessed here.
Banque Populaire has committed itself to the following voluntary standards:

---
Banks and Human Rights
BankTrack assessed Banque Populaire in its 2021 Human Rights Benchmark Africa, where it achieved 0.5 points out of 14 and was ranked as a 'laggard'. More information is detailed in the "Accountability" section of this profile.
Human Rights Benchmark Africa 2021
The bank operates a grievances mechanism, which can be accessed here.
[select "Responsabilité Sociale/Développement Durable" for environmental and social issues].
This page evaluates Banque Populaire's responses to instances of alleged human rights violations linked to its finance, raised by civil society organisations. It is not intended to be exhaustive, but covers selected impacts raised by BankTrack and other civil society partners since 2016. For the full scoring methodology, see here. For more information about BankTrack's evaluation of bank responses to human rights impacts, see the 2021 report "Actions speak louder: assessing bank responses to human rights violations".
Impacts reviewed
Responded?
Total score
Response
Action
Monitoring
A PHP Error was encountered
Severity: Warning
Message: Division by zero
Filename: bankprofile/response_tracking.php
Line Number: 200
Backtrace:
File: /home/btwebhost/www/btci3/application/views/sections/bankprofile/response_tracking.php
Line: 200
Function: _error_handler
File: /home/btwebhost/www/btci3/application/helpers/easy_helper.php
Line: 366
Function: view
File: /home/btwebhost/www/btci3/application/views/sections/bankprofile/main.php
Line: 355
Function: lv
File: /home/btwebhost/www/btci3/application/libraries/sections/Bankprofile.php
Line: 483
Function: view
File: /home/btwebhost/www/btci3/application/controllers/Main.php
Line: 333
Function: content
File: /home/btwebhost/www/btci3/index.php
Line: 321
Function: require_once
---
A PHP Error was encountered
Severity: Warning
Message: Division by zero
Filename: bankprofile/response_tracking.php
Line Number: 209
Backtrace:
File: /home/btwebhost/www/btci3/application/views/sections/bankprofile/response_tracking.php
Line: 209
Function: _error_handler
File: /home/btwebhost/www/btci3/application/helpers/easy_helper.php
Line: 366
Function: view
File: /home/btwebhost/www/btci3/application/views/sections/bankprofile/main.php
Line: 355
Function: lv
File: /home/btwebhost/www/btci3/application/libraries/sections/Bankprofile.php
Line: 483
Function: view
File: /home/btwebhost/www/btci3/application/controllers/Main.php
Line: 333
Function: content
File: /home/btwebhost/www/btci3/index.php
Line: 321
Function: require_once
NAN%
A PHP Error was encountered
Severity: Warning
Message: Division by zero
Filename: bankprofile/response_tracking.php
Line Number: 217
Backtrace:
File: /home/btwebhost/www/btci3/application/views/sections/bankprofile/response_tracking.php
Line: 217
Function: _error_handler
File: /home/btwebhost/www/btci3/application/helpers/easy_helper.php
Line: 366
Function: view
File: /home/btwebhost/www/btci3/application/views/sections/bankprofile/main.php
Line: 355
Function: lv
File: /home/btwebhost/www/btci3/application/libraries/sections/Bankprofile.php
Line: 483
Function: view
File: /home/btwebhost/www/btci3/application/controllers/Main.php
Line: 333
Function: content
File: /home/btwebhost/www/btci3/index.php
Line: 321
Function: require_once
NAN
A PHP Error was encountered
Severity: Warning
Message: Division by zero
Filename: bankprofile/response_tracking.php
Line Number: 220
Backtrace:
File: /home/btwebhost/www/btci3/application/views/sections/bankprofile/response_tracking.php
Line: 220
Function: _error_handler
File: /home/btwebhost/www/btci3/application/helpers/easy_helper.php
Line: 366
Function: view
File: /home/btwebhost/www/btci3/application/views/sections/bankprofile/main.php
Line: 355
Function: lv
File: /home/btwebhost/www/btci3/application/libraries/sections/Bankprofile.php
Line: 483
Function: view
File: /home/btwebhost/www/btci3/application/controllers/Main.php
Line: 333
Function: content
File: /home/btwebhost/www/btci3/index.php
Line: 321
Function: require_once
NAN
A PHP Error was encountered
Severity: Warning
Message: Division by zero
Filename: bankprofile/response_tracking.php
Line Number: 223
Backtrace:
File: /home/btwebhost/www/btci3/application/views/sections/bankprofile/response_tracking.php
Line: 223
Function: _error_handler
File: /home/btwebhost/www/btci3/application/helpers/easy_helper.php
Line: 366
Function: view
File: /home/btwebhost/www/btci3/application/views/sections/bankprofile/main.php
Line: 355
Function: lv
File: /home/btwebhost/www/btci3/application/libraries/sections/Bankprofile.php
Line: 483
Function: view
File: /home/btwebhost/www/btci3/application/controllers/Main.php
Line: 333
Function: content
File: /home/btwebhost/www/btci3/index.php
Line: 321
Function: require_once
NAN