Active
This profile is actively maintained
Last update:
2023-01-12 15:33:56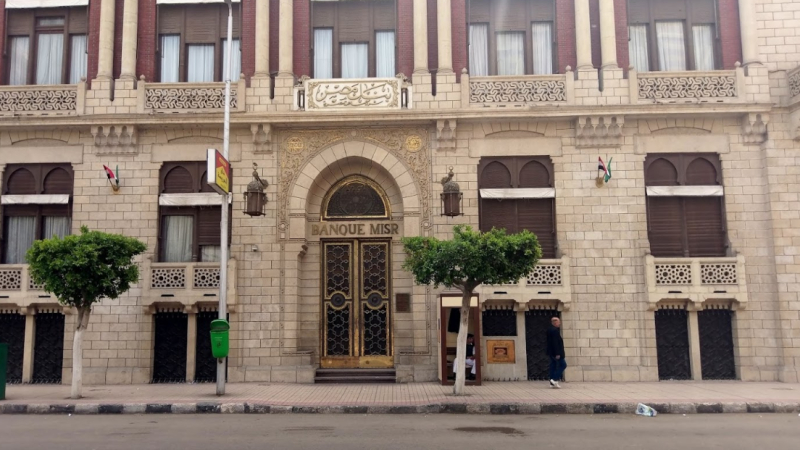 Banque Misr head office in Cairo. Photo: Google Earth/Streetview
Active
This profile is actively maintained
Last update:
2023-01-12 15:33:56
Banque Misr is an Egyptian bank founded by industrialist Talaat Pasha Harb in 1920. The bank has about 18,000 employees and serves a large base of more than 10 million clients in Egypt. The bank has about 700 local branches located nationwide. Banque Misr operates foreign branches in the United Arab Emirates and in France. In addition, the bank's international presence includes subsidiaries in Lebanon and Germany, as well as representative offices in China, Russia, South Korea and Italy.
Banque Misr's webpage on corporate social responsibility can be accessed here. The bank does have have publicly available investment policies.
Banque Misr has committed itself to the following voluntary standards:
---
Banks and Human Rights
BankTrack assessed Banque Misr in its 2021 Human Rights Benchmark Africa, where it achieved 0.5 points out of 14 and was ranked as a 'laggard'. More information is detailed in the "Accountability" section of this profile.
Human Rights Benchmark Africa 2021
Banque Misr does not operate a complaints or grievances channel for individuals or communities that might have been afected by the bank's finance.
This page evaluates Banque Misr's responses to instances of alleged human rights violations linked to its finance, raised by civil society organisations. It is not intended to be exhaustive, but covers selected impacts raised by BankTrack and other civil society partners since 2016. For the full scoring methodology, see here. For more information about BankTrack's evaluation of bank responses to human rights impacts, see the 2021 report "Actions speak louder: assessing bank responses to human rights violations".
Impacts reviewed
Responded?
Total score
Response
Action
Monitoring
A PHP Error was encountered
Severity: Warning
Message: Division by zero
Filename: bankprofile/response_tracking.php
Line Number: 200
Backtrace:
File: /home/btwebhost/www/btci3/application/views/sections/bankprofile/response_tracking.php
Line: 200
Function: _error_handler
File: /home/btwebhost/www/btci3/application/helpers/easy_helper.php
Line: 366
Function: view
File: /home/btwebhost/www/btci3/application/views/sections/bankprofile/main.php
Line: 353
Function: lv
File: /home/btwebhost/www/btci3/application/libraries/sections/Bankprofile.php
Line: 483
Function: view
File: /home/btwebhost/www/btci3/application/controllers/Main.php
Line: 332
Function: content
File: /home/btwebhost/www/btci3/index.php
Line: 321
Function: require_once
---
A PHP Error was encountered
Severity: Warning
Message: Division by zero
Filename: bankprofile/response_tracking.php
Line Number: 209
Backtrace:
File: /home/btwebhost/www/btci3/application/views/sections/bankprofile/response_tracking.php
Line: 209
Function: _error_handler
File: /home/btwebhost/www/btci3/application/helpers/easy_helper.php
Line: 366
Function: view
File: /home/btwebhost/www/btci3/application/views/sections/bankprofile/main.php
Line: 353
Function: lv
File: /home/btwebhost/www/btci3/application/libraries/sections/Bankprofile.php
Line: 483
Function: view
File: /home/btwebhost/www/btci3/application/controllers/Main.php
Line: 332
Function: content
File: /home/btwebhost/www/btci3/index.php
Line: 321
Function: require_once
NAN%
A PHP Error was encountered
Severity: Warning
Message: Division by zero
Filename: bankprofile/response_tracking.php
Line Number: 217
Backtrace:
File: /home/btwebhost/www/btci3/application/views/sections/bankprofile/response_tracking.php
Line: 217
Function: _error_handler
File: /home/btwebhost/www/btci3/application/helpers/easy_helper.php
Line: 366
Function: view
File: /home/btwebhost/www/btci3/application/views/sections/bankprofile/main.php
Line: 353
Function: lv
File: /home/btwebhost/www/btci3/application/libraries/sections/Bankprofile.php
Line: 483
Function: view
File: /home/btwebhost/www/btci3/application/controllers/Main.php
Line: 332
Function: content
File: /home/btwebhost/www/btci3/index.php
Line: 321
Function: require_once
NAN
A PHP Error was encountered
Severity: Warning
Message: Division by zero
Filename: bankprofile/response_tracking.php
Line Number: 220
Backtrace:
File: /home/btwebhost/www/btci3/application/views/sections/bankprofile/response_tracking.php
Line: 220
Function: _error_handler
File: /home/btwebhost/www/btci3/application/helpers/easy_helper.php
Line: 366
Function: view
File: /home/btwebhost/www/btci3/application/views/sections/bankprofile/main.php
Line: 353
Function: lv
File: /home/btwebhost/www/btci3/application/libraries/sections/Bankprofile.php
Line: 483
Function: view
File: /home/btwebhost/www/btci3/application/controllers/Main.php
Line: 332
Function: content
File: /home/btwebhost/www/btci3/index.php
Line: 321
Function: require_once
NAN
A PHP Error was encountered
Severity: Warning
Message: Division by zero
Filename: bankprofile/response_tracking.php
Line Number: 223
Backtrace:
File: /home/btwebhost/www/btci3/application/views/sections/bankprofile/response_tracking.php
Line: 223
Function: _error_handler
File: /home/btwebhost/www/btci3/application/helpers/easy_helper.php
Line: 366
Function: view
File: /home/btwebhost/www/btci3/application/views/sections/bankprofile/main.php
Line: 353
Function: lv
File: /home/btwebhost/www/btci3/application/libraries/sections/Bankprofile.php
Line: 483
Function: view
File: /home/btwebhost/www/btci3/application/controllers/Main.php
Line: 332
Function: content
File: /home/btwebhost/www/btci3/index.php
Line: 321
Function: require_once
NAN