Active
This profile is actively maintained
Last update:
2022-12-02 11:35:54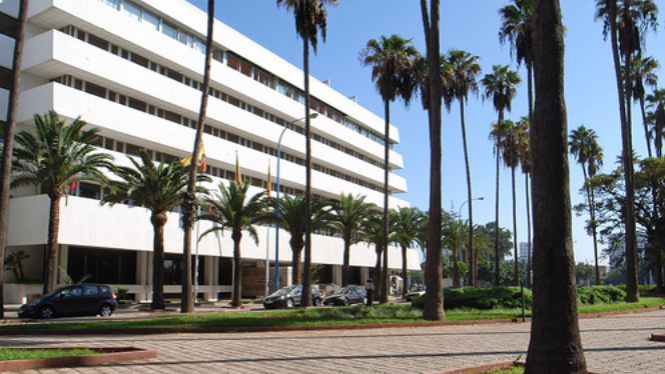 Atijariwafa bank's head office in Cacablanca, Morocco. Photo: Google Earth-Streetview
Active
This profile is actively maintained
Last update:
2022-12-02 11:35:54
Website
https://www.attijariwafabank.com/en
Headquarters

2 boulevard Moulay Youssef BP 11141

2000 Casablanca

Morocco

CEO/chair
Mohamed El Kettani
CEO
Supervisor
Ownership

listed on Casablanca Stock Exchange

Atijariwafa Bank's largest shareholder is SNI (also know as Al Mada) with 46.5%. The bank's complete shareholder structure can be accessed here.
Attijariwafa Bank is a Moroccan multinational commercial bank and financial services company, headquartered in Casablanca. It was established in 2003 after a merger between Banque Commerciale du Maroc and Wafabank. The bank's largest shareholder is king Mohammed VI's holding company Société Nationale d'Investissement (SNI). The bank maintains offices in China, France, Belgium, Spain, Italy, Milan, The Netherlands, Tunisia, Senegal, Ghana, Mauritania and Mali.
Attijariwafa Bank has committed itself to the following voluntary standards:

Attijariwafa Bank is linked to a number of companies and projects that BankTrack considers controversial (so called Dodgy Deals), e.g. as a current or past financier or through an expression of interest. The profiles below provide more details on the nature of Attijariwafa Bank's link to these deals.
---
Banks and Human Rights
BankTrack assessed Attijariwafa Bank in its 2021 Human Rights Benchmark Africa, where it achieved 1 point out of 14 and was ranked as a 'laggard'. More information is detailed in the "Accountability" section of this profile.
Human Rights Benchmark Africa 2021
Attijariwafa Bank does not operate a complaints or grievance mechanism for individuals or communities that might have been affected by the bank's finance.
This page evaluates Attijariwafa Bank's responses to instances of alleged human rights violations linked to its finance, raised by civil society organisations. It is not intended to be exhaustive, but covers selected impacts raised by BankTrack and other civil society partners since 2016. For the full scoring methodology, see here. For more information about BankTrack's evaluation of bank responses to human rights impacts, see the 2021 report "Actions speak louder: assessing bank responses to human rights violations".
Impacts reviewed
Responded?
Total score
Response
Action
Monitoring
A PHP Error was encountered
Severity: Warning
Message: Division by zero
Filename: bankprofile/response_tracking.php
Line Number: 200
Backtrace:
File: /home/btwebhost/www/btci3/application/views/sections/bankprofile/response_tracking.php
Line: 200
Function: _error_handler
File: /home/btwebhost/www/btci3/application/helpers/easy_helper.php
Line: 366
Function: view
File: /home/btwebhost/www/btci3/application/views/sections/bankprofile/main.php
Line: 355
Function: lv
File: /home/btwebhost/www/btci3/application/libraries/sections/Bankprofile.php
Line: 483
Function: view
File: /home/btwebhost/www/btci3/application/controllers/Main.php
Line: 333
Function: content
File: /home/btwebhost/www/btci3/index.php
Line: 321
Function: require_once
---
A PHP Error was encountered
Severity: Warning
Message: Division by zero
Filename: bankprofile/response_tracking.php
Line Number: 209
Backtrace:
File: /home/btwebhost/www/btci3/application/views/sections/bankprofile/response_tracking.php
Line: 209
Function: _error_handler
File: /home/btwebhost/www/btci3/application/helpers/easy_helper.php
Line: 366
Function: view
File: /home/btwebhost/www/btci3/application/views/sections/bankprofile/main.php
Line: 355
Function: lv
File: /home/btwebhost/www/btci3/application/libraries/sections/Bankprofile.php
Line: 483
Function: view
File: /home/btwebhost/www/btci3/application/controllers/Main.php
Line: 333
Function: content
File: /home/btwebhost/www/btci3/index.php
Line: 321
Function: require_once
NAN%
A PHP Error was encountered
Severity: Warning
Message: Division by zero
Filename: bankprofile/response_tracking.php
Line Number: 217
Backtrace:
File: /home/btwebhost/www/btci3/application/views/sections/bankprofile/response_tracking.php
Line: 217
Function: _error_handler
File: /home/btwebhost/www/btci3/application/helpers/easy_helper.php
Line: 366
Function: view
File: /home/btwebhost/www/btci3/application/views/sections/bankprofile/main.php
Line: 355
Function: lv
File: /home/btwebhost/www/btci3/application/libraries/sections/Bankprofile.php
Line: 483
Function: view
File: /home/btwebhost/www/btci3/application/controllers/Main.php
Line: 333
Function: content
File: /home/btwebhost/www/btci3/index.php
Line: 321
Function: require_once
NAN
A PHP Error was encountered
Severity: Warning
Message: Division by zero
Filename: bankprofile/response_tracking.php
Line Number: 220
Backtrace:
File: /home/btwebhost/www/btci3/application/views/sections/bankprofile/response_tracking.php
Line: 220
Function: _error_handler
File: /home/btwebhost/www/btci3/application/helpers/easy_helper.php
Line: 366
Function: view
File: /home/btwebhost/www/btci3/application/views/sections/bankprofile/main.php
Line: 355
Function: lv
File: /home/btwebhost/www/btci3/application/libraries/sections/Bankprofile.php
Line: 483
Function: view
File: /home/btwebhost/www/btci3/application/controllers/Main.php
Line: 333
Function: content
File: /home/btwebhost/www/btci3/index.php
Line: 321
Function: require_once
NAN
A PHP Error was encountered
Severity: Warning
Message: Division by zero
Filename: bankprofile/response_tracking.php
Line Number: 223
Backtrace:
File: /home/btwebhost/www/btci3/application/views/sections/bankprofile/response_tracking.php
Line: 223
Function: _error_handler
File: /home/btwebhost/www/btci3/application/helpers/easy_helper.php
Line: 366
Function: view
File: /home/btwebhost/www/btci3/application/views/sections/bankprofile/main.php
Line: 355
Function: lv
File: /home/btwebhost/www/btci3/application/libraries/sections/Bankprofile.php
Line: 483
Function: view
File: /home/btwebhost/www/btci3/application/controllers/Main.php
Line: 333
Function: content
File: /home/btwebhost/www/btci3/index.php
Line: 321
Function: require_once
NAN