Ukrainian and global civil society organisations call on Raiffeisen Bank International for a moral exit from Russia
2023-05-25 | Nijmegen, Netherlands
BankTrack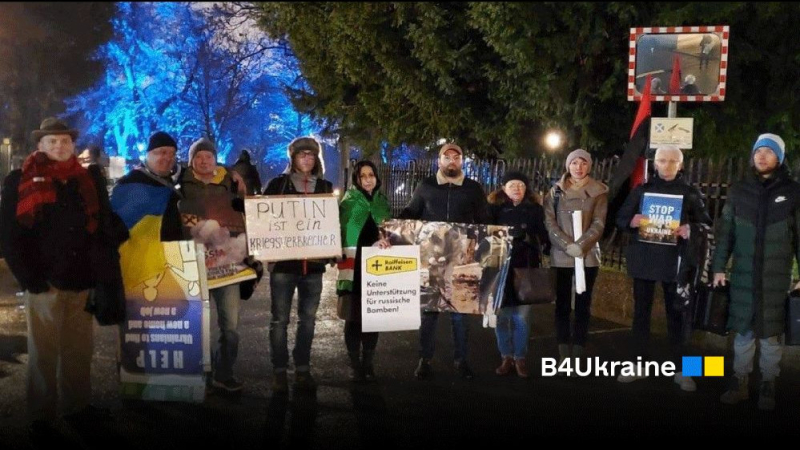 Rally in Vienna calling on Raiffeisen to exit Russia. Photo: Business for Ukraine
2023-05-25 | Nijmegen, Netherlands
BankTrack
Today a coalition of 30 civil society organisations from Ukraine and elsewhere sent an open letter addressed to the CEO of Raiffeisen Bank International (RBI), Johann Strobl, urging the Austrian bank to immediately leave Russia, and do so without transferring valuable assets to the Russian state which could be used to prolong its war on Ukraine. (1)
Despite international sanctions against Russia and intensifying calls on companies to leave to avoid being complicit in war crimes, RBI is the largest foreign bank to continue business operations in the country. In 2022, RBI earned over 2 billion euros from its Russian subsidiary, and it currently handles more than half of all the money transfers between Russia and the rest of the world. RBI also continues to be exposed to Russian fossil fuel companies whose revenues are essential to the functioning of Putin's war machine.
Despite months of mounting pressure from civil society and regulators, including the US sanctions authority and the European Central Bank, RBI is yet to make a firm move to exit the Russian market. Recent reports indicate the bank is preparing a new spun-off Russian entity, the owners of which would still be RBI's member banks in Austria, while previous plans to exchange €400 million worth of profits trapped in Russia against Sberbank's frozen cash in Europe were described in the Financial Times as a "political prisoner exchange".
Against this backdrop, and as attacks on Ukraine intensify, this open letter appeals to RBI to do the "moral" thing and exit Russia as soon as possible without further supporting the Kremlin's finances in the process. Signatories of this letter also call on RBI to ensure that all profits made from an eventual sale of its Russian assets are used for the reconstruction of Ukraine and to support its people.
Svitlana Romanko, Founder and Executive Director of the Ukrainian organisation Razom We Stand, commented: "Profits from the bloodiest Russian war against our country Ukraine will not bring any business development or prosperity, neither now nor in a longer term. We wake up every morning to the sounds of air raids, drones and missile attacks, but we believe that justice will finally prevail. After we defeat Russia, those who were financial sponsors of Russia's war machine will bear fair legal, economic and reputational responsibility as our government has spoken earlier in relation to sponsors of the war crimes in the Ukraine sanctions list. And financiers realise this will surely happen, too. That is why we are now seeing and welcoming a new influx of businesses leaving Russia. It's never too late to stop being on the side of evil, and for Raiffeisen, that time has come now." (2)
Johan Frijns, Executive Director of BankTrack, said: "Raiffeisen is dithering too long with making a decision that is already long overdue. Its current plan to spin-off its Russian business hardly looks like an exit at all, while its previously-touted 'prisoner exchange' deal risked transfering huge sums to sanctioned Sberbank and the Kremlin. Raiffeisen must do better than this, or risk becoming a moral pariah of the international financial system."
Notes to editors
(1) The open letter can be downloaded here.
The letter has so far been co-signed by African Law Foundation (AFRILAW), Bank Climate Advocates, Blue Dalian, Boycott Russia, Buy Responsibly Foundation, CEE Bankwatch Network, Center for Civil Liberties, Centre for Economic Strategy, Crude Accountability, Earthsight, Fund Our Future, Green Longjiang, Greenpeace CEE, Heartland Initiative, International Partnership for Human Rights, KSE Institute, Market Forces, Jamaa Resource Initiatives, Norwegian Helsinki Committee, PAX, Profundo, Progressive Shopper, Razom We Stand, Re-set: platform for socio-ecological transformation, Rinascimento Green, SOMO, Urgewald and Vitsche e.V.
(2) Svitlana Romanko has appeared in top-tier international press including CNN, NBC, Washington Post, Bloomberg, BBC, Der Spiegel (Germany), and Le Monde (France); Asahi Digital (Japan), a detailed list is here. Professional photos of Svitlana Romanko are available here, copyright free unless otherwise noted on image. Ms. Romanko also has been successful in influencing Ukraine government planning, supported by President Zelensky, to rebuild Ukraine's future energy system with clean energy, making Ukraine a global shining example of the change needed to protect the climate.