Royal Bank of Scotland joins growing number of financial institutions rejecting Arctic Refuge drilling
---
2019-08-06
Edinburgh, Scotland
Sierra Club
---
---
Share this page:
---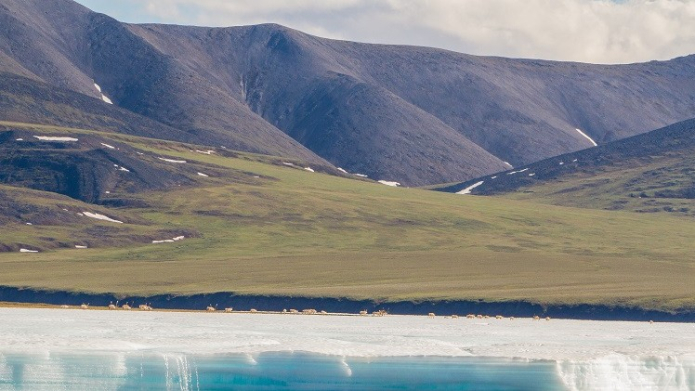 The Arctic National Wildlife Refuge in Alaska. Photo: Micah Baird, 2014
Today, the Royal Bank of Scotland (RBS) released an updated Environmental, Social and Ethical (ESE) risk management framework that rules out financing for oil and gas drilling or exploration in the Arctic National Wildlife Refuge.
The new framework prohibits project-specific lending for "projects involving oil exploration and production operations in Arctic (including the Arctic National Wildlife Refuge)," and restricts lending to any company that engages in these activities.
This critical update to the bank's lending policy follows similar announcements from other major international financial institutions including Barclays and National Australia Bank. Some of the world's most significant institutional investors have also raised concerns about the risks associated with Arctic Refuge drilling and urged companies and financial institutions not to invest there. Over the last year, leaders from the Gwich'in Steering Committee and the Sierra Club have met with representatives from RBS to discuss the threats fossil fuel operations pose to the Arctic Refuge and why action by the financial industry is necessary.
"As the Trump administration races to auction off the Arctic Refuge, major financial institutions are sending a clear message that companies should think twice before bidding," said Lena Moffitt, Senior Director of the Sierra Club's Our Wild America campaign.
"Drilling in the Arctic Refuge would be a disaster for wildlife, the climate, and the human rights of the Gwich'in Nation, and any company associated with this destruction will suffer long-lasting damage to their reputation. It's no surprise that a growing number of banks want to stay as far away from this debacle as possible."
"Drilling in the Arctic Refuge would permanently destroy the primary food source of the Gwich'in people, our culture, and our way of life. The Trump administration may have made up their minds about selling off our sacred lands, but the fight is far from over," said Bernadette Demientieff, Executive Director of the Gwich'in Steering Committee.
"We're glad to see RBS recognize that the Arctic Refuge is no place for drilling and we hope that other banks, and the oil companies they finance, will follow their lead."