Problematic Pipelines: Trans Mountain challenges go beyond B.C. government opposition
Greenpeace Investor Alert
---
2018-04-20
Greenpeace
---
Charlie Kronick, (Greenpeace UK) Charlie.kronick @greenpeace.org +44 7801 212 963 Louise Rouse louise@louiserouse.org +44 7751 256 163
---
Share this page:
---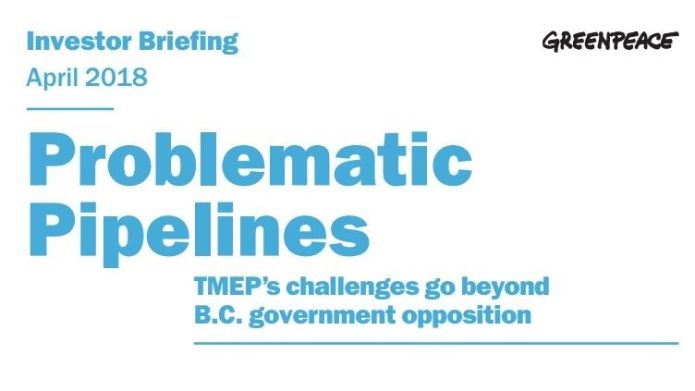 Photo: Greenpeace
Since Kinder Morgan Canada Limited acknowledged on April 8 that the Trans Mountain Expansion Project (TMEP) may be cancelled because of stakeholder objections, attention has focused on the need to overcome the difficulties posed to the project by the government of British Columbia by the May 31 deadline imposed by the company. However, the risks facing TMEP go beyond permitting difficulties in B.C. and are unlikely to be resolved by the end of May.
Greenpeace has published a new briefing outlining the intensifying opposition to (TMEP) from a diverse range of stakeholders including the B.C. government, the Governor of Washington, First Nations, and Nestlé Waters Canada (Nestlé) which threatens to force the cancellation or delay of TMEP.
Institutional financiers may wish to ask Kinder Morgan whether adequate assurances can be obtained on all of these risks or whether the company should instead cancel TMEP.
Key risks facing TMEP which are examined in the attached briefing include:
● British Columbia's proposal for restricting the transport of diluted bitumen
● Possibility of restrictions on increased tanker traffic in Washington state
● Nestlé's opposition to the proposed pipeline route
● Growing First Nations' opposition and non-violent direct action, which is attracting mainstream media coverage
● Pending litigation which will not be determined by May 31.
Download the investment briefing here.
Greenpeace USA, in partnership with Waterkeeper Alliance, also released a report earlier this week which details Energy Transfer Partners (ETP) and their subsidiaries' track record of incidents during pipeline construction as well as spills from their existing pipeline network. The report finds that from 2002 to the end of 2017, ETP, Sunoco and their subsidiaries and joint ventures reported 527 hazardous liquids pipeline incidents to federal regulators - approximately averaging one incident from existing facilities every eleven days. These spills released a total of 87,273 barrels (3.6 million gallons) of hazardous liquids, including 66,515 barrels (2.8 million gallons) of crude oil. 67 of the hazardous liquid incidents were reported to have contaminated water, of which 18 incidents contaminated groundwater.
Related Dodgy Deals
Projects
There are no projects active for this item now.