Pressure builds on next week's Equator Principles meeting to address climate change and Indigenous rights
NGOs put banks on notice as over 55,000 join call to action following Dakota Pipeline finance
2017-10-16 | Nijmegen
BankTrack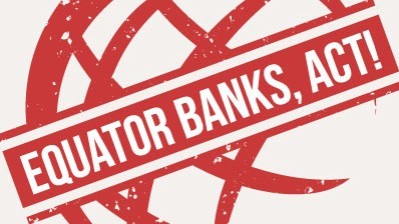 Photo: BankTrack
2017-10-16 | Nijmegen
BankTrack
The annual meeting of the Equator Principles, to be held on 24th and 25th October in São Paulo, is under more pressure than ever before as more than 55,000 people and 220 groups join a call to action for a significant revision to the standards. The civil society watchdog BankTrack today wrote to the 91 bank signatories of the Equator Principles warning that inaction at the meeting "cannot be an option".


The Equator Principles are a set of voluntary standards signed by 91 financial institutions, mostly private sector banks, to govern their finance for large infrastructure projects. They are supposed to strengthen risk management by ensuring that projects being financed are 'developed in a manner that is socially responsible and reflects sound environmental management practices'.

However a campaign website calls attention to a series of 'disaster projects' that have been financed supposedly in full compliance with the Equator Principles, including the Dakota Access Pipeline in the United States, last year resisted by a historic Native American-led protest camp at Standing Rock, and the Agua Zarca hydroelectric project in Honduras, associated with the murder of Indigenous human rights defender Berta Cáceres last year after she led Indigenous resistance to the project.

The "Equator Banks, Act!" campaign is calling on the Equator Principles Association to agree in Brazil to a full revision process for the Principles, so that they meet two commitments at minimum: firstly to support the climate goals agreed in Paris by excluding finance for new fossil fuel projects, and secondly to respect the rights of Indigenous Peoples to freely provide or withhold their consent for projects impacting their land.

BankTrack, which is coordinating the campaign, has warned that without reform the Principles' reputation as a "global sustainability gold standard" could be fatally undermined. In addition to the global call to action, Mazaska Talks is calling on Indigenous Peoples and their allies everywhere to join three days of mass global action to coincide with the banks' meeting, to "demand banks stop financing repression of Indigenous rights, human rights abuses, and desecration of the earth."

Johan Frijns, BankTrack director, appealed to the banks in today's letter, on behalf of all supporters of the "Equator Banks, Act!" campaign: "We live in extraordinary times that require bold decisions. As we write this letter to you, huge parts of the Caribbean and the South coast of the US are in ruin after three hurricanes in a row, the wine valleys of California are on fire, Vietnam is dealing with immense floods and Ireland is being hit by a tropical hurricane. Business as usual, that is sticking to the outdated 2013 version of the Equator Principles in a Post-Paris-Agreement world, cannot be an option for how you intend to deal with those risks."

Download the letter to the Equator Banks here.
Sign up to join Mazaska Talks "Divest the Globe" days of action here.
Sign up to support the "Equator Banks, Act!" campaign here.