Polish NGOs caution Prime Minister Morawiecki to stop plans for new coal power plant
2018-07-12 | Poland
Association Workshop for All Beings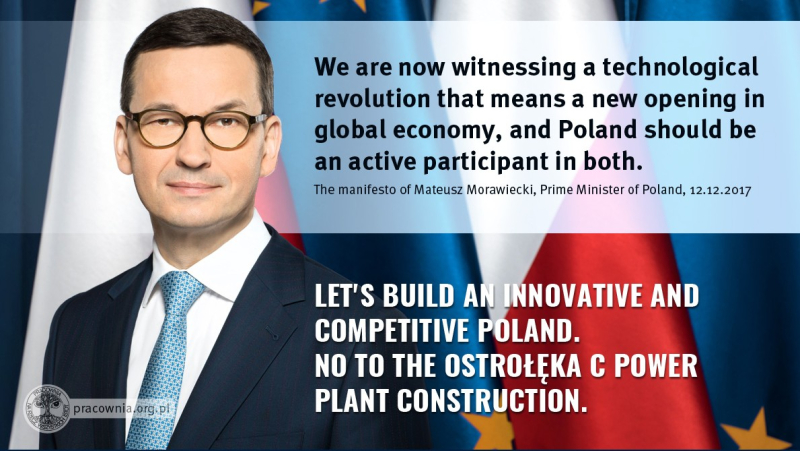 Photo: Association Workshop for All Beings
2018-07-12 | Poland
Association Workshop for All Beings
On July 12th, 27 major Polish NGOs working on climate protection published an open letter to Poland's Prime Minister Mateusz Morawiecki. In it, they are asking him to stop the Ostrołęka C coal-fired power plant project. According to experts, the TPP will not be financially viable and that it will be harmful to the environment and public health. It will jeopardize Poland's energy safety while blocking the development of clean energy on regional and national level.
"As a coalition of NGOs working for climate protection and just transformation of energy supply in Poland, we were happy to hear your declaration of preparing Polish economy for the climatic and civilizational challenges that will shape Polish energy policies for decades to come" – say letter's signatories. They are calling on Prime Minister Morawiecki for preventing construction of the power plant and supporting just transition towards renewable energy and energy efficiency instead.
Ostrołęka C with a capacity of 1000 MW is the newest TPP planned in Poland. The project has been criticized by industry experts, who question its cost-effectiveness and indispensability to Poland's energy system. Health costs of its expected 40-year operation have been estimated at up to 100,000 cases of asthma attacks in children and approx. 2,000 premature deaths. Developing renewable energy, which seems to be a good alternative for Ostrołęka C, could create up to 1200% more jobs and an investment market reaching from PLN 10 to 17 billion for the country, and between PLN 670 and 870 million for the region. As the letter was being delivered to Prime Minister's Office, GE Power and Alstom signed a contract for the construction of Ostrołęka C TPP.
We fully agree with Prime Minister Morawiecki that the technological revolution we are witnessing means a new deal in global economy. We must ensure Poland is not left behind. Ostrołęka C power plant would keep our country from reaching its full potential - says Diana Maciąga, Association Workshop for All Beings, Poland.
The NGOs hope that the Prime Minister will use the upcoming UN COP24 Climate Summit in Katowice, Poland, as an opportunity to show that Poland is a dependable and responsible member of the international community and that it rises to the technological and ethical challenges of climate change.
"If we develop the Ostrołęka C project, we will lose a once-in-a-lifetime opportunity to encourage energy that is co-produced by the people and based on innovation with Poland leading the change. Climate protection is a responsibility for our generation as well as for those to come. As the hosting country of this year's ONZ COP24 climate change conference in Katowice – a model example of a transformation from an industrial complex into a hotbed of business and science – Poland has a special role to play.
Abandoning the plans for constructing a coal-powered power plant with an estimated 6 bn tonne emissions per year in favour of developing renewable energy sources will send a clear message that Poland is a dependable and responsible member of the international community and that it rises to the technological and ethical challenges. The climate change conference will be the perfect opportunity to announce that Poland is resigning from the plans of building that power plant, and in doing so, it is observing the stipulations of the Paris Agreement and actively collaborating in creating common climate policy" - the NGOs write.
The future of the next generations of Poles depends on the choices we are making today. We hope that the Prime Minister will help Poland avoid making the grave mistake of building a new coal power plant in the era of clean energy revolution and global efforts to secure effective and just climate protection - concludes Diana Maciąga.
The Polish Climate Coalition is formed by 24 NGOs. Its mission is to undertake joint actions to prevent human-induced climate change for the benefit of humanity and the environment. The letter was also signed by: HEAL Polska, Foundation "Development Yes - Open-Pit Mines No", Association for Earth, FrankBold.
There are no active project profiles for this item now.