Occupied, annexed and cashed up
How international companies and German financial institutions benefit from and support activities contrary to international law in occupied and annexed territories
2019-08-13 | Berlin
Facing Finance
Thomas Küchenmeister
Managing Director
Facing Finance e.V.
facing-finance.org
kuechenmeister@facing-finance.org
+49 (0)175-4964082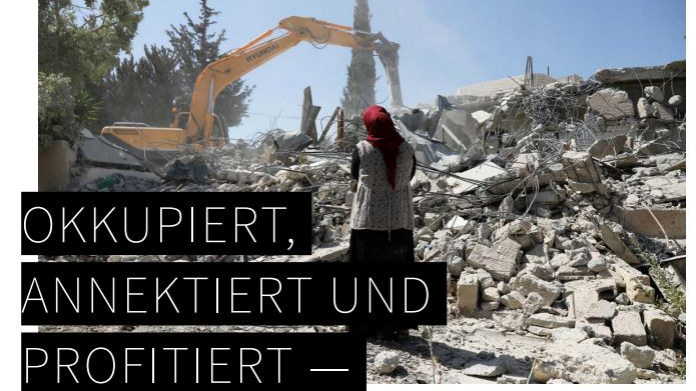 Photo: Facing Finance (Photo: © REUTERS / Ammar Awad)
2019-08-13 | Berlin
Facing Finance
Thomas Küchenmeister
Managing Director
Facing Finance e.V.
facing-finance.org
kuechenmeister@facing-finance.org
+49 (0)175-4964082
German banks maintain financial relations with companies operating in occupied and annexed territories in the amount of € 44 billion.
Companies and banks neglect their human rights responsibilities and run the risk of participating in and benefiting from illegal settlement activities, from the destruction of infrastructure or from the exploitation of resources in occupied and annexed territories.
Deutsche Bank alone accounts for 45% of these financial relations, KfW is also concerned.
Only a few banks strictly exclude companies operating in occupied and annexed territories from their financial relations.
German companies such as Siemens, HeidelbergCement and DHL also attract negative attention in the study
A study published today in Berlin by the NGO Facing Finance documents 27 companies that operated in occupied and annexed territories (Western Sahara, Crimea and the Occupied Palestinian Territory) and thereby risk supporting acts that violate international law. In addition, the report identifies 15 German financial service providers and associated asset managers that provide €11.8 billion in loans, issued bonds in the order of €12.4 billion, holding shares worth €19 billion and bonds worth €1 billion in these companies. The supply of finance accounts for around 55% of the identified financial relationships, which demonstrates that German financial service providers do not only profit from business activities in occupied and annexed territories that contravene international law, but also foster them.
Deutsche Bank alone maintains financial relationships with the investigated companies amounting to more than € 20 billion, which accounts for more than 45% of all identified financial relationships (€ 44.4 billion) of German banks. The second largest lender of the companies surveyed is Commerzbank and the second largest investor is the state-owned KfW Bankengruppe, which, through the privatisation of Deutsche Post AG has become the largest shareholder in the companies surveyed. A glance at German banks' guidelines shows that companies are often not subject to far-reaching requirements when it comes to their economic activities in occupied and annexed territories. To a certain extent, there are some exceptions to this for the EthikBank, GLS Bank, KD Bank, LBBW, Triodos Investment Management and Pax Bank.
"Not only enterprises but also their financial service providers must take international humanitarian law standards relative to the protection of people living in occupied and annexed areas into account", claims Thomas Küchenmeister, Managing Director of Facing Finance, publisher and co-author of the study.
Violations of international humanitarian law and international human rights standards in this context include, amongst others, settlement activities, land grabbing, environmental pollution, the destruction of the occupied population's dwellings, the exploitation of resources for the own benefit and to the disadvantage of the local population, as well as the incomplete fulfilment by an occupying power of its duties under international law to maintain order and provide for supplies. Collective penalties and the construction of barriers that restrict the freedom of movement of the population in occupied territories also consist of illegal activities.
The study concludes that companies and financial service providers that support such activities through their own business operations or through financings are complicit in these violations.
For example, numerous construction companies and manufacturers of construction machinery were implicated in the building of Israeli settlement structures in the occupied West Bank, in the construction of an illegal separation barrier, and in the destruction of Palestinian housing and other physical structures. The exploitation of natural resources in the West Bank and Western Sahara as well as the expansion of infrastructure in occupied territories are also considered violations of international law. Companies such as HeidelbergCement, Hyundai Heavy Industries, Caterpillar, Volvo Group, Siemens and Bombardier are complicit in these violations.
The study also criticises tourist activities such as "Caliber 3", which can be booked via the TripAdvisor travel platform. There, a private Israeli "security academy" located in an illegal settlement in the West Bank trains and teaches tourists about their counter-terrorism fight against their Palestinian neighbours during a two-hour shooting experience.
In Western Sahara, which is occupied by Morocco, numerous international corporations also benefit from the exploitation of natural resources, mostly at the expense of the Sahrawi population. Siemens or Siemens Gamesa is for example participating in Moroccan wind power projects that take place in this region. International companies also import phosphate mined by Moroccan companies (e.g. Nutrien). Tourism companies (e.g. Booking.com) benefit from bookings on their travel portals of Moroccan offers in Western Sahara as well.
Despite international sanctions on the Crimean Peninsula, companies such as DHL and METRO have not completely discontinued their business activities according to current information available. With their services, they are undermining the sense and effectiveness of the sanctions imposed following Russia's illegal annexation of the peninsula.
"Financial service providers must cease all financial relations with companies which, as part of their business activities, contribute to the development, maintenance and expansion of settlements in the occupied and annexed territories or participate in the exploitation and destruction of land and property," says Thomas Küchenmeister. He points out that companies and their financial service providers even run the risk of criminal prosecution for complicity in war crimes.
Download the study (only in German)