NZBA progress report show banks lacking short-term fossil fuel targets
2022-11-11 | Nijmegen/ Sharm El-Sheikh
BankTrack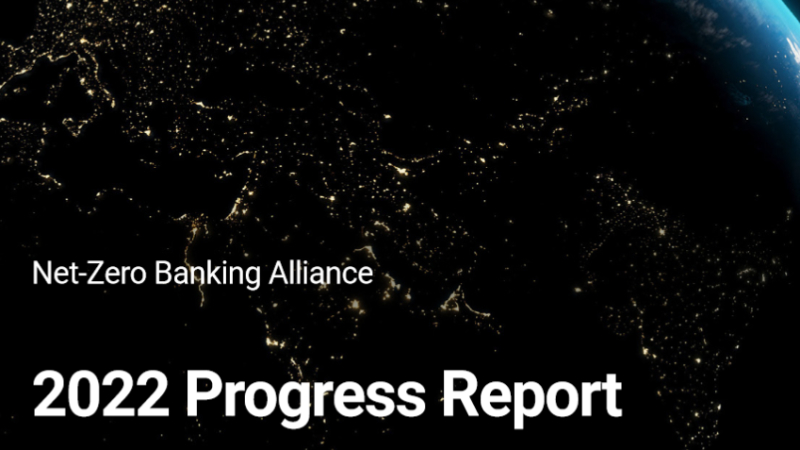 NZBA Progress Report Nov 2022. Photo: UNEP-Fi
2022-11-11 | Nijmegen/ Sharm El-Sheikh
BankTrack
In the first week of COP, the Net Zero Banking Alliance (NZBA) published its 2022 Progress Report. The 43 founding members had a deadline to submit their first reports by October 2022. The overview shows that 90% of these banks have submitted their targets in time, and that nearly all have set targets for coal, oil and gas. But many lack short-term targets for key fossil fuel sectors.

Sumeyra Arslan, climate campaigner at BankTrack, says: "The NZBA's Progress Report shows that its members are taking steps to put themselves on a 1.5-degree pathway, but not fast enough. On average, banks have set targets for less than three out of the nine high emitting sectors for which they eventually are required to come up with targets."

The Progress Report analyses the interim reports of the 62 banks that have now submitted their targets. In addition to the 43 banks that had a deadline to submit a first report, 19 banks voluntarily reported. In total, the NZBA now has 123 member banks. Other banks will have to formulate their initial set of targets for high impact sectors 18 months after joining the alliance (see our NZBA Tracker here for an overview).

The findings show that the members that have submitted their targets are on track on a few basic indicators: 95% (59 banks) of respondents have measured their financed emissions and 94% (58 banks) of respondents have set intermediate sector targets for 2030 or sooner. 72% (45 banks) have set 2030 targets to reduce financed emissions related to power generation.

However, only 66% (41 banks) of respondents have set a portfolio-wide net zero target for 2050, one of the key requirements for all members. For the shorter-term targets the picture is worse: just 50% (31 banks) have set financed emission reduction targets for 2030 or sooner for the oil and gas sector and only 12% (eight banks) for the coal sector.

With regards to coal, just 4 of the 8 banks that have set targets for this sector use metrics covering all greenhouse gases associated with production, including methane in addition to CO2. As the Progress Report notes, "it is important for this proportion to increase due to the high emissions of methane associated with coal mining." (p.6).

Arslan: "Given the key role of these fossil fuel sectors in driving global emissions, and the requirement for banks to prioritise sectors based on GHG emissions, it is concerning that not all banks have set targets for these sectors yet, and that where coal targets have been set, methane is often not included."

There is some notable divergence in the coverage of client scopes across sectors. For many fossil fuel companies, Scope 3 emissions are a significant part of their overall emissions. For example, for a company producing gas, its Scope 3 emissions refer to the combustion of that gas by its downstream clients. For the oil and gas sector, 71% (22 banks) of the 31 banks that have set targets for this sector cover Scope 1, 2 and 3 or only scope 3. However, for the power generation sector, 42% (19 banks) of the total of 45 bank targets cover only Scope 1 and 2, just 11% (5 banks) cover Scope 1-3, and no less than 47% (21 banks) of bank's targets do not disclose which client Scopes are included.

Arslan: "It is positive to see a majority of banks setting targets for oil and gas client Scope 3 emissions, but banks need to step up their game fast and expand their coal and power generation targets as well."

The day before the report was published, UN Secretary General Guterres urged banks to use absolute emissions targets, as targets based on emissions intensity can lead to higher total emissions, stating that "You can't reduce simply the intensity of emissions, you need to reduce absolute emissions.'' The Progress Report shows not all banks agree. Although 75% (34 banks) of coal targets are based on absolute emissions, just 17 banks (54%) have set an absolute target for oil and gas, and for power generation all targets are either based on emissions intensity or not disclosed at all.

The NZBA plans to review its Guidelines by April 2024, and will then also consider updating the carbon accounting methodology for certain off-balance sheet activities, including underwriting. If this update is successful, it will become mandatory for NZBA members to also report on and publish targets for their underwriting activities.

Arslan: "The 2022 Banking on Climate Chaos report showed that the majority of bank fossil fuel financing over the last six years came in the form of bond and equity underwriting, as opposed to lending. It is therefore urgent that all banks start setting targets for their underwriting activities too."

BankTrack tracks the membership of the NZBA and the implementation of member commitments as part of the Alliance. See here for our NZBA overview.

For an overview of recommendations on target setting to NZBA banks by ShareAction, see here.