NGO Briefing on Independent Complaints Mechanism of FMO and DEG
2014-02-17 | The Hague
BankTrack, Both ENDS, SOMO, Amnesty International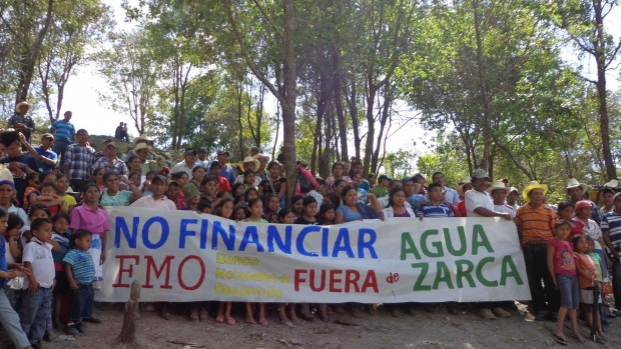 Protest against the financiers (among them FMO) of the Agua Zarca Dam project. Photo: COPINH
2014-02-17 | The Hague
BankTrack, Both ENDS, SOMO, Amnesty International
The Dutch development bank, FMO, together with the German Entrepreneurial Development Cooperation (DEG), has become the first European Development Finance Institution and the first Equator Principles Financial Institution to introduce an Independent Complaints Mechanism.
Amnesty International, BankTrack, Both ENDS and SOMO engaged in the limited consultation process that was organized in the Netherlands by FMO, which led to this mechanism. There was no similar consultation in Germany, nor has DEG announced the availability of the Mechanism.
While this mechanism is not perfect, it presents an important step in ensuring that project affected people can hold FMO accountable to its policies. As FMO has adopted the Equator Principles the establishment of FMO's Mechanism also sets an important precedent for other Equator Principle Financial Institutions, which so far have categorically refused to establish an accountability mechanism as part of the Equator Principles governance system.
We further support FMO's invitation to other European DFIs to join them in their commitment to redress any harm caused by their investments through the establishment of, or linking themselves to, this mechanism.
Establishing a mechanism is one thing. The proof of the pudding, as always, is in the eating. Please get in touch with us if you or a community you work with has been adversely affected by a project financed by the FMO or DEG. We from our side will seek to ensure that the Mechanism gets tested and improved. We will keep pushing for greater public participation and transparency in future reviews of the Mechanism.
The attached briefing presents our view on the final outcome of this process.