Letter to the Committee of Permanent Representatives (COREPER) to ensure an effective CSDDD
2023-11-13
European Coalition for Corporate Justice (ECCJ)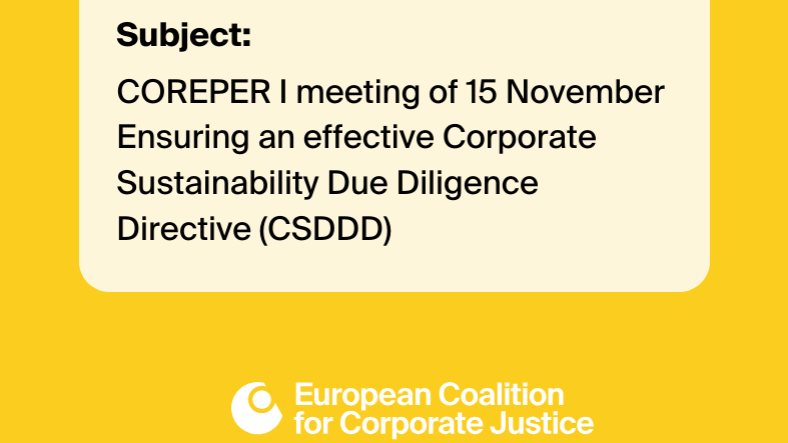 Photo: European Coalition for Corporate Justice (ECCJ)
2023-11-13
European Coalition for Corporate Justice (ECCJ)
On 15th November, politically nominated ambassadors at the Committee of Permanent Representatives in the European Union (COREPER) meeting will discuss the Corporate Sustainability Due Diligence Directive (CSDDD). The goal is to update the Council's negotiation mandate for the next political trialogue scheduled for the week after, the 22nd of November.
Over 60 NGOs – including BankTrack – have written a letter to the Deputy Permanent Representatives to COREPER, with the aim of drawing policymakers' attention to five issues that are key to aligning the legislation with international standards and ensuring real-world improvements for people and the planet:
Climate transition plans: Climate transition plans should be embedded within the general due diligence duty. Companies must be required to not only develop, but also to effectively implement their climate transition plans.
Civil liability and access to justice: Restrictions on civil liability to harm that has been 'caused to a natural or legal person' and only for cases where there is an aim 'to protect the natural or legal person' must be removed.
Inclusion of the financial sector: Include meaningful due diligence obligations that would apply to key financial sector activities within the CSDDD, including lending, investing and insurance, enabling a level playing field for sustainability due diligence across the EU.
Value chain: The value chain must cover both upstream and downstream activities and business partners or entities, including those related to composition, design, sale, waste management, and impacts arising from reasonably foreseeable use or unintended use. The CSDDD value chain definition should also include (direct and indirect) business partners as well as non-legal entities.
Normative scope: A clear and sufficiently comprehensive understanding of human rights and the environment potentially impacted is required for a risk-based approach due diligence to work across sectors. Limitations through the definition of adverse human rights impact under article 3c and through limiting the Annex I Part I Section 1 and 2 must be removed. All additional instruments included in the European Parliament's position, including the UN Declaration on the Rights of Indigenous Peoples and the body of international humanitarian law, must be added. Further, defining environmental impacts based on environmental categories, as proposed by the European Parliament, would promote alignment with EU legislation (CSRD, and EU Taxonomy and Batteries Regulations) and the OECD Guidelines, as well as enable an effective risk-based approach.
See the original press release on the European Coalition for Corporate Justice (ECCJ) website here.