JPMorgan Chase's Paris announcement isn't enough
JPMorgan Chase can't be Paris aligned if it's still funding fossil fuels
2020-10-06
Stop the Money Pipeline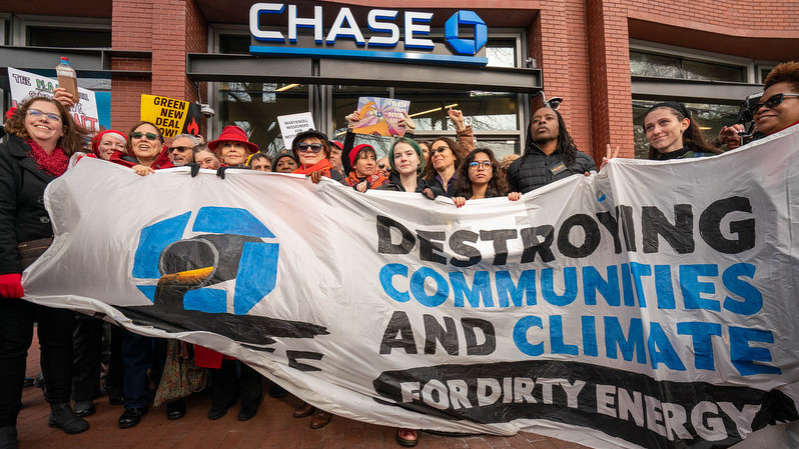 Activists Shut Down Chase Bank During Fire Drill Friday. Photo: Greenpeace USA
2020-10-06
Stop the Money Pipeline
Members of Stop the Money Pipeline, a coalition of over 130 groups working to end the financing of climate chaos, respond to JPMorgan Chase's "Paris-Alignment" announcement
JPMorgan Chase, the world's largest banker of fossil fuels, announced this afternoon that it is committing to push its clients to align with the Paris Agreement and work towards global net zero-emission by 2050. The announcement said nothing about reducing the bank's massive lending to fossil fuel companies.
Since 2016, Chase has financed over USD 268 billion of fossil fuels, according to the most recent Banking on Climate Change report. Those investments include backing controversial new fossil fuel projects like the Keystone XL pipeline, which damages the environment and violates Indigenous sovereignty and human rights. Chase is also the single largest backer of fossil fuel expansion since the Paris Agreement was signed, despite the fact that fossil fuels already under development are more than the world can afford to burn.
Today's announcement came after years of relentless pressure on the bank from climate groups, Indigenous leaders, and shareholder activists.
In 2017, more than two dozen people were arrested for shutting down 13 Chase bank branches in Seattle. This January, the Stop the Money Pipeline campaign, a new coalition of over 130 groups working to end the financing of climate chaos, launched with a sit-in at a Chase Bank branch in Washington, D.C. Climate activists have repeatedly disrupted speeches by Chase CEO Jamie Dimon, including at an event this February.
In May, Chase bowed to pressure from climate activists and removed former Exxon CEO Lee Raymond from his lead director role on the bank's board. At the same shareholder meeting, 49.6% of shareholders voted to require Chase to produce a plan to align its business with the goals of the Paris Agreement. Just two weeks ago, more than sixty environmental and human rights organizations released the Principles for Paris-Aligned Financial Institutions, a roadmap for financial institutions looking to align their business models with the Paris Agreement.
Members of the Stop the Money Pipeline coalition issued the following responses to today's announcement:
"Today's announcement is significant. The world's largest lender to the fossil fuel industry has clearly signaled that the fossil fuel game is coming to an end," said Alec Connon, the Stop the Money Pipeline Coalition Co-Coordinator. "However, if Chase is serious about its climate commitments, it'll need to quickly follow this up with policies that prohibit all lending to coal companies and companies still expanding fossil fuel production. 2050 vision is all well and good, but we need 2020 actions."
"In recent decades JPMC has plowed billions of dollars into the very industries tearing down rainforests, trampling indigenous rights, and destroying the climate. While this is an improvement over its existing policies, the commitment fails to address the full impact of its investments on communities and our climate and grants the bank three more decades to change when we need action now," said Moira Birss, Climate & Finance Director, Amazon Watch.
"The biggest bank in the world, in the face of the biggest crisis in the world, has begun to bend to the biggest movement in the world. Chase must move much farther and much faster, and we will do our best to prod them in that direction!" said 350.org co-founder Bill McKibben.
"The western half of Turtle Island is on fire. It's great to see Chase has realized they have a climate activist problem on their hands. Turns out a lot of people care more about future generations than profit margins. Lip service from Chase is just more of the status quo — it needs to stop being the biggest funder of fossil fuels in the world. Chase is targeted for doing bad because it's doing bad. Do better. For our kids and yours." Tara Houska, Founder, Giniw Collective.
"These are not goals to mitigate climate chaos, this is the continuation of the status quo for as long as possible. Chase's announcement utterly fails in addressing climate chaos. By promoting net-zero emissions, Chase bank is supporting false solutions that will continue to put Indigenous peoples and lands in the bullseye for attack. This is unacceptable." Dallas Goldtooth, Indigenous Environmental Network.
"My family lost everything to Sandy. My family in Puerto Rico then lost their homes to Maria. These climate disasters were financed with $268 billion from JPMorgan Chase from 2016 to 2019 alone. Their talk is cheap. Let's see climate action now," said Rachel Rivera, a Sandy survivor and member of New York Communities for Change.
"We demand that Chase bank stop funding the climate crisis today, not 30 years from now. We owe it to our children and grandchildren to leave them a livable planet. Sixty years from now, the profit on fossil fuel lending and investments will mean nothing when runaway climate change robs future generations of their homelands. What will your children think when they find out that you were the cause of a world set to fire, rising sea levels, super storms, and deadly heat waves. Is this the legacy you are choosing to leave behind?" said Kellie Berns Program Director at Earth Guardians.
"The fact that the world's biggest funder of fossil fuels feels compelled to make a pledge like this is a testament to the power of the movement pushing financial institutions to clean up their act on climate," said Sierra Club Senior Campaign Representative Ben Cushing. "Chase's climate pledge is an important step forward, but it's severely insufficient to meet the scale of the climate crisis and Chase's outsized role in driving the destruction that's already underway. As long as Chase is still pouring billions of dollars into the dirty energy sources that hurt our communities and push the climate past catastrophic tipping points, a vague pledge for action doesn't cut it."
"JPMorgan Chase has also spent over $736 million in disclosed loans and contributed undisclosed amounts toward billions of dollars in loans to fracking companies in Colorado. Research has shown that fracking for oil and gas drives climate change and directly exposes nearby communities to emissions that cause respiratory impacts, cancer and birth defects. Chase needs to move faster and bring a halt to funding fossil fuel projects immediately. Our communities are suffering at the hands of the fossil fuel industry," said Amy Gray, Co-Coordinator, Stop the Money Pipeline and Volunteer & JEDI Director, 350 Colorado.
"Chase's announcement shows the power of relentless environmental activism meeting the realities of accelerating climate chaos. But 'net-zero by 2050' is not aggressive enough, especially when Chase's lending practices have done so much to create this climate crisis," said Sandy Emerson, Board President, Fossil Free California.
"While we acknowledge Chase's pledge, it is far too little, too late," said Osprey Orielle Lake, Executive Director for the Women's Earth and Climate Action Network (WECAN). "As the world's largest funder of fossil fuels, Chase is complicit in the destruction and harm of communities worldwide and the escalating climate crisis. However, there is a clear step Chase can take to start meeting the urgency of the Paris Climate Agreement: immediately end all financing of fossil fuel pipelines and projects and invest rapidly in communities and regenerative energy for all."