Adani Group (financed by JP Morgan, MUFG, HSBC, BlackRock) is running an enormous fossil fuel project in Australia, violating Indigenous Rights
2022-08-22
BankTrack, Rainforest Action Network, TippingPoint Australia & Wangan and Jagalingou Nagana Yarrbayn Cultural Custodians
Coedie McAvoy,
Wangan and Jagalingou Nagana Yarrbayn Cultural Custodians,
+61448 745 850
Shawna Foster,
Climate & Energy Communications Manager,
Rainforest Action Network,
+14022143014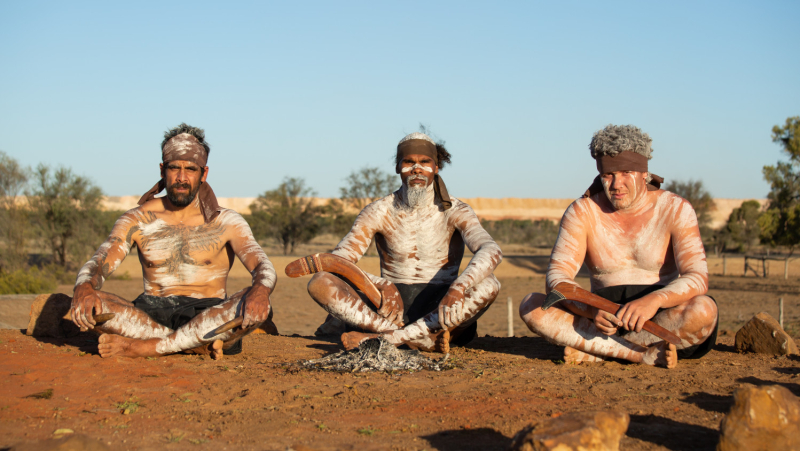 Waddanganggu, 'the talking' in Wirdi language, a ceremony on Wangan and Jagalingou Country. Photo: Leah Light Photography
2022-08-22
BankTrack, Rainforest Action Network, TippingPoint Australia & Wangan and Jagalingou Nagana Yarrbayn Cultural Custodians
Coedie McAvoy,
Wangan and Jagalingou Nagana Yarrbayn Cultural Custodians,
+61448 745 850
Shawna Foster,
Climate & Energy Communications Manager,
Rainforest Action Network,
+14022143014
This is a case study to accompany Banking on Climate Chaos: Fossil Fuel Finance Report 2022, produced in collaboration with the Wangan and Jagalingou Cultural Custodians, Tipping Point Australia, BankTrack and Rainforest Action Network.
For tens of thousands of years, the Wangan and Jagalingou (W&J) people, have been living on their homelands that are now being threatened by the Carmichael coal project, in what is now known as central Queensland in Australia.
Wangan and Jagalingou people first said no to Adani's proposed mega coal mine in 2012, and are fighting to protect their Country and culture from one of the world's most controversial and biggest fossil fuel projects. Over its projected sixty-year lifetime, the mine plans to export 2.3 billion tonnes of coal and produce 4.6 billion tonnes of carbon pollution.
The mine is owned by the Adani Group. The Adani Group has a terrible record of environmental vandalism, corruption and violation of indigenous rights. Its Chairman Gautam Adani is one of the richest people in Asia and in the top ten richest people in the world with current personal wealth estimated at US$80 billion.
In 2015, the Wangan and Jagalingou Council penned a public declaration to all banks stating their concerns about the mine and requesting that banks respect that the Wangan and Jagalinagou people do not consent to the development of the mine, honour the Equator Principles, and commit to not fund the Carmichael coal project.
"The mine will tear the heart out of our country, permanently destroying our ancestral homelands, as well as sites and species we have held sacred for generations. This threatens the survival of our culture, and our ability to pass that culture onto our future generations." - Wangan and Jagalingou Tribal elder, Adrian Burragubba.
In 2015, elected members of the W&J Council, tribal elder Adrian Burragubba and his niece Murrawah Johnson travelled to the USA and Europe, successfully lobbying US and European banks to rule out financing the Carmichael coal project. In 2018, they travelled to South Korea, to meet with financial institutions invested in Adani's Australian coal operations, successfully winning commitments for no further finance. W&J council directly lobbied Australia's biggest banks, winning commitments to rule out financing the coal project, and policies to end all coal financing.
In October 2021, Wangan and Jagalinagou Cultural Custodians used their Human Rights as Indigenous people to prevent a financing deal for the mine between Adani and Wall Street giant, the Bank of New York Mellon. There was never any free, prior and informed consent for the Adani project. They wrote to the Bank of New York Mellon and its shareholders, spoke to the media, and took action. It worked: the Bank of New York Mellon withdrew and the financing didn't go ahead.
Pressure from the W&J Cultural Custodians has ensured that no banks or investors anywhere in the world will directly fund the Carmichael project. As of May 2022, over 55 financial institutions have ruled out financing the Adani mine directly.
The Adani Group were left to self-fund their toxic coal mine and started quietly shuffling investor's money through their corporate empire to fund the mine by stealth. This means that anyone investing in any of Adani's companies across the Adani Group is at risk of helping Adani destroy the climate and trash Indigenous rights.
People-powered resistance successfully delayed the mega coal mine by 8 years and forced Adani to downscale from a AUS$26.5B to a AUS$2B project. Adani reached the first coal seam in 2021 and a small amount of coal is now being dug from the mine pit, and sent by rail over 400km to be shipped out via a port located on the Great Barrier Reef World Heritage Area.
Adani recently destroyed artefacts at a highly significant cultural heritage site and is pumping out billions of litres of groundwater, which threatens to dry up the Doongmabulla Springs, a desert oasis and most sacred place for the Wangan and Jagalingou people. The springs are the final resting place for Mundangarra - the Rainbow Serpent and Water Spirit.
And so the resistance continues. For the last nine months, Wangan and Jagalingou Cultural Custodians have conducted a continuous cultural ceremony on the Adani Carmichael mining lease as a symbol of their ongoing opposition to the coal mine.
The ceremony is called Waddananggu, which means 'The Talking' in Wirdi language, and has been designed as a place for other tribes to come and visit, to talk with non-Indigenous people and to talk to financiers and insurers. It is located on Adani's mining lease, 1km away from Adani's mine pit.
The Wangan and Jagalingou Cultural Custodians are calling on Adani's major investors - HSBC, JP Morgan, MUFG and BlackRock to respect their right to say No to Adani and to rule out financing the Adani Group.
"In August this year, Waddananggu will celebrate one year of our resistance to the mining lease and Government approvals. Waddananggu symbolises the ongoing defence to protect the sacred Doongmabulla Springs and to return the land to the Wangan and Jagalingou people.
We will remain on the Carmichael mine site and continue to oppose the destruction of our homelands and sacred sites, defending our Human Rights. Our presence on-country is a constant reminder to Adani and all their investors, that we are still here and we are immovable." - Coedie McAvoy, Wangan and Jagalingou Cultural Custodian.

Take action by calling on Adani's investors to dump the Adani Group and follow and donate to Wangan and Jagalingou Cultural Custodians to help them protect Country and culture.

For more information on fossil fuel financing see: bankingonclimatechaos.org.
There are no active project profiles for this item now.
There are no active company profiles for this item now.