Iowans Hold Wells Fargo Accountable for Funding Dirty Fuels and Pipelines
2018-04-26 | United States
Ben Cushing, Sierra Club
information@sierraclub.org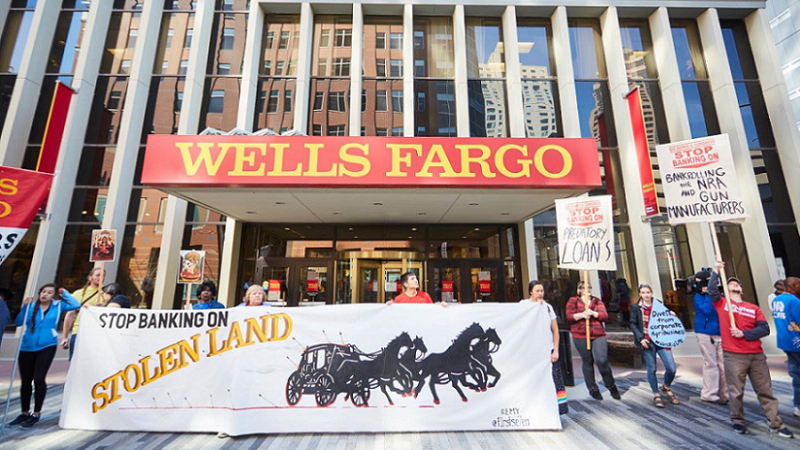 Wells Fargo. Photo: Iowa Citizens for Community Improvement
2018-04-26 | United States
Ben Cushing, Sierra Club
information@sierraclub.org
This is a guest blog by Ben Cushing at Sierra Club, reposted from the original here.
If you've been following the news recently, it's been hard to miss the wave of scandals and negative attention Wells Fargo has received for everything from its continued support of the gun industry to its bad business practices.
As the bank held its annual shareholders meeting in Des Moines this week, we made sure they knew we haven't forgotten about their continued support for dirty, dangerous fossil fuel projects like the Keystone XL and Dakota Access pipelines.
Iowans know all too well how dangerous these pipeline projects can be. Since Donald Trump approved the pipeline last year, Dakota Access carries crude oil across the state, threatening its land and major waterways, including the Missouri and Mississippi Rivers. This threat is all too real: A new report shows that the company behind Dakota Access, Energy Transfer Partners, has had pipelines leak an average of once every 11 days for the past 15 years.
But the pipeline didn't just need approval from the Trump administration to get built. It also needed major financing from big banks to fund pipeline construction, and Wells Fargo delivered, providing hundreds of millions of dollars to Dakota Access and Energy Transfer Partners. As Carolyn Raffensperger of the Iowa Sierra Club wrote in the Des Moines Register this week, that means when Dakota Access threatens the drinking water, and the health of the land and people of Iowa, Wells Fargo is supporting that. When Dakota Access bulldozed sites sacred to the Standing Rock Sioux, Wells Fargo was supporting that. And when Dakota Access bullied its way through the eminent domain process to take the land of farmers and other landowners against their will, Wells Fargo was supporting that, too. So it should come as no surprise that Iowans turned out in droves to hold Wells Fargo accountable.
Since the construction of Dakota Access, Wells Fargo has continued and increased its funding for similarly dangerous and destructive pipeline projects and fossil fuels. In December, the bank renewed its participation in a set of loans totaling $1.5 billion to TransCanada, the company behind the Keystone XL tar sands pipeline, which would threaten land, water and communities across the Midwest and transport more climate-wrecking tar sands for export. Wells Fargo had a clear choice to make, and it chose to double down on its investments in the dirtiest fuel on the planet.
Across the board, Wells Fargo continues to bet against the climate. According to our most recent fossil fuel finance report card, from 2015 to 2017, the bank provided more than $4.6 billion in financing for extreme fossil fuels, including tar sands, Arctic oil, ultra-deepwater oil, LNG exports, and coal. In fact, of all the major U.S. banks analyzed in the report, only Wells Fargo and JPMorgan Chase increased their funding of extreme fossil fuels in each of the past two years since the Paris climate agreement. While major European banks like BNP Paribas and HSBC are making strong commitments to end their fossil fuel financing, Wells Fargo and other Wall Street banks continue their race to the bottom.
In Des Moines, Sierra Club activists turned out alongside hundreds of other community members -- with groups including Iowa Citizens for Community Improvement, People's Action, Indigenous Environmental Network, and more -- to call out Wells Fargo for its harmful investments and practices. People inside and outside the shareholders meeting spoke out about the bank's fossil fuel and pipeline funding, as well as its history of consumer fraud, discriminatory lending, and financing for private prisons and the gun industry.
People rallied outside the shareholders meeting to make sure that Wells Fargo's CEO Tim Sloan and its board of directors know that they can't escape the growing movement calling on them to stop investing in and profiting from these destructive practices and industries. Wherever they go, we'll be there to remind them that our communities demand better, and we won't back down until we get it.
Take action: Tell Wells Fargo to stop funding the fossil fuel and gun industries now!
There are no active project profiles for this item now.
There are no active company profiles for this item now.